Take a look into the glamorous life of Lewis Hamilton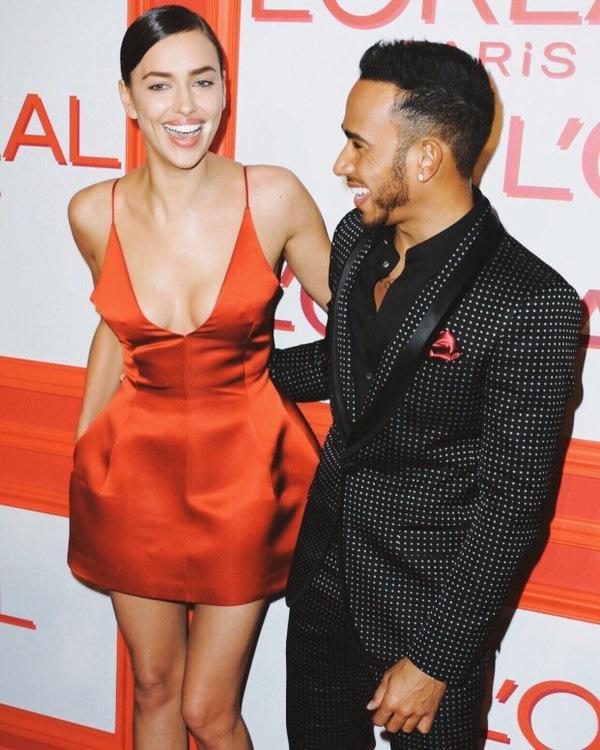 IMAGE: Lewis Hamilton with supermodel Irina Shayk. Photograph: Twitter.
Lewis Hamilton can become Britain's first four-time Formula One world champion this season, but some former racers fear the Mercedes driver's celebrity lifestyle could make the task harder.
The 31-year-old, who has risen from an under-privileged background to global superstardom, spends much of his down time in the United States with Hollywood and music A-listers.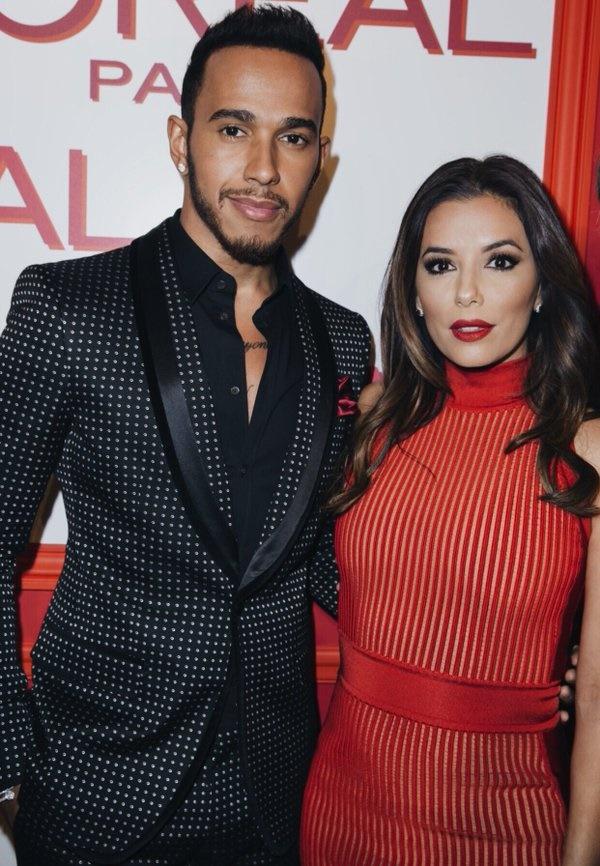 IMAGE: Lewis Hamilton with actress Eva Longoria. Photograph: Twitter.
From Super Bowl with Jay Z, to Hollywood parties and New York fashion shows, he is living a life that few of the current crop of drivers have access to or are up for.
German team mate Nico Rosberg, rival and championship runner-up for the past two seasons but winner of last year's final three races, is more likely to stay home with his wife and baby daughter.
Ferrari's four-times world champion Sebastian Vettel, a father of two who is likely to be Mercedes' biggest threat this year, lives in Switzerland where he keeps his family out of the public eye.
Both are fully focused on beating the Briton.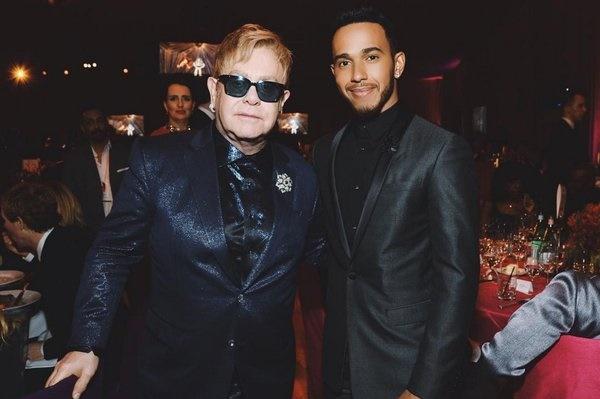 IMAGE: Lewis Hamilton with Elton John. Photograph: Twitter.
"It seems crazy to question whether Lewis can win another title, given that he's won the last two," former racer turned television pundit David Coulthard told British reporters.
"But you have to ask where his energy is going...There is no question that Lewis is fit and focused when he's at the racetrack. But he does have a full-on social life away from grand prix racing.
"We all know it's not easy jumping on and off aircraft. Is this the year that's going to take it's toll?"
That may be wishful thinking from someone who still represents Red Bull, the dominant team before Mercedes, but the Scot is not alone in expressing concern.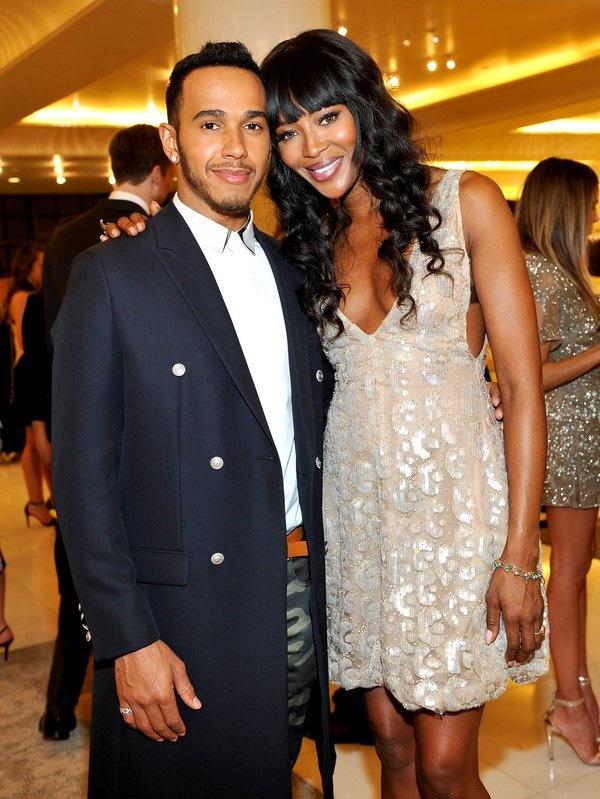 IMAGE: Lewis Hamilton with supermodel Naomi Campbell. Photograph: Twitter.
When Hamilton was at McLaren, where he won his first championship in 2008, he was kept on a tight leash but since he joined Mercedes in 2013 he has been allowed to be himself.
He now has more money than he knows what to do with, a collection of supercars, a house in Colorado, an apartment in Monte Carlo and a bright red private jet.
He has gone skiing with U.S. Olympic champion Lindsey Vonn and been filmed driving Justin Bieber around Beverley Hills in a LaFerrari supercar.
"I feel I know him less today than I knew him 15 years ago," says former racer and Sky television commentator Martin Brundle. "He's moved on to a new level and I don't say that in any way as a criticism.
"The Lewis I knew as a racer has moved into a whole sphere of life that I don't have access to, don't know and don't understand. He seems like he's gone somewhere else, to me."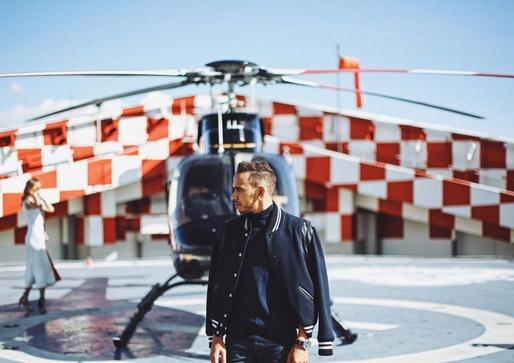 After completing huge amounts of mileage in the first pre-season test in Barcelona on the Thursday, Hamilton flew to Los Angeles for an Oscars party before testing resumed on Tuesday.
As his 2.5 million followers on Instagram are well aware, he then went to Paris where he was photographed with ex-Beatle Paul McCartney at Stella McCartney's fashion show. On Saturday, he was at Vivienne Westwood's.
If some traditionalists would rather he spent more time in the factory talking to engineers, which he also does, F1 supremo Bernie Ecclestone is delighted and Hamilton sees no need to change anything.
"I try to find a balance in my life," the Briton, who also spends many hours making music in the recording studio, told the official formula1.com website last month.
"Sure, you need to be recharged and have full batteries for the season. And yes, the lifestyle that I live is definitely different to the other drivers. But who says that it has to be the way they are doing things?
"My style works perfectly for me. It's all about enjoying every moment. I move as much as I can...and do my job in the best way I can."
Brundle echoed Coulthard's comments but felt sure Hamilton's relentless desire to win was as strong as ever.
Mercedes have won 32 of the last 38 grands prix and Hamilton accounts for 21 of them -- 10 in 2015 and 11 in 2014. A drop off in form at the end of last season came only after he had clinched his third championship in Texas.
"I believe he gave Rosberg a confidence and a self-belief that he didn't ought to be letting him have," said Brundle of those last three races.
"(But) I think that street-fighting Lewis will be a greater opposition (in Australia) than he was at the end of last year when he relaxed because the championship was in his pocket."