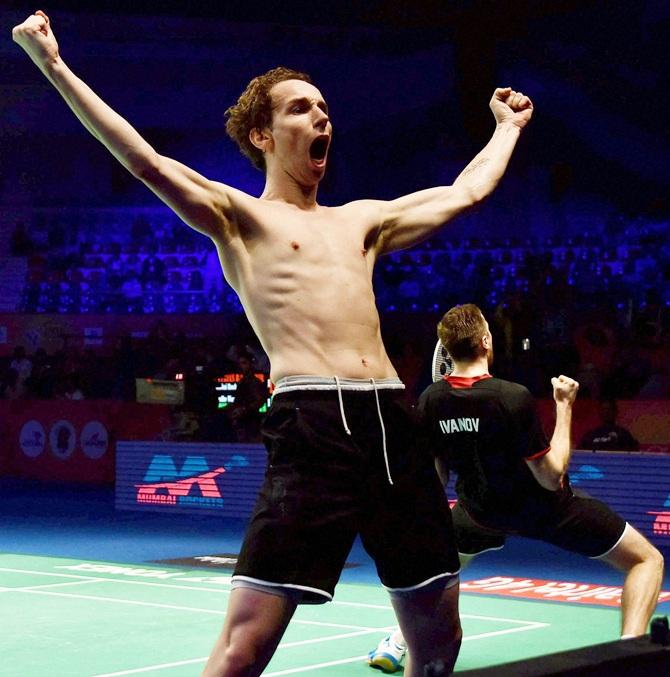 IMAGE: Mumbai Rockets' Mathias Boe and Vladimir Ivanov celebrate their victory against Warriors' Bodin Issara and Cai Yun during their Premier Badminton League match in Hyderabad. Photograph: PTI
World No 2 Saina Nehwal suffered a crushing defeat in Awadhe Warriors' Trump match as Mumbai Rockets stormed into the finals with an emphatic 3-0 win in the second semifinals of the Premier Badminton League (PBL) at the Gachibowli indoor stadium, in Hyderabad, on Friday.
The Mumbai side would now take on the Delhi Acers in the Summit Clash at the Siri Forts Sports Complex in the Capital on Sunday.
Mumbai won the Men's Singles, Men's Doubles and also the Women's Singles, in which Saina played for Awadhe, to bag four points. Awadhe got one point with its win in the Mixed Doubles, but with Saina losing the Trump match meant Lucknow drew a blank. As a result, the last match of the tie – second Men's Singles, which was the Trump match of Mumbai, was abandoned.
It was Mumbai's Han Li from China who pulled off the sensational 15-8, 13-15, 15-7 victory over Saina who is currently ranked World No 2 in Women's Singles.
Saina lost the first match 8-15 to Han Li but the Indian managed to win the second match 15-13 after a hard-fought battle. In the decider, Han Li proved a tough nut to crack as the Mumbai player got the better of her star rival.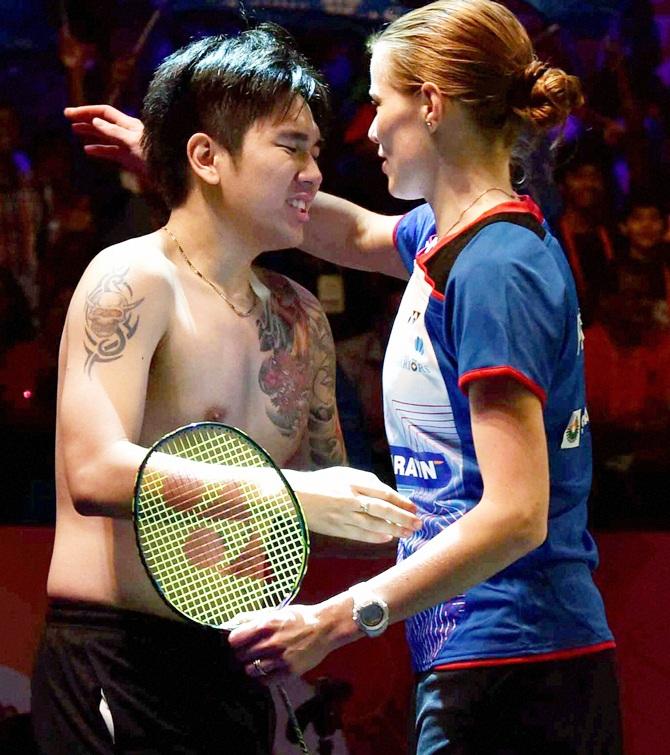 IMAGE: Awadhe Warriors's Bodin Issara and Christina Pedersen react. Photograph: PTI
In the mixed doubles match, Awadhe's Bodin Issara-Christinna beat Kamilla Juhl-Vladimir Ivanov of Mumbai 12-15, 15-13, 15-14 in a close battle with both sides trying to outsmart each other.
With each team winning one game each, the third game was a close contest. Though Awadhe took an early lead, but the Mumbai players came back hard, but the former still clinched the match in the end.
Mumbai's HS Prannoy defeated Tanongsak S of Awadhe 12-15, 15-7, 15-9 in the first Men's Singles match of the day.
Mumbai defeated Awadhe in the Men's Doubles 15-10, 12-15 and 15-13. The Men's Doubles was also a close match with both sides leaving no stones unturned to take an advantage. The Mumbai pair, however, prevailed over their rivals in the end.