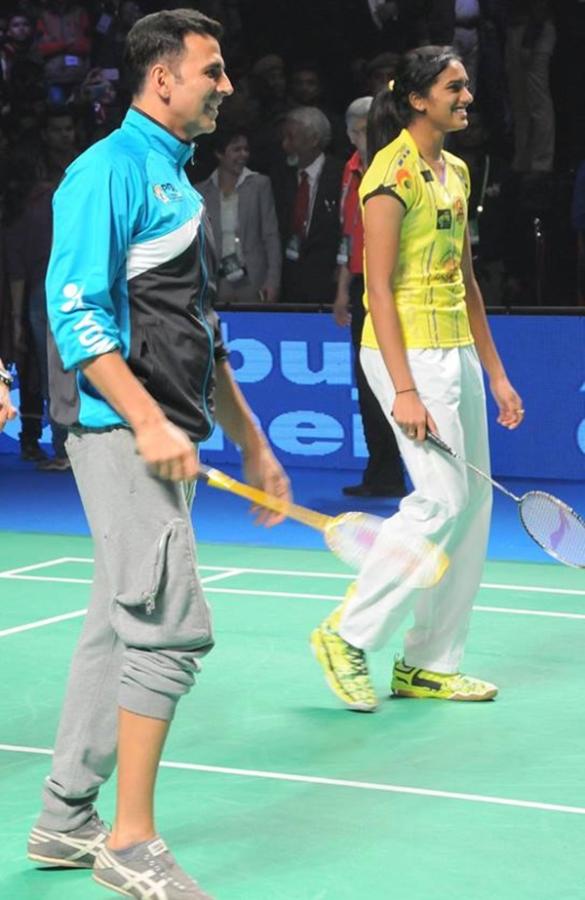 IMAGE: PBL brand ambassador Akshay Kumar with Indian women's badminton ace PV Sindhu. Photograph: PBL/Facebook
When Bollywood star Akshay Kumar joined hands with the Premier Badminton League, entertainment was expected.
The promise was delivered when the Khiladi star walked in at the Siri Fort Auditorium, in New Delhi, with Abhishek Bachchan and Riteish Deshmukh.
Armed with badminton racquets, the actors thrilled the goodly crowd at the PBL final with their camaraderie and stunts on court.
After two games of the final between Delhi Acers and Mumbai Rockets, the stars lit up the court.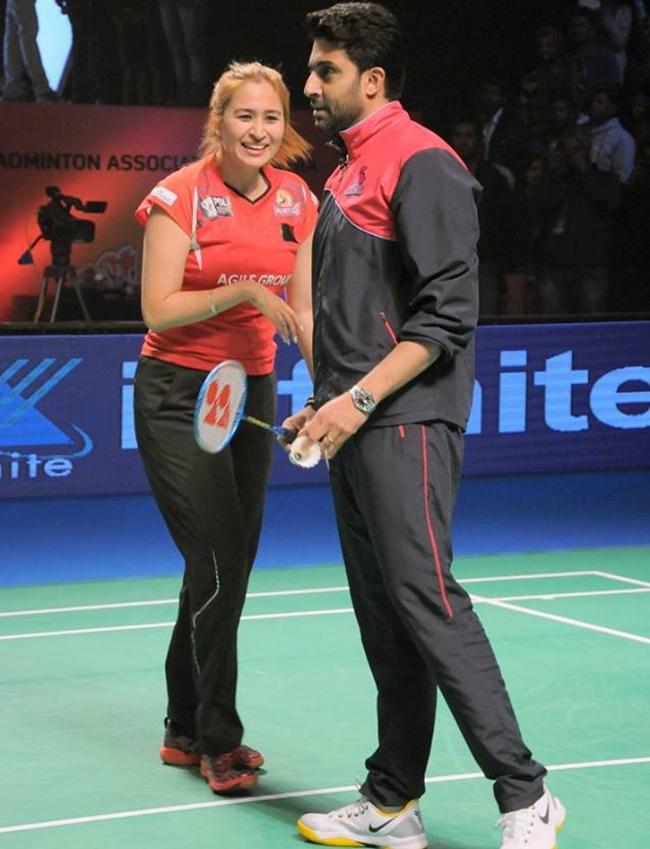 IMAGE: Bollywood actor Abhishek Bachchan and Indian badminton doubles ace Jwala Gutta during a friendly match at the Premier Badminton League final. Photograph: PBL/Facebook
In the first match, Akshay Kumar paired with world No 12 P V Sindhu. They were up against Bachchan Junior and Jwala Gutta.
As the exhibition progressed, the spectators soared and roared.
Askhay did not miss the opportunity to show how well he can play the game, hitting some smashes across the court.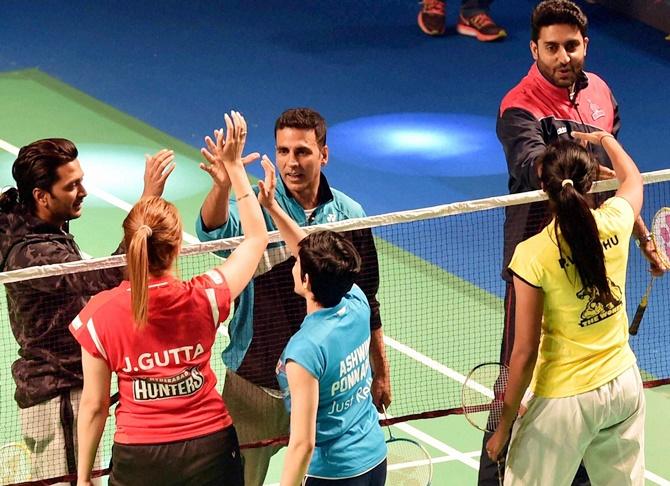 IMAGE: The Bollywood stars after the friendly match. Photograph: PTI
In the next match Deshmukh joined Bachchan and PBL brand ambassador Kumar and they played against shuttlers Sindhu, Gutta and Ashwini Ponappa.
Needless to say, the spectators cheered every point.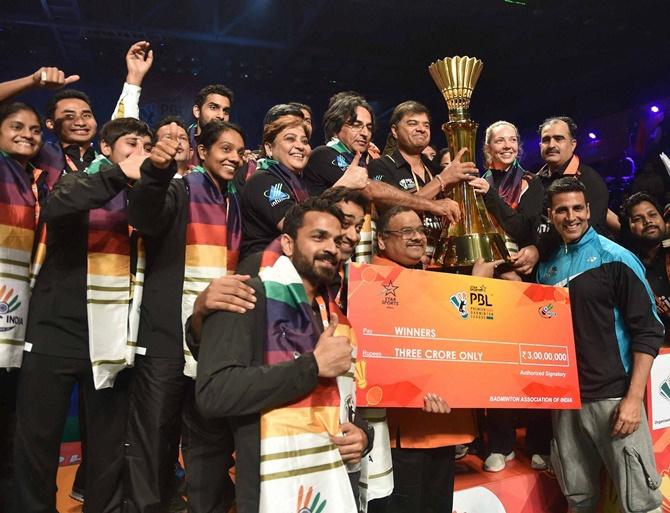 IMAGE: Bollywood star Akshay Kumar, right, presents the winner's cheque to Delhi Acers' players. Photograph: PTI
Delhi Acers went on to win the tournament, notching a thrilling 4-3 victory over Mumbai Rockets in the summit clash.
Tommy Sugiarto, the men's doubles pair of Koo Kien Keat-Tan Boon Heong and Rajiv Ouseph won their respective matches as Delhi clinched the trophy and pocketed the winner's cheque of Rs 3 crore.
The mixed doubles pair of Kamilla Juhl and Vladimir Ivanov thrashed Gabrielle Adcock and Akshay Dewalkar 15-6, 15-12 to draw first blood for Mumbai Rockets.
Then, in the first men's singles, Sugiarto continued his unbeaten run at the tournament, seeing off Mumbai's H S Prannoy 13-15, 15-9, 15-9 to bring Delhi back into the contest.
In the men's doubles match, Ivanov and Mathais Boe played their hearts out before going down 14-15, 15-10, 15-14 to Koo Kien Keat-Tan Boon Heong as Delhi grabbed a 2-1 lead.
China's Han Li, who had beaten world No 2 Saina Nehwal on Friday to take Mumbai into the final, then scored a 12-15, 15-8, 15-8 win over P C Thulasi in the 'Trump' match to make it 2-2 for Mumbai.
In the deciding match, which was Delhi's 'Trump' match, 2010 Commonwealth Games silver medallist Rajiv Ouseph took the court against RMV Gurusaidutt and took Delhi across the line by grabbing two points with a 15-11, 15-6 win over the Indian.