Britain's Paula Radcliffe will be given a head start of seven minutes and 52 seconds when she takes on Ethiopian Haile Gebrselassie in a unique half marathon chase race in Vienna on Sunday.
Marathon world record holder Radcliffe's advantage is the difference between the two athletes' personal bests over the distance, organisers said on Friday.
Radcliffe, 38, has a recognised best of 66 minutes 47 seconds, although she has recorded faster on a downhill course, while Gebrselassie's mark is 58.55, which was a world record when he set it in 2006.
"It will be unique, but in the end it is a competition. I am a bit worried though, because I have no information about Paula's shape," said twice Olympic 10,000 metres champion Gebrselassie.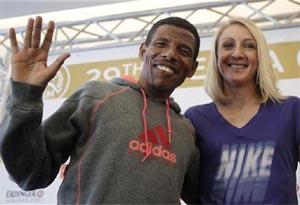 The event, run as part of the Vienna City Marathon, will be Radcliffe's first race of 2012. She has already been selected for the marathon at the London Olympics after beating the qualifying time when finishing third in Berlin last year.
"I had a difficult past two weeks because of a bronchitis. There were times when I thought I would not be able to come to Vienna... Because of this I am not sure what I can run on Sunday," she said.
"I hope to be able to produce a good solid run and I would be happy with a time of sub 70 minutes. I hope it does not come to a sprint in the final 100 metres - in this case I know on who my money would be," Radcliffe added.
Photograph: Heinz-Peter Bader/Reuters