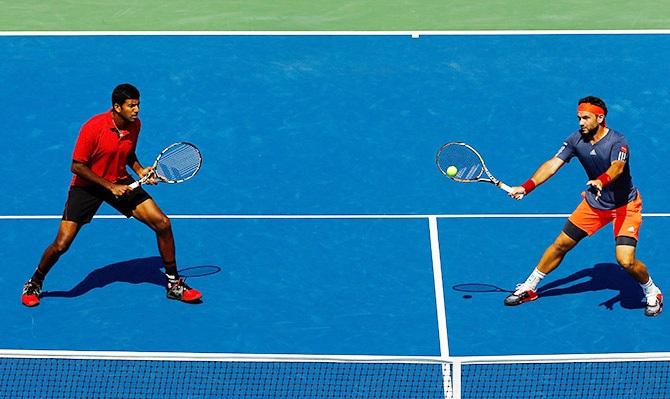 IMAGE: India's Rohan Bopanna and Romania's Florin Mergea in action. Photograph: Al Bello/Getty Images
Rohan Bopanna and his Romanian partner Florin Mergea scraped past Colombian duo of Juan Sebastian Cabal and Robert Farah in a tough three setter to reach the men's doubles quarterfinals of the Paris Masters on Thursday.
Bopanna and Mergea rallied from a set down to beat the Colombian pair 6-7(3), 6-4, 10-5 in a second round match that lasted an hour and 33 minutes.
The eighth-seeded Indo-Romanian pair bagged the third set in super tie-break to clinch the match in the 3,288,530-euro ($ 3.5 million) tournament.
Bopanna and Mergea were erratic in their service as they committed as many as six double faults in the match. Overall, they got six breakpoint opportunities, converting half of them. In comparison, Cabal and Farah also earned six break chances but converted two.