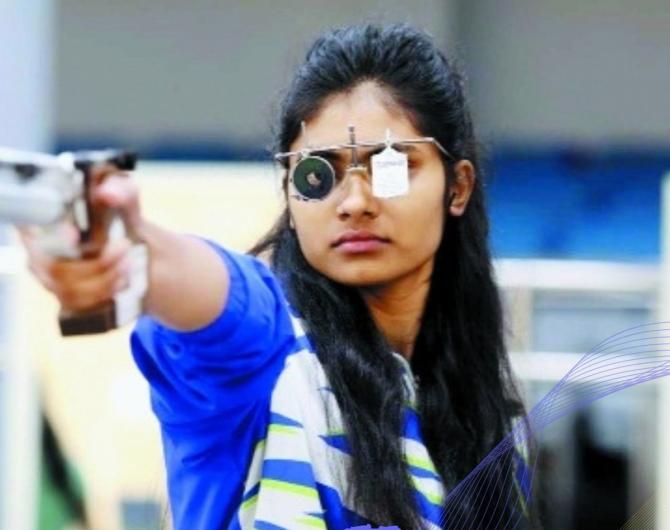 Fancied Indian shooter Rubina Francis finished seventh in the women's 10 metres air pistol SH1 final at the Tokyo Paralympic Games, on Tuesday.
She logged 128.5 points from her four shots (43.2, 49.4, 17.9, 18.0) in the final before being eliminated in seventh place, at the Akasa Shooting Range.
Athletes in the SH1 pistol event have an impairment affecting one arm and/or the legs, resulting from amputations or spinal cord injuries. The pistol is held with one hand only. Some shooters compete in a seated position, while some take aim in a standing position as defined in the rules.
Iran's Sareh Javanmardi won the gold medal with a World record score of 239.2. Rubina held the previous World record with 238.1. Turkey's Aysegul Pehlivanlar (234.5) won silver and Hungary's Krisztina David (210.5) bronze.
It was always going to be an uphill task for Rubina after she shot a horror 6.6 in the first series. Still, she was placed fourth after the end of the first competition stage with 93.1 points, as the elimination rounds began. She tried but could not regain lost ground and was the second shooter to be eliminated in the eight-women final.
Earlier, Rubina, who hails from Jabalpur, overcame an erratic start early in the qualifying rounds to finish with 560 points, which was enough to earn her a place in the final.
At the end of the first series, she was placed 13th, with 91 points. However, she ascended to sixth on the leaderboard after a score of 187 following the conclusion of the second stage.
Rubina, who was born with a disability in her legs, then moved to third place with 282 points at the halfway stage. Her average score then was 9.4. But it dropped a bit to 9.35 as she misfired and was relegated to fourth place after the fourth round.
In the next two series too Rubina failed to get going and could only register scores of 93 and 93 respectively, which saw her drop to seventh. But that was enough to clinch a place in the summit round.
India women's TT team loses to China in quarters
The Indian women's table tennis team including Bhavina Patel was outclassed 0-2 by China in the Class 4-5 quarter-final at the Paralympic Games in Tokyo on Tuesday.
Bhavina, who had won a historic silver in the singles event on Sunday, lost 0-3 (4-11, 7-11, 6-11) to Ying Zhou for the third time in the competition. The Chinese had also beaten her in the singles final.
In the doubles contest, Sonal Patel and Bhavina were no match for the Chinese duo of Ying and Zhang Bian, losing in straight games. The Indian pairing was defeated 2-11, 4-11, 2-11 in the showdown that lasted just 13 minutes.
In the class 4 category competitors have fair sitting balance and fully functional arms and hands. Their impairment may be due to a lower spinal-cord lesion or cerebral palsy.
While the class 5 category includes athletes who compete in a wheelchair but who have a normal sitting balance, arm and hand function. The athletes have the most physical functionality of those in a wheelchair.
Archer Rakesh Kumar beaten in quarter-finals
Archer Rakesh Kumar failed to make it to the semi-finals at the Tokyo Paralympics after losing 143-145 to China's Ai Xinliang in men's individual compound archery event, on Tuesday.
The Indian fought neck and neck in all five rounds in the quarter-finals but his best was not good enough to unsettle the Chinese.
He started off with a score of 29 in the first round, but Xinliang registered 30 in the same essay to take the charge.
The Chinese athlete then maintained his lead throughout the game to emerge triumphant.
Earlier, Rakesh defeated Marian Marecak of Slovakia 140-137 to win his 1/8 elimination match.
Rakesh got off to bad start and was down with a cumulative score of 53. However, he staged a strong comeback to take a slender lead of 81-80. He then continued his fine form and shot brilliantly in the last two rounds to win the game.
Last week, Rakesh defeated Hong Kong's Ngai Ka Chuen 144-131 to win his 1/16 elimination match.
Another archer Shyam Sundar went down 139-142 to Matt Stutzman of the USA in the individual compound open 1/16 elimination round on Saturday.
Bhagyashri Jadhav finishes 7th in women's shot put F34 final
India's shot putter Bhagyashri Jadhav finished seventh in the women's shot put - F34 final event in the ongoing Tokyo Paralympics on Tuesday.
Bhagyashri was leading the charts in the final before Marie Bramer-Skowronek of Germany and Orlova Elena occupied the first and second spot respectively. Bhagyashri might have started with a score of 5.87 but the Indian shot putter threw 7.00, her personal best in her sixth attempt in the final.
After her first throw, the next two attempts from Bhagyashri were deemed fouls.
Bhagyashri saved her best throw for last and then played the waiting game to see her throw was good enough to be amongst the top three.
But Zou lijuan of China registered a world record throw of 9.19m to take the spot. Lucyna Kornobys of Poland and Saida Amoudi came second and third respectively.