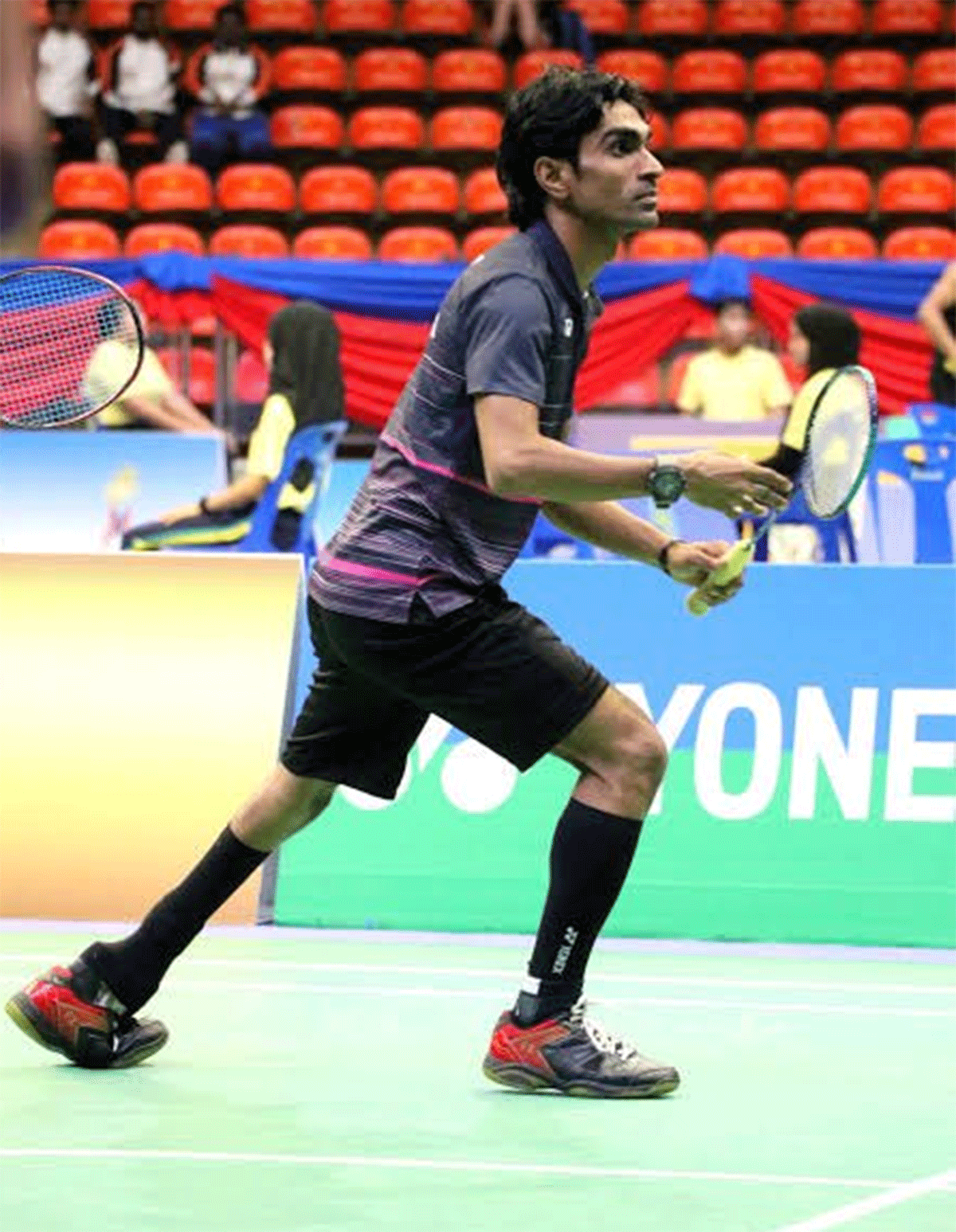 India's Pramod Bhagat and his partner Palak Kohli qualified for the mixed doubles semi-finals, while three singles players, including Noida District Magistrate Suhas Yathiraj, also made the last-four stage to continue a rampaging run at the Paralympics badminton competition here on Friday.
Bhagat, who had qualified for the men's singles SL3 event on Thursday, and Kohli beat Thailand's Siripong Teamarrom and Nipada Saensupa 21-15, 21-19 in a 29-minute clash to finish second in group B.
In the men's singles, Suhas, Tarun Dhillon and Manoj Sarkar also made it to the semi-finals on a fruitful day for India.
In SL4 class, Suhas, a world number 3, took 19 minutes to get rid of Indonesia's Hary Susanto 21-6 21-12 in group A, while Tarun, seeded second, recovered from a mid-game slump to outwit Korea's Shin Kyung Hwan 21-18, 15-21, 21-17 in a group B match.
Suhas will face France's top seed Lucas Mazur, while Tarun will cross swords with Indonesia's Fredy Setiawan later in the day.
In SL classification, persons with standing/lower limb impairment/severe are allowed to compete, while SU refers to athletes with upper limb impairment.
With two wins out of three matches so far in their respective groups, both Suhas and Tarun have qualified for semifinals and might face-off in the knockout stage.
Suhas has an impairment in one of his ankles, while Tarun has restricted knee movement following a severe injury that he suffered at the age of eight.
In SL3 class, Manoj secured a 21-16 21-9 victory over Ukraine's Oleksandr Chyrkov to make it to the knockout stage after finishing at the second spot in group A behind world no.1 Bhagat.
The 31-year-old, who had contracted polio at one, suffered a loss to Bhagat in his opening match.
Earlier, Palak, 19, and Parul Parmar, 48, suffered their second successive loss in women's doubles SL3-SU5 group A, going down 12-21 20-22 to French pair of Lenaig Morin and Faustine Noel.
While Suhas hardly broke any sweat during his contest, Tarun had to toil hard to edge out Hwan, who recovered from an opening game reversal to grab the second game.
Singh, Chikara keep Indian medal hopes alive, make last-16
Indian recurve archer duo of Vivek Chikara and Harvinder Singh kept medal hopes alive, sailing into their respective pre-quarterfinals of the men's open section in the Paralympic Games here on Friday.
World number 23 Singh, who became the first athlete from India to win a gold medal in para archery at a major competition in Asian Games Jakarta 2018, overcame a stiff challenge from Stefano Travisani of Italy to win 6-5 (10-7) via shootout.
The 30-year-old, who qualified as 21st seed, squandered a 4-0 lead after shooting a 7 in the third set as the Italian slowly bounced back to make it 5-all and force a shoot-off.
But Singh, who hails from a remote village Kaithal in Haryana, clinched the issue shooting a perfect 10 in the tie-breaker as his rival managed just 7.
An economics scholar , Singh will face Russian Paralympic Committee's Bato Tsydendorzhiev later in the day.
Hailing from a middle-class farming family, Singh had dengue at one-and-a-half years and a local doctor administered him with an injection that had an adverse effect and his legs stopped working properly since then.
Asian Para Championship winner in 2019, Vivek Chikara, who finished in top-10 in the rankings round, stormed past Sri Lankan Sampath Bandara Megahamulea Gadara 6-2 to set up a last-16 clash with Great Britain's David Phillips.
World number 13 Chikara, who competes with a prosthetic left-leg, overcame a blip in the second set when he misfired a 6 as he wrapped the issue with some consistent shooting.
An MBA and leading a corporate life, Chikara was about to marry his long-time girlfriend but life took a twist as he met with an accident on the New Year's day of 2017.
Travelling to be with his family from Saharanpur, the Meerut lad's motorcycle was hit by a speeding truck and his left leg had to be amputated below the knee.
Chikara then took up archery with the guidance of Athens 2004 Olympian Satyadev Prasad and won his major medal, winning a gold in Bangkok.
The Open event combines W2 (wheelchair) and ST (standing) classes, including athletes who have an impairment in the legs and use a wheelchair or have a balance impairment and shoot standing or resting on a stool.
In archery, the use of assistive equipment or an assistant is allowed depending on the impairment, while a variety of techniques may be employed, including pulling the bowstring with the mouth.
Indian swimmers Suyash, Mukundan fail to qualify for S7 50m butterfly final
Indian swimmers Suyash Narayan Jadhav and Niranjan Mukundan failed to qualify for the S7 class final of men's 50m butterfly event at the Tokyo Paralympics here on Friday.
Suyash, who claimed a gold medal at the 2018 Asian Para Games in Jakarta, finished fifth in heat 1 after clocking 32.36s, 2.65 seconds behind leader Austin Evan (29.71) of USA.
In heat 2, Mukundan, the 26-year-old from Bengaluru, finished at the sixth position with a timing of 33.82s.
Only the top four in each heat qualifies for the final.
In S7 classification, swimmers have limited leg function or are missing a leg or parts of both legs.
This is the first time after the 1972 that para swimmers competing in the Games for India.
Prachi Yadav finishes last in 200m canoe VL2 final
India's Prachi Yadav failed to finish at the podium, ending her campaign at a disappointing eighth and last in the women's Va'a single 200m VL2 canoe sprint final at the Tokyo Paralympics here on Friday.
Prachi finished the race in 1:07.329s to settle for the last place.
Great Britain's Emma Wiggs won the gold with a personal best timing of 57.028s, while Susan Seipel, who won a bronze in Rio, bagged the silver clocking 1:01.481s and Great Britain's Jeanette Chippington clinched the bronze in 1:02.149s.
Prachi had earlier qualified for the final by finishing third in the semifinal with a timing of 1:07.397s.
Prachi was a champion para-swimmer for India before taking up para canoe on the advise of her her coach.
In KL2/VL2 class only those athletes who can propel themselves with their arms and trunk can compete.