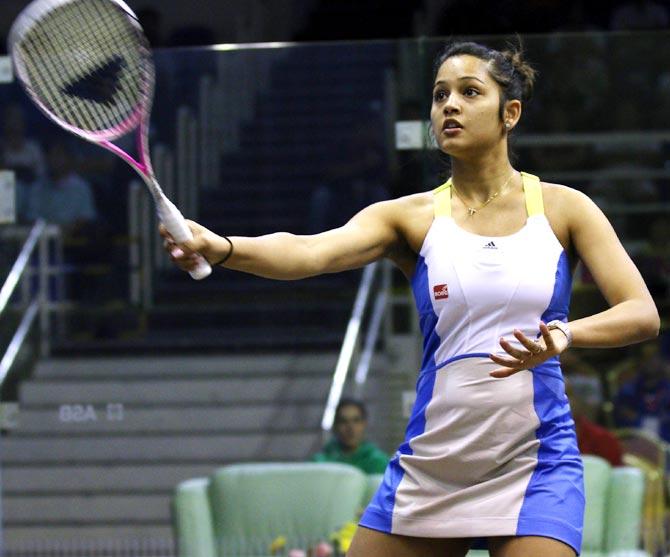 IMAGE: Dipika Pallikal says she's more composed now and playing a lot better. Photograph: Phil Stanley Chou/Getty Images
India's world No. 21 Dipika Pallikal beat the United States' Olivia Blatchford 13-11, 11-6, 11-9 in 35 minutes to enter the women's semi-finals in the San Francisco Open squash tournament, a PSA World Tour event.
She made it two wins over seeded players in as many days, having beaten fourth-seed Emily Whitlock in round one.
This will be her biggest PSA World Tour semi-final since 2014.
Pallikal, who was in fine form in her match against sixth seeded Whitlock, continued in the same vein against her American opponent on Wednesday.
She had lost to Blatchford in the first round of the same event in 2015.
Speaking after the victory, she said after some unimpressive results in the summer things were falling in place.
She credited national coach Ashraf el Karagui for the improvement in her game.
"I've really worked hard this summer; I didn't get the results I wanted in China and Hong Kong and I just wanted to come here, play well and enjoy myself. Things are finally falling in place and we've got Ashraf el Karagui who has joined us as a national coach in India," Pallikal was quoted as saying by the PSA World Tour website.
"He's been there for the last year, so things are picking up and I feel like I'm playing a lot better and I'm a lot more composed. He's been a very big influence in both today's and yesterday's wins and I'm just glad that I could do it for him because he has worked really hard for me," she said.
The Indian ace plays Malaysia's eight-time World champion and No.2 seed Nicol David in the semi-final on Friday after a day's rest.
David had to work hard to beat England's fifth seed Victoria Lust 11-5, 7-11, 11-6, 9-11, 12-10 in 76 minutes.
National coach Cyrus Poncha was all praise for Pallikal and said her hard work at the Indian Squash Academy in Chennai in the past few weeks was paying dividends.
"She has been working hard over the past few weeks with coach Achraf (el Karagui) at the ISA and its paying dividends. Her next match is against the legend, Nicol David. She has to give it her best shot," he said.