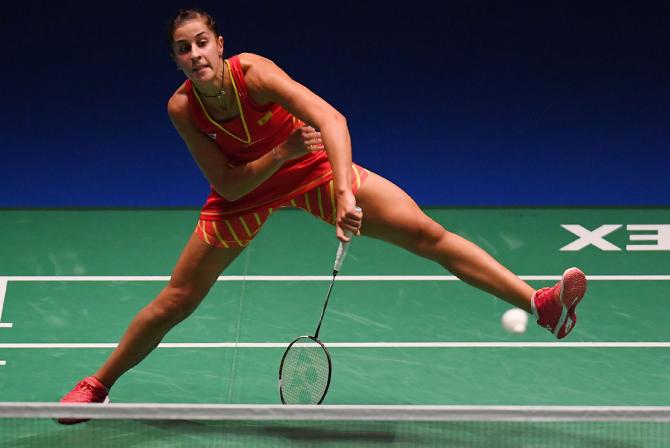 Two career-threatening knee injuries could break the resolve of any athlete, but Olympic champion Carolina Marin "accepted pain" and chose to fight instead of giving up.
The Olympic, World, and European champion, Marin was in a different zone before sustaining an Anterior Cruciate Ligament (ACL) injury in her right knee during the 2019 Indonesian Masters final in January.
She made a comeback in 2020 and was preparing for Tokyo Games when she suffered another ACL and tore both menisci in her left knee in June 2021, jeopardising her career.
But she kept herself motivated, doing everything she could on the road to recovery and finally returned to action last year. Since then she has had a mixed bag of results. On the eve of the India Open Super 750 tournament, Marin spoke about her battle with injuries.
"Last year was really, really tough. I was coming back from injury. No active badminton player is (still) playing after two serious injuries but I didn't want to give up because I have something on my mind. I want to win another medal at the Olympics," Marin said on Monday.
"It was tough physically but especially, mentally. When you have to practice every day with pain, finally you have to accept it, otherwise it frustrates your mind."
"But now, I feel really happy and comfortable with myself because, around December, I didn't have any pain. So finally I was able to do some good practice and prepare for one whole month."
Marin, who will open against Japan's Nozomi Okuhara at the India Open, said she is in good shape and will look to improve.
"I did a good performance last week. I had three good matches even though I lost against Chen Yufei. I am ready for this week."
"I am looking forward to compete against any player. I am not scared to face anyone. Now it's just small things I have to improve upon. I have to keep going and improving. I am looking forward to this week."
Marin has made many visits to India and said she feels at home playing in the country.
"I was surprised when I came here after the Olympic final because I didn't expect people to love me after I beat Sindhu. It's like I take this gold medal from this country."
"I feel like I am playing at home. Even though the crowd is Indian, they support me. I am looking forward to playing here."
© Copyright 2023 PTI. All rights reserved. Republication or redistribution of PTI content, including by framing or similar means, is expressly prohibited without the prior written consent.