'The way Purav played at the end, people have seen me do that, but he earned street cred today in the locker room.'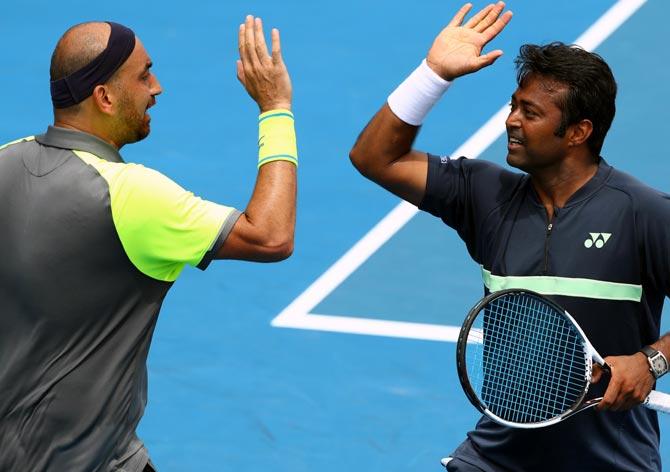 IMAGE: Purav Raja, left, and Leander Paes celebrate winning a point during their second round doubles match. Photograph: Clive Brunskill/Getty Images

India's doubles great Leander Paes has had 119 playing partners in his 27-year career and it appears his latest union could be a profitable one after he and compatriot Purav Raja knocked out former champions Jamie Murray and Bruno Soares on Saturday.
Paes, 44, and Raja saved a match point in a near three-hour thriller before winning 7-6(3) 5-7 7-6(6) during their second round men's doubles match at the Australian Open.

Journeyman Raja, who only took up tennis properly aged 17, was approached last year by Paes, who has won 18 Grand Slam doubles titles including the mixed event, and they joined forces for the US Open where they lost in the second round.

After working together in the off-season, however, Paes, the oldest man left in the tournament, is happy with his choice.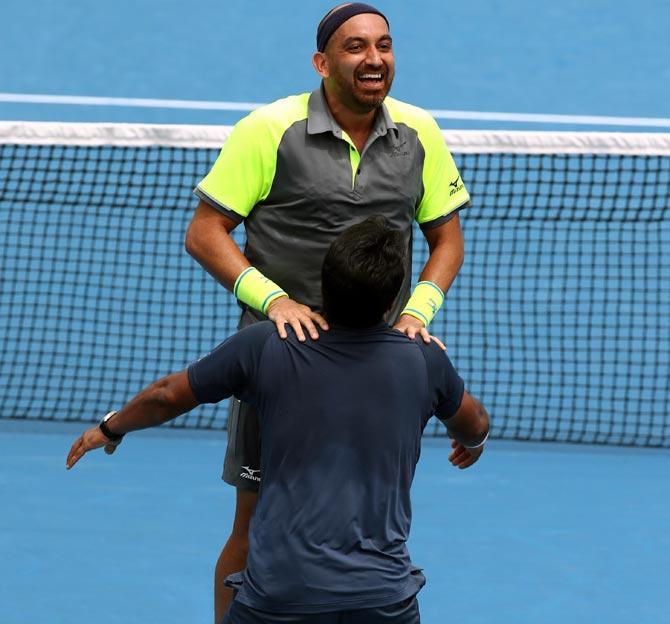 IMAGE: Purav Raja and Leander Paes celebrate winning their second round doubles match. Photograph: Clive Brunskill/Getty Images

Raja, 32, saved a match point at 6-5 in the tiebreak with a sensational reflex volley and then sealed victory over Briton Murray and Brazilian Soares with a backhand winner, to the delight of the Indians in the crowd.

"I think we earned some street cred today as a pair, we were playing Grand Slam champions today and they kept on showing their class," Paes said.

"The way Purav played at the end, people have seen me do that, but he earned street cred today in the locker room."

Asked whether it would be a long-term arrangement, Paes said: "Come back to me in six months."

Raja, who has earned only $380,000 as a professional and is ranked 68th in doubles, said his skills may not be the usual kind seen on Tour but his silky shots are certainly effective.

"I don't bomb the serve down at 200kph but I like to... catch players in my web," the Millfield School-educated Mumbai resident said. "I like to put my style out there and believe in what I do."