'Ideally, Bopanna and Leander should start playing a few tournaments together now.'
'In mixed doubles, it will be about who Sania, considering her higher ranking, wants to play with.'
As tennis continues to raise hopes of an Indian medal at the Olympics, Bikash Mohapatra/Rediff.com puts things in perspective.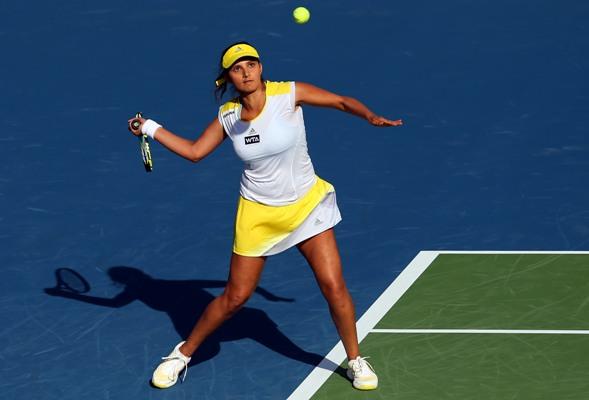 IMAGE: Sania Mirza in action. Photograph: Getty Images
The 2012 London Olympics represent a forgettable event for Indian tennis.
Personal issues, bloated egos and politics damaged India's medal-winning chances.
Despite having multiple teams, and every player worth a mention in the squad, the Indians failed to get close to a medal in London, let alone win one.
Four years later, tennis continues to raise hopes, and is one of the few disciplines that Indian fans believe can ensure medals at the Summer Games in Rio de Janeiro.
But who should represent India this time?
Are India's chances as good as we think?
Will the Indian players again succumb under pressure?
With the main qualifying criteria being ranking lists -- the cut off is on June 6 -- there isn't much time left.
"Who is going to play?" asks eminent coach Akhtar Ali, before providing a tongue-in-cheek response.
"Last time around there was too much of politics," he says, adding, "This time we are a little more certain.
"In the mixed doubles, it will be about who Sania (Mirza), considering her higher ranking, wants to play with."
"People think mixed doubles is our best chance. But (Roger) Federer will be partnering (Martina) Hingis. There will be other good teams. It won't be easy."
IMAGE: Sania Mirza and Rohan Bopanna of the Indian Aces in action during the IPTL. Photograph: Getty Images
Former Davis Cup captain Nandan Bal believes there are two categories that the Indian think-tank needs to lay emphasis on.
"Men's doubles and mixed doubles are our best chance," he says.
"Leander (Paes), Rohan (Bopanna) and Sania (Mirza), between these three we have our best shot at a medal," he adds.
"They (the All India Tennis Association) have to decide on it early, as regards who goes to represent India."
Despite all the expectations, Paes's singles bronze in Atlanta (1996) remains the only medal for India in the sport. All the success in subsequent years, particularly in doubles, has come to naught when it comes to the Olympics.
That Paes, who will turn 43 in June, continues to remain a medal hope says it all.
He faces a race against time as regards qualification for Rio, his ranking having suffered in recent months.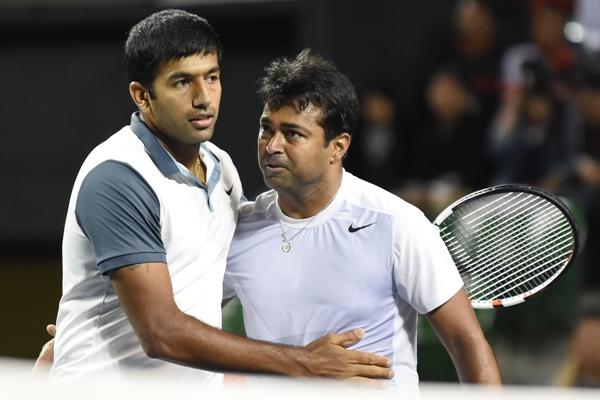 IMAGE: Rohan Bopanna and Leander Paes. Photograph: Getty Images
"For one, Bopanna is sure to play. Leander needs to improve his ranking. The pressure is on him now, especially considering he is finding it difficult to get younger players to partner him," says Ali.
"Ideally, Bopanna and Leander should start playing a few tournaments together now," he says, adding, "Bopanna is a left court player, and Leander excels in the right court."
"This can be potentially a great combination for us in men's doubles."
"But then, a lot is at stake on the Tour -- the ever increasing prize money being a crucial factor -- and no one is willing to change a winning combination, definitely not Bopanna."
Bal offers a counter point.
"One can't negate the fact that our top doubles players are well into their 30s," he says.
"If the top singles players switch their attention to doubles, then it is going to be extremely difficult," he adds, before citing an example to validate his point.
"Federer lost early in the singles in the 2008 Beijing Games. He needed a medal and partnered (Stan) Wawrinka in the doubles."
"The Swiss pair demolished Leander and Mahesh (Bhupathi), one of the best doubles combinations ever, in that match."
"I was there, witnessing the destruction. Lee-Hesh too deserved a medal. It was not to be."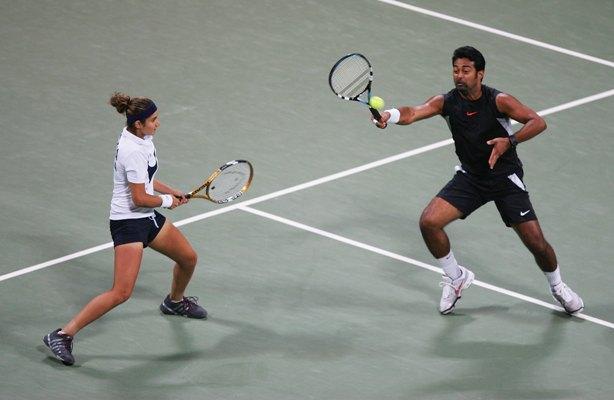 IMAGE: Leander Paes and Sania Mirza in action. Photograph: Getty Images
Sania having a dream run in doubles in recent times has also raised additional hopes of an outside chance in the women's doubles.
Bal is quick to douse the expectations.
"There are a lot of contenders in the women's doubles. The Americans (Williams sisters), the Italians Sara Erranni and Roberta Vinci; the Swiss, if Martina (Hingis) partners (Belinda) Bencic, and even Great Britain with Heather Watson and Johanna Konta in the ranks."
"Besides, one can't negate the fact that whosoever will partner Sania won't be a top 200 player. The difference, therefore, is huge. As such, there will be additional pressure on Sania. I don't see a chance here."
"You can't help the hype," says Bal. "When you have produced results in tournaments across the world, there will always be hype."
"The players know that. To them it doesn't matter."
"All the three players -- Leander, Bopanna and Sania -- will be playing their last Olympics, and, as such, will want to go out with a bang."