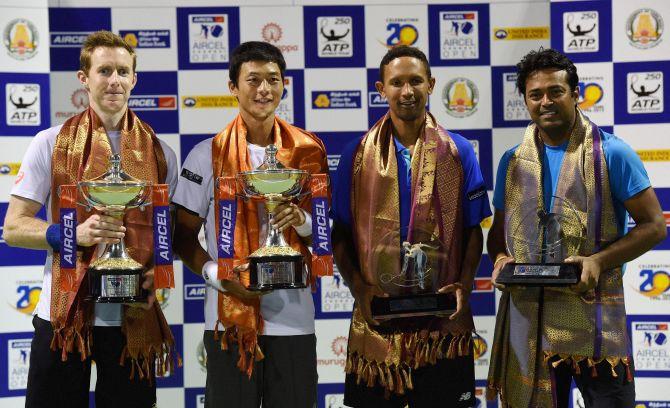 Yen-Hsun Lu and Jonathan Marray with the Chennai Open doubles winner's trophy along with runners up Leander Paes and Raven Klaasen. Photograph: PTI
Yen-Hsun Lu and Jonathan Marray outplayed top seeds Leander Paes and Raven Klaasen to win the men's doubles title at the Chennai Open tennis tournament.
Paes and his 99th doubles partner Klaasen tried their best before going down 3-6, 6-7 (4) to a superior pair on the day.
Despite the partisan crowd support, the 41-year-old Indian fell short of winning his seventh title.
Paes, who has entered his 25th ATP season, acknowledged he and his South African partner lost to a better team.
"They played a great match today. I would love to see the statistics. I don't think they missed too many first serves. Having said that, I would like to thank my partner for a good start to the new season," said Paes at the post-match on court interview.
"Now we have to concentrate for the coming weeks as big tournaments are coming. We look forward to a great partnership during the year," he said.
"What a great week it was. I enjoyed being here. The crowd tried their best today but there was not enough time I guess. Though we lost, it has been a good start for us (Leander and him)," said Klaasen.
A break was enough for the Marray and Lu to seal the opening set.
The second set went down to the wire and witnessed many breathtaking rallies, much to the liking of the vociferous crowd at the SDAT Stadium.
In the tie-break, Lu was able to convert the first championship point when Klaasen sent his service return long.