Veteran Indian tennis star Leander Paes and his French partner Jeremy Chardy bowed out of the Delray Beach Open after going down to defending champions Bob and Mike Bryan in the men's doubles semi-final in Delray Beach on Saturday.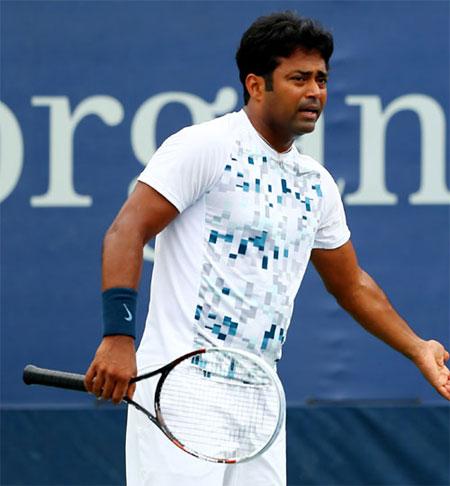 The top seeded Byran brothers took just 55 minutes to down the Indo-French pair 6-2, 6-3 on the outdoor hard courts of the $514,065 event. Paes had reached the final here last year with South African Raven Klaasen.
The American pair put up a dominating show, converting both their breakpoint chances to move ahead in the first set, even as the unseeded combination of Paes and Chardy served three double faults.
Paes and Chardy could get only 52 per cent of their first serves right as compared to 80 per cent by the Bryan brothers.
The Indo-French failed to make a comeback in the second set as well, wasting five breakpoint chances that they earned.
In the second set, Paes and Chardy failed to improve their first service, and it deteriorated to 45 per cent. They also had four double faults.
On the other hand, the top seeds converted one out of the two breaks they got and that proved to be enough for them to wrap up the match comfortably in the end.
Image: Leander Paes