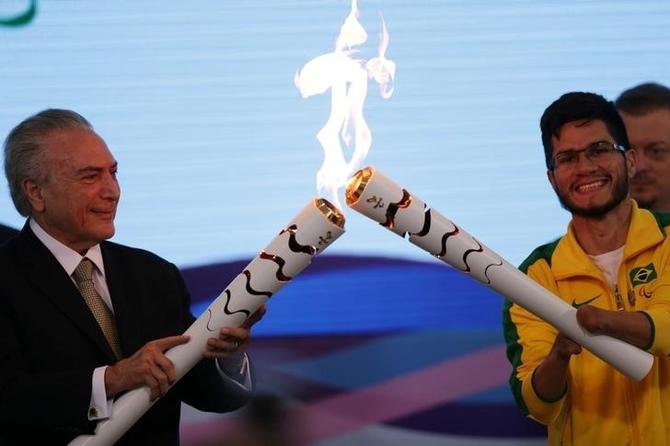 IMAGE: Brazil's interim President Michel Temer lights the torch with the Paralympic flame from Paralympian Yohansson do Nascimento during the Paralympics Flame torch relay launching ceremony at Planalto Palace in Brasilia. Photograph: Ueslei Marcelino/Reuters.
More than 100 Russian Paralympians have individually filed cases to the International Paralympic Committee (IPC) in order to be allowed to compete at next month's Games in Rio, Russian Paralympic Committee (RPC) Vice President Pavel Rozhkov said on Tuesday.
The Court of Arbitration for Sport (CAS) last week rejected an RPC appeal against the suspension which was handed out by the IPC because of Russia's state-sponsored sports doping programme.
"More than 100 Russian sportsmen out of 266 who were selected for the 15th Paralympic Summer Games in 2016 in Rio de Janeiro, which excludes those competing in team sports, have filed individual cases with the IPC about being allowed to compete in the 2016 Paralympics," Rozhkov told the RPC's website (www.paralymp.ru).
Russia has appealed against the CAS ruling to the Swiss Federal Court and the result is due to be released later this week.