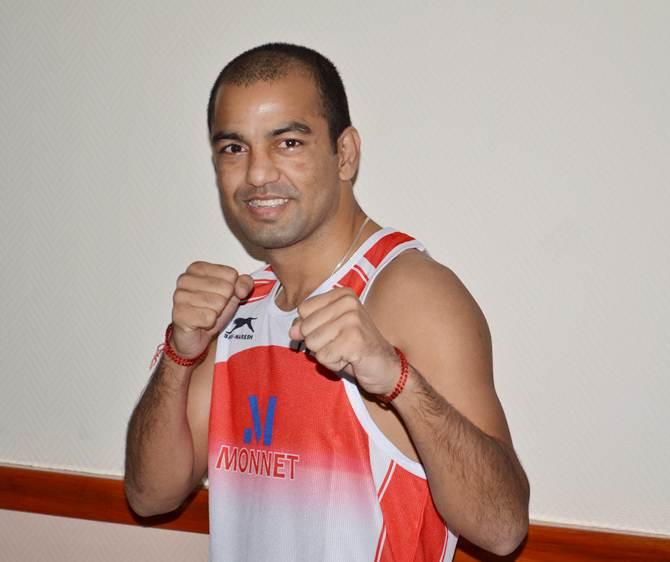 Boxer Akhil Kumar. Photograph: Facebook
The court battle between boxers Akhil Kumar and Dilbagh Singh over a defamation suit filed by the former has become uglier with the Chandigarh District Court issuing warrants against mediapersons in whose presence the 'slanderous' comments were made.
Dilbagh had alleged that Akhil, a former Commonwealth Games gold-medallist, had influenced the selection committee in the national team trials last year to get his protégé Mandeep Jangra picked in the squad.
Akhil had then filed a defamation case against Dibagh for his charges.
"I am being patient as court proceedings are ongoing. By issuing fresh warrants against some people who published Dilbagh's slanderous comments without caring to check or corroborate them for authenticity, the Courts have again reiterated my point," Akhil said.
"It is not a question of just making false allegations against me, but also against the very setup that gave you the chance to represent your nation. It's hurtful and moreover it is extremely shameful. I want him to be taught a lesson that does make people realise that you don't have to be a sore loser," he added.
Dilbagh, a former Commonwealth champion, is also facing the prospect of his Bhim award, a Haryana state honour, being stripped owing to a positive dope test in the 2011 National Games.
Dilbagh is set to take the professional plunge later this month after being left out of the ongoing national camp.