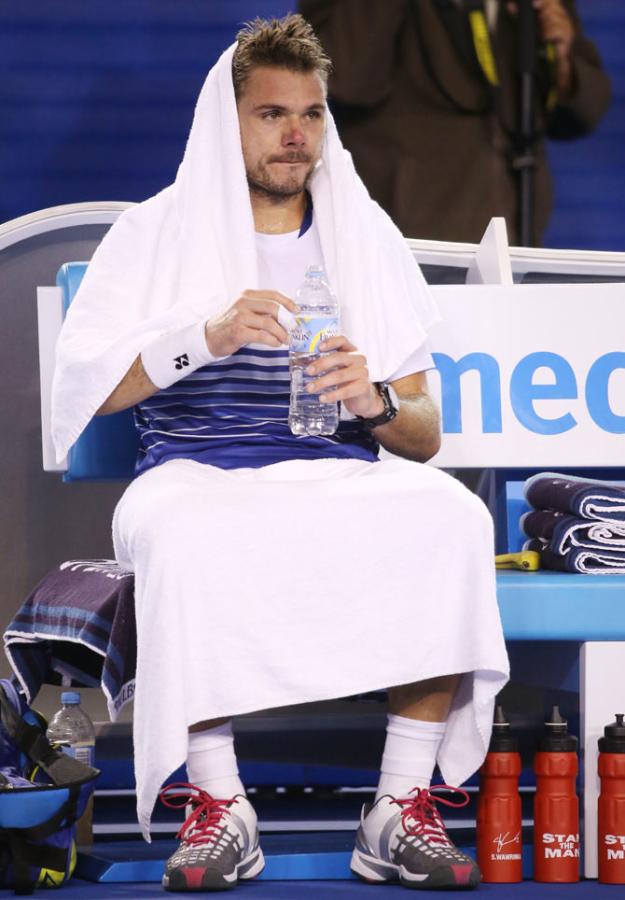 Stanislas Wawrinka of Switzerland rests during a break in his semi-final against Novak Djokovic of Serbia on Friday. Photograph: Michael Dodge/Getty Images
A 2014 season which began for Stanislas Wawrinka with an Australian Open triumph and ended with Davis Cup glory finally caught up with the Swiss at Melbourne Park on Friday as he was left "mentally completely dead".
- Aus Open: Djokovic edges Wawrinka to set up final with Murray
The fourth seed's title defence fizzled out in a low quality 7-6(1), 3-6, 6-4, 4-6, 6-0 semi-final loss to World No 1 Novak Djokovic and Wawrinka admitted he was simply running on empty.
"I told my coach before the match and yesterday that I was mentally completely dead and no battery," he told reporters.
"Tough to focus on what I want to do. Tough to focus on my game. And that's what happened."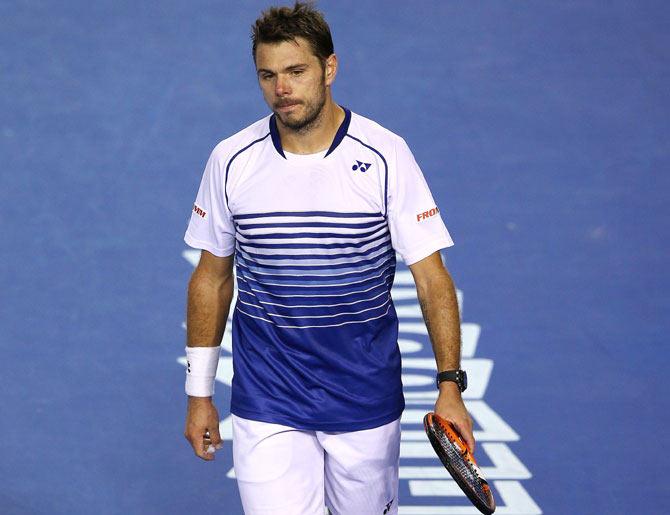 Stanislas Wawrinka of Switzerland reacts to a point in his semi-final against Novak Djokovic of Serbia at the Australian Open. Photograph: Hannah Peters/Getty Images
The 29-year-old Wawrinka had entered the match after a clinical destruction of Kei Nishikori in the quarter-finals, but both he and the Serb appeared flat on Rod Laver Arena on Friday, with neither anywhere near the level expected for a semi-final.
The pair had played two epic five set encounters over the last two Australian Open tournaments, with the winner eventually going on to clinch the title.
Wawrinka, however, said his maiden Grand Slam win 12 months ago, which was the springboard for a season best three titles and a first Davis Cup triumph with Switzerland, may have contributed to the insipid end to his Melbourne Park title defence.
"It was mentally that I'm paying the price to finish off the season with Davis Cup, not having a bigger off-season," Wawrinka said.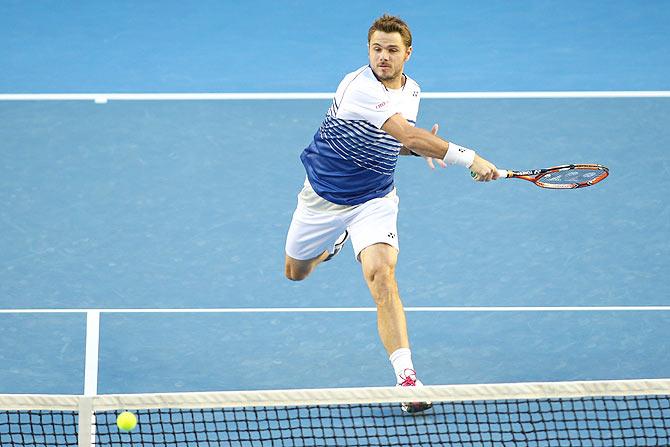 Stanislas Wawrinka of Switzerland plays a forehand in his semi-final match against Novak Djokovic of Serbia. Photograph: Patrick Scala/Getty Images
Given how he was feeling, Wawrinka did not expect the match to go the full distance.
"I'm surprised we went five sets again, even if the last one was 10 minutes," he said with a wry grin in reference to the 6-0 scoreline, even though the set lasted 36 minutes.
"For sure we had some great battles here last two years (but) today was strange match.
"We didn't play our best tennis, that's for sure (and) there was as a lot of up and down, a lot of mistakes and everything.
"But, again, it's like that. He was there. He was stronger tonight ... he was playing good enough to win and he deserved to win and play the final."