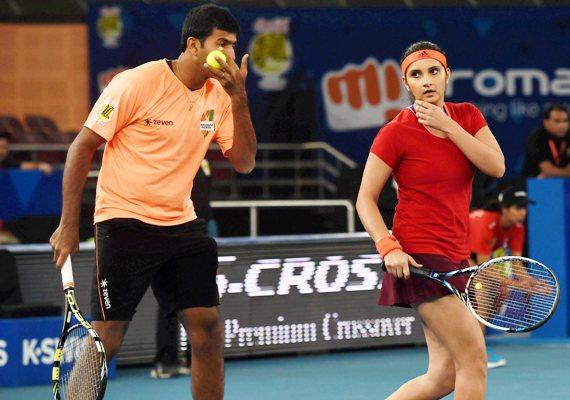 IMAGE: Sania Mirza and Rohan Bopanna of Indian Aces in action during the International Premier Tennis League match in New Delhi. Photograph: PTI
Their friendship and camaraderie, they say, goes way beyond tennis but Sania Mirza and Rohan Bopanna are in no hurry to form a mixed doubles team in the coming season despite the speculation that they could be pairing up for India at the Olympic Games next year.
Sania and Bopanna, competing in the International Premier Tennis League for Micromax Indian Aces, have lost only one mixed doubles contest in the ongoing edition. Their comradeship all too visible both on and off the court, Sania and Bopanna faced a barrage of questions on whether they could be tying up on the Tour in the coming season.
"Rohan was my first partner when I was 14-years-old, we have played together in the Hopman Cup too. And I think we didn't lose for 8-9 years. Over the years, we know each other so well, and are able to anticipate each other's games well too.
"There are so many things which go unsaid in our equation when we are playing. We just how we are going to react to a certain situation in a match," said Sania, speaking about her team-mate and close friend.
"The beauty of our relationship is that it doesn't revolve around tennis. He is my best friend off the court too, so it doesn't mean that I have to play with him all the time. But yes, we would play great tennis together. I would love to partner him," added the Hyderabadi ace.
Nodding in approval of everything that Sania said, Bopanna had the assembled media laughing by simply adding, "I agree."
Quizzed again on whether they could be seen together at the Olympics in Rio de Janeiro, Sania said, "We have six months to decide on that. We will take it as it goes."