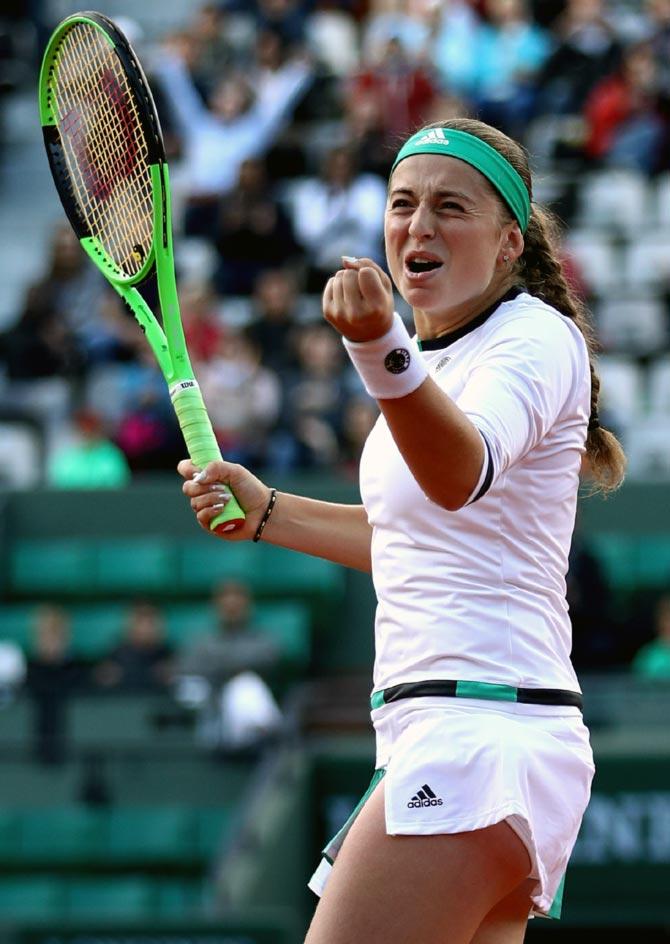 IMAGE: Jelena Ostapenko celebrates winning her quarter-final match. Photograph: Julian Finney/Getty Images
Latvia's teenage firecracker Jelena Ostapenko recovered from a dreadful start to blaze past former world number one Caroline Wozniacki into the French Open semi-finals on Tuesday.

The 19-year-old, ranked 47 and playing in the French Open main draw for only the second time, gave up the opening five games of a rain-ravaged match but recovered in stunning fashion to win 16 of the last 21 games for a 4-6, 6-2, 6-2 victory.

Ostapenko, who turns 20 on Thursday when she faces fellow birthday girl Timea Bacsinszky of Switzerland, who will be 28, is the first Latvian woman to reach a Grand Slam semi-final and the first teenager to do so at the French since Serb Ana Ivanovic in 2007.

There was no doubt she deserved it.

She belted 38 winners and made 50 unforced errors as she threw caution to the wind with a high-risk approach that Denmark's conservative 11th seed Wozniacki had no answer to.

"I love you all," the bubbly Ostapenko told the fans after claiming the biggest win of her career.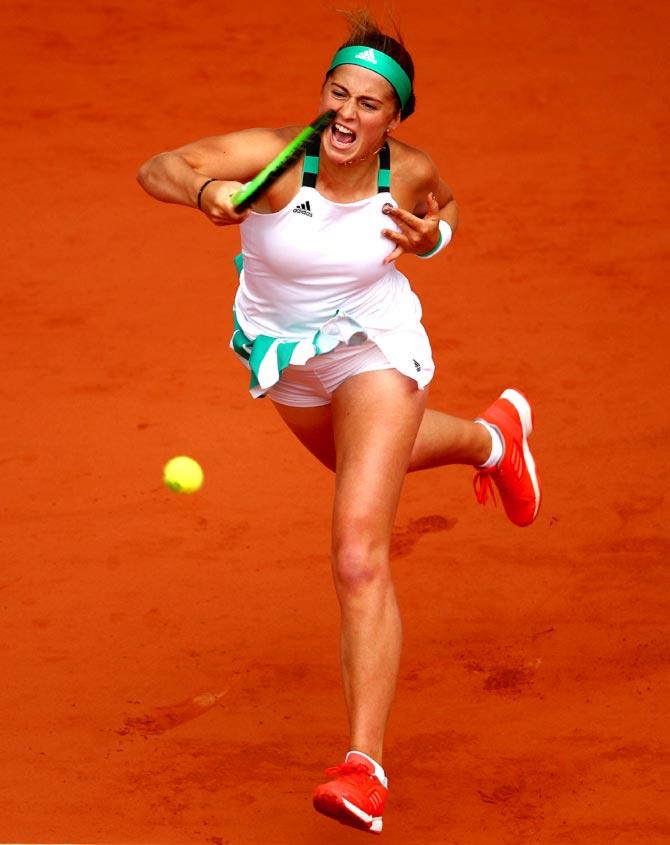 IMAGE: Jelena Ostapenko in action. Photograph: Clive Brunskill/Getty Images
Wozniacki, playing in her second quarter-final at the French, had no solution once her opponent found her range.

"She kept me on the back foot.... She goes for her shots. Her shots are hard to read, so you don't
really feel comfortable at any point in the match," said the Dane.
Ostapenko's day had not started in promising fashion.
Wicked winds bent the flag poles and red brick dust was whipped up into the players' eyes in the opening games in which Ostapenko could hardly locate the court.
Wozniacki merely had to keep the ball in play to build a 5-0 lead as her unseeded opponent sprayed errors.
Ostapenko's mood was as dark as the menacing black clouds circling above and she gesticulated forlornly towards her mother Jelena, who is also her coach, as shot after shot flew long.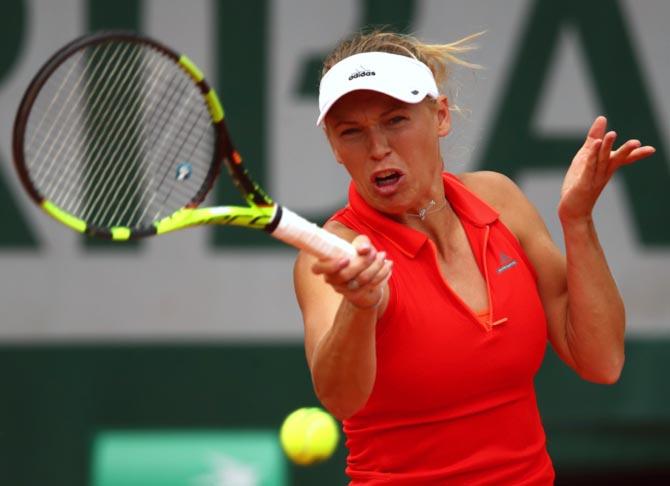 IMAGE: Caroline Wozniacki in action. Photograph: Clive Brunskill/Getty Images
She finally got on the scoreboard in the sixth game, though, as her aggressive game clicked and she began to boss the rallies with a whippy forehand that Wozniacki could not read.

Having clawed her way back to 4-5, the errors returned and Wozniacki took the opening set.

Undeterred, Ostapenko maintained the momentum and had Wozniacki scurrying around behind the baseline as the Latvian walloped the ball into the corners, often finishing rallies by thrashing away mid-court volleys.

Ostapenko carved out a 5-2 lead and Wozniacki looked relieved to get off court when torrential rain arrived to force a three-hour delay.

The stoppage should have helped the Dane but when play resumed Ostapenko continued where she left off, holding serve to level the match.

Wozniacki saved a break point to edge 2-1 ahead in the decider before another rain interruption.

It did little to dampen Ostapenko's fire, though, and it was one-way traffic in the match's third instalment as she raced to a fourth consecutive victory against Wozniacki.