Diehard sports fans are accustomed to witnessing mishaps during the course of competition. Some accidents are freak while some occur due to an error in judgement or carelessness.
Check out what happens when sport stars collide, crash and fall.
From tennis ace Serena Williams to FDJ rider William Bonnet of France to Honda Moto3 rider Efren Vazquez, here are some bone-chilling moments captured on camera.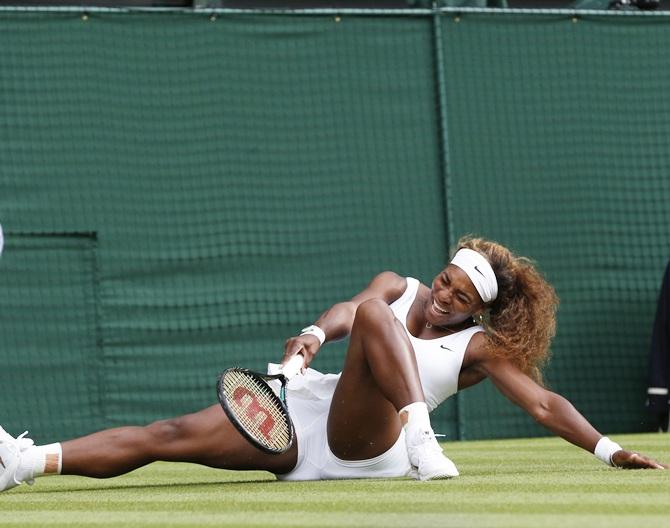 Wimbledon champion Serena Williams slips during a women's singles match. At 33 years and 289 days, she is now in her own exclusive club as the oldest player in the professional era to clinch a Grand Slam title, surpassing Martina Navratilova by 26 days.
What makes her tally of 21 Grand Slam titles so remarkable is that eight have come after she turned 30, with no sign that her ability to pummel much younger opponents is on the wane. Photograph: Suzanne Plunkett/Reuters
---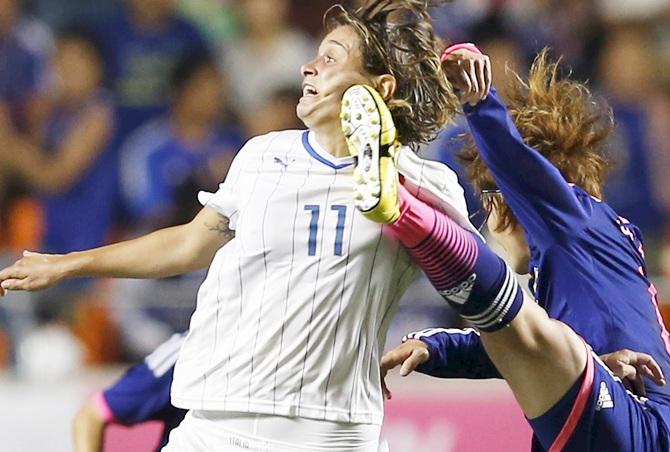 Japan's Mizuho Sakaguchi, right, fights for the ball against Italy's Cristiana Girelli during the FIFA women's World Cup.
The United States won the Cup for a third time after a crushing 5-2 victory over Japan in the first week of July.
Japan, winners four years ago, were utterly stunned as their opponent's deadly finishing ensured the US added to their 1991 and 1999 titles and became the first nation to win the Cup three times. Photograph: Toru Hanai/Reuters
---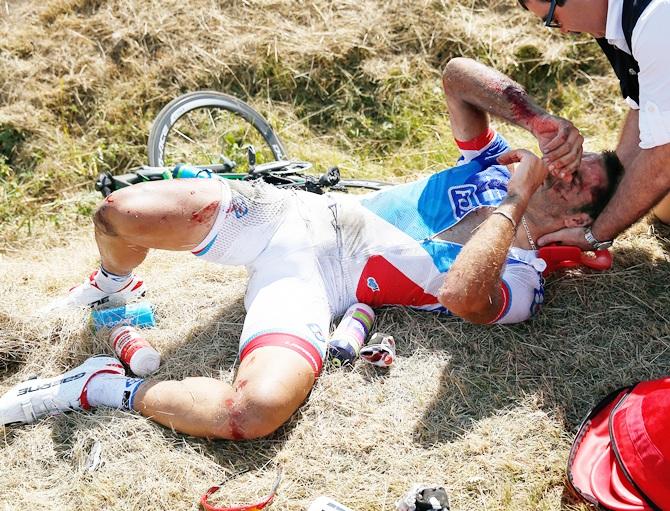 William Bonnet of France riding for FDJ is attended to after being involved in a crash during stage three of the 2015 Tour de France.
Bonnet was put in a neck brace after falling off his cycle when it apparently touched a wheel, and others around him were also brought down in a flurry of flying bikes and bodies. Photograph: Doug Pensinger/Getty Images
---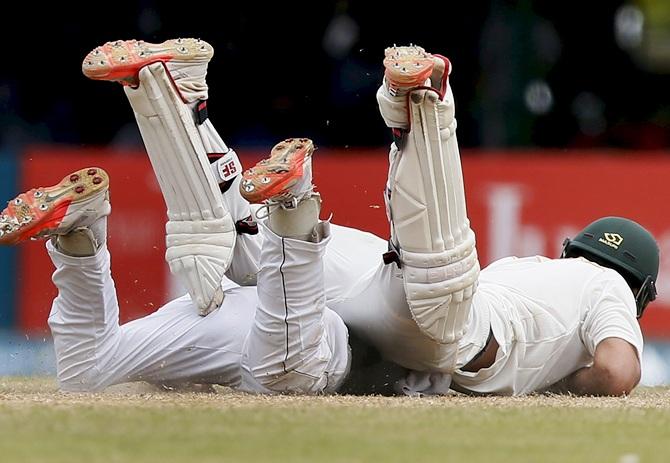 Pakistan's Ahmed Shehzad (top) collides with Sri Lanka's Kaushal Silva as he tries to run back to the wicket during their second Test in Colombo.
Younis Khan scored an epic unbeaten 171 as Pakistan clinched the three-match series by a 2-1 margin. Photograph: Dinuka Liyanawatte/Reuters
---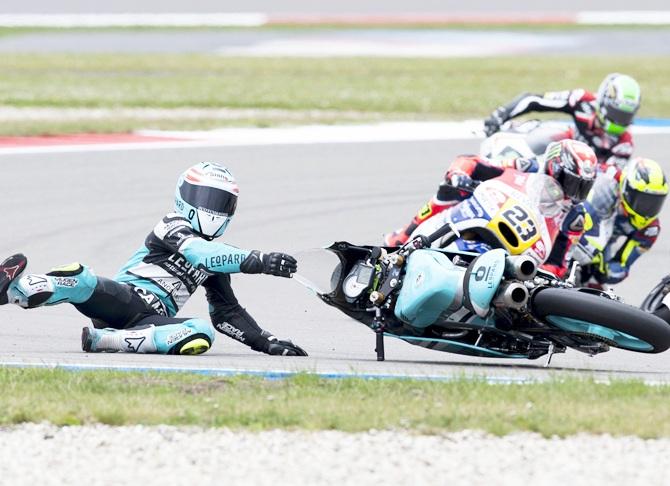 Honda Moto3 rider Efren Vazquez of Spain crashes during the race at the TT Assen Grand Prix at Assen, Netherlands. Photograph: Ronald Fleurbaaij/Reuters
---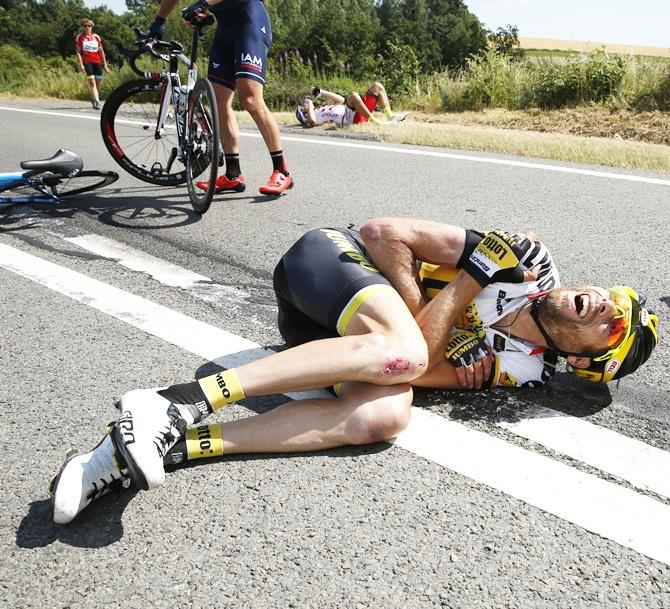 Lotto-Jumbo rider Laurens ten Dam of the Netherlands lies on the ground after a fall during the 159.5 km (99 miles) third stage of the Tour de France. Photograph: Benoit Tessier/Reuters
---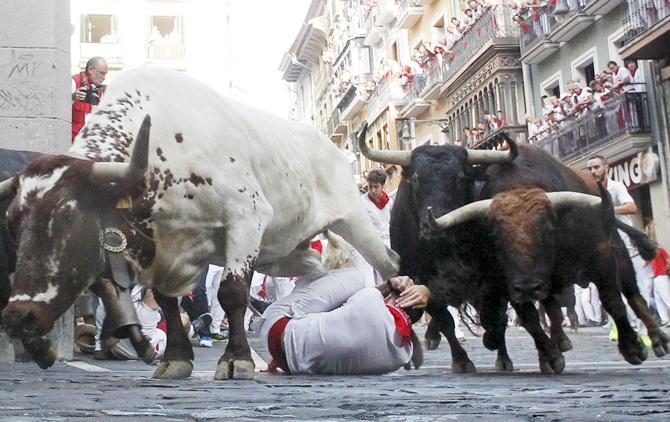 A steer jumps over a fallen runner as two Jandilla fighting bulls follow behind at the Mercaderes curve during the first running of the bulls of the San Fermin festival in Pamplona, northern Spain.
Two runners were gored in the run that lasted two minutes and 23 seconds. Photograph: Susana Vera/Reuters
---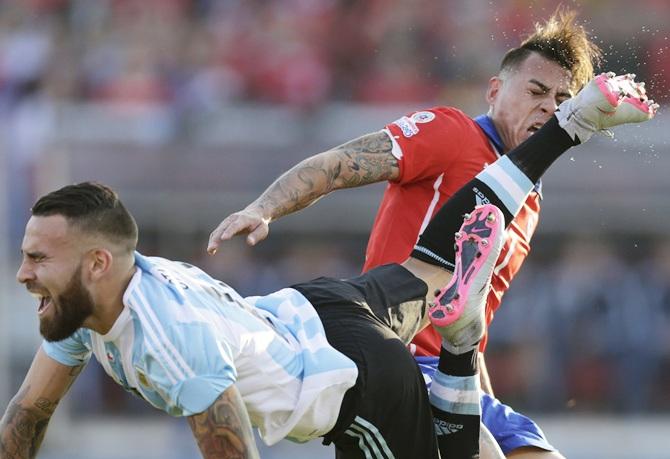 Chile's Eduardo Vargas gets a kick in the face from Argentina's Nicolas Otamendi during their Copa America 2015 final, in Santiago, Chile.
Chile won the Copa America for the first time when a cheeky penalty from Alexis Sanchez clinched a shoot-out victory over Argentina and glory for the host nation's golden generation in front of their own fans.
The two sides were deadlocked 0-0 after 90 minutes and when another half an hour of extra-time failed to produce a goal, the contest was destined to be decided by penalties. Photograph: Jorge Adorno/Reuters