… Slow starts to matches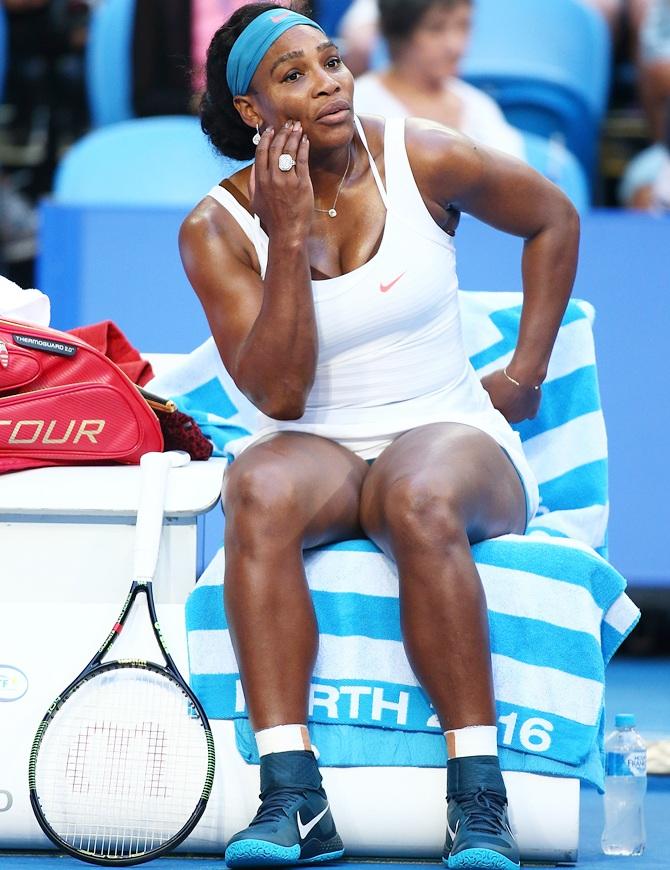 IMAGE: USA's Serena Williams. Photograph: Paul Kane/Getty Images
Serena Williams must stop giving opponents head starts if she is to come anywhere near emulating last season's feat of winning three of the year's four Grand Slams, according to former World No 1 Chris Evert.
Williams, 34, has hardly struck a ball in anger since a shock semi-final defeat by Italian Roberta Vinci at last year's US Open dashed hopes of a rare calendar year Grand Slam.
The American will begin as favourite for next week's Australian Open, despite slight concerns over a niggling knee injury, but Evert believes she cannot afford the slow starts to matches that were a feature of 2015.
Despite compiling a 53-3 win-loss record last year, she often found herself behind in matches.
At the French Open she fought back from losing the opening set four times on her way to the title while at Wimbledon, where she went on to claim her 21st grand slam crown, she flirted with a fourth-round defeat by Briton Heather Watson.
"There's so many matches in the first set she played like listless tennis, lethargic, like she was going through the motions with no energy," Evert, who will be commentating for US broadcaster ESPN at the Australian Open, said in a conference call.
"She'd get it when she got mad in the second set. She would finally pull these matches out. I would like to see her start out from the first point and play some motivational tennis, then I think she won't put herself in those dangerous positions.
"She can't have another year like she had last year. She narrowly escaped so many matches, down a set, down a set and a break. It can't happen again like that. That would be like immortal for that to happen," Evert added.
Williams, who beat Russian Maria Sharapova to win last year's Australian Open, decided to call time on her season after losing to Vinci.
While she is used to lengthy breaks as she manages her schedule, Evert says Williams will find it increasingly tough to keep the chasing pack at bay, particularly the likes of a rejuvenated Victoria Azarenka.
The Belarus player, twice an Australian Open champion, breezed to the Brisbane title last week without losing a set and appears to be benefitting from some time off towards the end of last year when she worked on her movement.
Evert says the world number 16 will be one of the chief threats to Williams in Melbourne.
"I think she's a player we should be talking about and focussing on right now," Evert said.
"She certainly loves Australia. She's won it twice. She definitely last year played really well, but kept bumping into Serena. She challenged her more than any other player.
"She's got to be one of the two or three favourites for winning the Australian Open. I always thought she has a champions' mentality."