Manu in focus, Heena and Kumar also in fray as shooters eye glory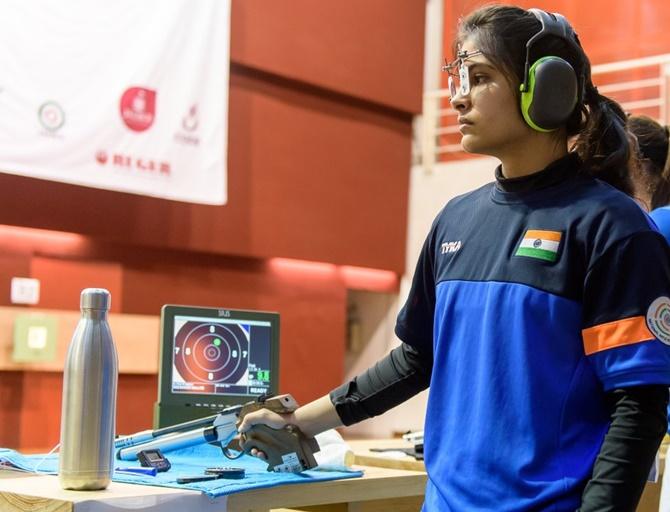 The focus is firmly trained on teen sensation Manu Bhaker as the fancied Indian shooting team eyes a head start at the 21st Commonwealth Games and continuation of its recent dominance of the discipline in the quadrennial extravaganza.
The 16-year-old Manu will be lining up alongside the experienced Heena Sidhu in the women's 10m air pistol event at the Belmont Shooting Range.
Also in action on the first day of shooting competition will be the impressive Ravi Kumar and Deepak Kumar in men's 10m air rifle.
Saniya Sheikh and Maheshwari Chauhan will represent India, a powerhouse in these Games, in the women's skeet, finals of which will also be held tomorrow followed by the qualifications.
The maximum buzz is certainly around Manu, who has won an unprecedented double gold in her maiden senior ISSF World Cup in Mexico last month. The versatile girl from Jhajjar, Haryana, then grabbed two more gold in the junior World Cup in Sydney.
Smit Singh and Sheeraj Sheikh will also compete in men's skeet qualification day 1.
With shooters like Chain Singh, Jitu Rai, Omprakash Mitharwal, Anjum Moudgil, Tejaswini Sawant, Heena and Shreyasi Singh competing in more than one event, the selectors were able to constructively utilise the quota of 15 men and 12 women to make a strong squad.
It may be noted that the organisers of the CWG had cut the quota of participants for all countries recently, and thus Indian shooting got a reduced quota of 27 from an earlier allocation of 30.
A total of nine men's and eight women's events will be held in rifle, pistol and shotgun categories.
Then there is Olympic bronze medallist Gagan Narang, a veteran of many a battles and one who has been sharing his knowledge with the young shooters.
Having already stamped their class on the big stage, the youngest shooters in the national team will again jostle for space with the big players, vying for top honours.
The abundance of talent is complemented by a confident approach which the likes of Manu, Mehuli Ghosh, Anish Bhanwala and Anjum Moudgil are expected to display.
The squad has a good mix of experience and youth with the National Rifle Association of India (NRAI) picking four junior shooters and a few who are under the age of 25.
The likes of Rai, Narang and Apurvi Chandela along with other experienced shooters like Heena, Tejaswini Sawant, Sanjeev Rajput, Manavjit Singh Sandhu and double trap World Cup gold medallist Ankur Mittal can be a handful for the other competing nations, including the shooters from hosts Australia and England.
Some of the Indian shooters have the experience of shooting at this range, which also hosted the Commonwealth Shooting Championship last November, and that could be of some help.
India has been a dominant force in shooting at the CWG with the shooters winning 17 out of the country's 64 medals at the Glasgow Games in 2014.
As hosts in 2010, Indian shooters claimed a staggering 30-plus podium finishes, and the expectations remain same eight years on.
20km race walkers kick off India's athletics campaign
Seeking to improve their medal haul from the last edition, India begin their athletics campaign in the 21st Commonwealth Games with the men's and women's race walkers competing in the 20km event, in Gold Coast, on Sunday.
India had won a gold, silver and bronze in the 2014 Glasgow Games and the country's athletes are aiming to increase that haul with the likes of javelin thrower Neeraj Chopra and young high jumper Tejaswin Shankar in impressive form.
The men's 20km race walk event was introduced in the 1998 Games while the women's 20km event was included in the 2002 CWG and the Indians are not known as a force to reckon with in the race walk events. The only Indian to have won a medal in 20km race walk event was Harminder Singh who clinched a bronze in 2010 Delhi CWG.
The Australians have been dominating the scene in these events with the likes of England and Kenya also among the medals.
The last edition in Glasgow did not have 20km race walk events in both men and women.
If the Indians can maintain their performances of the National Championships in February, both men's and women's 20km race walkers cannot be ruled out of a podium finish.
If either of Soumya Baby and Khushbir Kaur wins a medal tomorrow, history will be scripted as it will be the first instance of a woman winning a CWG medal. In fact, Indian women have a better chance to win than their male counterparts this time.
The 27-year-old Soumya from Kerala recently won gold in the National Championships with a national record timing of 1 hour 31 minutes and 28 seconds, pulling off a shock win over favourite Khushbir Kaur -- who is also competing on Sunday.
If Soumya can repeat or better her performance, she has a chance to win a medal and create history.
In a field of 13, Soumya stands at third among the season's best timings behind two Australians -- Beki Smith (1:31:23) and Jemima Montag (1:31:26). There are six athletes who have season best timings of less than 1 hour and 32 minutes.
Among them is Claire Tallent of Australia (1:31:29), now 36, and who had won a silver in the 2010 CWG. The bronze winner of the Delhi Games, Grace Wanjiru Njue of Kenya, is also competing at 39 years of age. She has a season's best of 1:35:22.
In the men's 20km race walk, India are fielding national record holder K T Irfan and Manish Singh Rawat and they have to improve their timings drastically if they want to be on podium as there are four competitors who can finish in sub 1 hour and 20 minutes.
Among them are Dane Bird-Smith (SB 1:19:28) of Australia, Kenyans Samuel Ireri Gathimba (1:19:04) and Simon Wachira (1:19:06) Lebogang Shange (1:19:18) of South Africa.
Irfan and Manish have a season's best time of 1:21:31 as their first and second positions were decided after a photo finish in the National Championships.
Shot putter Tejinder Pal Singh Toor should qualify for the finals from the qualifying round tomorrow. He had won a gold in the Federation Cup National Championships last month with a throw of 20.24m.
© Copyright 2021 PTI. All rights reserved. Republication or redistribution of PTI content, including by framing or similar means, is expressly prohibited without the prior written consent.