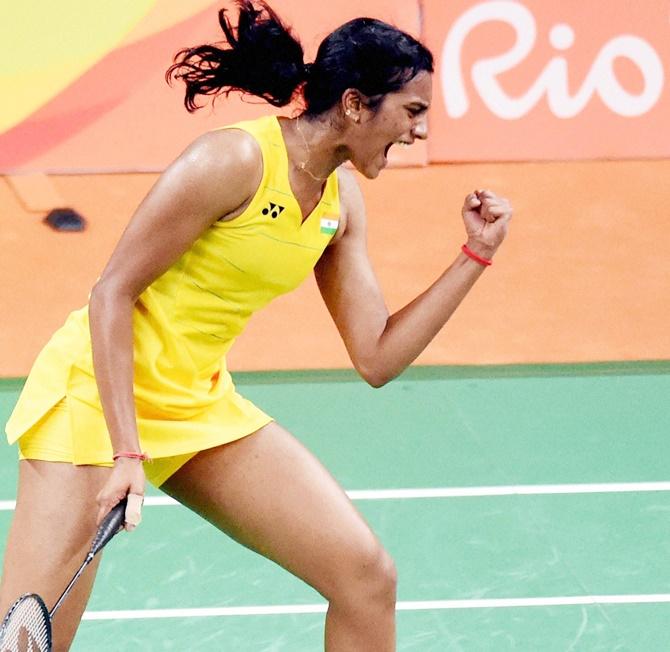 IMAGE: India's P V Sindhu celebrates. Photograph: PTI.
P V Sindhu is hoping to become India's first-ever woman Olympic gold medallist across all sporting disciplines when she takes on World champion Carolina Marin of Spain in the final of women's singles badminton event at the 2016 Olympic Games in Rio de Janeiro, on Friday.
The country's sports fans are fervently hoping that the Hyderabad shuttler's heroics against Marin will result in the country's maiden gold medal win in the Rio Games and divert attention away from dope-tainted wrestler Narsingh Yadav's shameful ejection from the 74kg competition.
Away from this sordid drama that was acted out at a four-hour hearing before the grappler was not only thrown out of the Games but also banned for four years, the attention of the entire country would remain focused on Sindhu in her quest for a rare individual gold in Olympics. Only rifle shooter Abhinav Bindra - eight years ago in the Beijing Games - has become an Olympic champion when he won the men's 10m air rifle competition.
Prior to the Zirakpur ace ascending the highest podium, only the men hockey players held the distinction of being part of the gold medal winning teams on eight occasions - the last one in 1980 at Moscow.
Sindhu is thus standing on the cusp of history for women's sports in the country when she takes on the formidable Spanish girl.
- SEND YOUR BEST WISHES TO PV SINDHU
At the age of 21 she has already ensured that India would come back with at least two medals from the Games by reaching the final with a clinically efficient dismantling of World No 6 Nozomi Okuhara of Japan.
With Thursday's brilliant show, Sindhu also went one better than her senior Saina Nehwal, bronze medal winner in London four years ago, and became the first ever Indian to enter the summit clash of the shuttle game in the quadrennial sports spectacle.
The Indian shuttler from Hyderabad is a two-time bronze medallist in World Championships.
Her opponent in Friday's gold medal contest, Marin ousted defending champion Li Xuerei of China in the first semi-final with a 21-14, 21-16 victory.
Apart from this encounter, wrestler Sandeep Tomar (men's 57 kg) and race walkers (Khushbir Kaur and Sapna – women's 20km and Sandeep Kumar - men's 50km), the men's and women's 4x400m relay squads and woman golfer Aditi Ashok (third day of stroke play) would be seen in action during the 14th day's proceedings.