A year to the day after suffering a freak injury at Roland Garros, Alexander Zverev fought his way into the fourth round of the French Open, having rediscovered his joie de vivre in a thrilling match against his friend Frances Tiafoe on Saturday.
The German let out a huge scream after wrapping up a 3-6, 7-6(3), 6-1, 7-6(5) under the lights on Court Philippe Chatrier, with both players entertaining the crowd throughout.
Playing in the same arena where the German had suffered torn ligaments in his ankle a year ago -- an injury that ruled him out of action for several months - Zverev proved on Saturday that he was now back to full fitness.
It was only in February that he said he was finally playing pain free.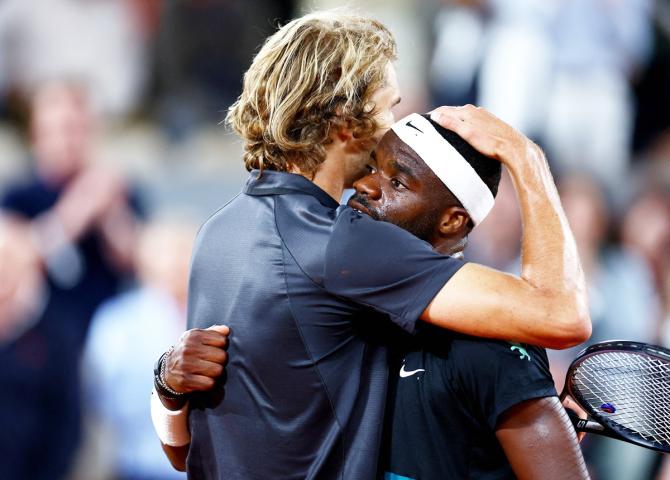 "Today marks one year... I know that It's been the hardest year of my life," Zverev said on court.
"I love tennis more than anything. I love tennis not because of money or fame but for the game, to play in front of you guys," he added in a front of the late-night crowd who had stayed on to cheer the players even though they risked missing the last metro home.
"Having that (tennis) stolen away from me made me unhappy. But now it's going to be a fun second week for me."
Zverev next faces Bulgarian Grigor Dimitrov.
For almost four hours, Zverev had to dig deep against 12th seed Tiafoe, his 'best friend on the tour'.
"Against Frances it's easy, we know each others' tactics. I try to take the eye contact away because when he has that smile on his face he's one the best players in the world," the 22nd seeded German said.
"He's my best friend on the tour but on the court I try to take that away. He knows that, I know that, it's all good after the match."