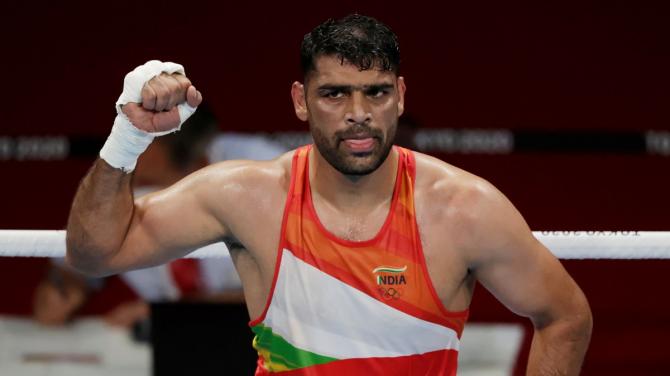 India's athletes had a reasonably good day at the Olympic Games on Thursday, even as iconic pugilist M C Mary Kom failed to go through to the quarter-finals in the women's flyweight boxing despite putting a good fight.
Satish Kumar, another boxer, badminton icon Pusarla V Sindhu, archer Atanu Das and the men's hockey team kept the country's hopes of a medal alive in their respective disciplines with exhilarating performances.
Here's a look at how the country's athletes fared on Thursday, July 29 at the Games.
ARCHERY
Atanu Das beat Chinese Taipei's Yu-Cheng in men's individual 1/32 elimination; beat South Korea's Oh Jin Hyek in 1/16 elimination.
BADMINTON
P V Sindhu beat Denmark's Mia Blichfeldt 21-15, 21-13 in women's singles Round of 16 match.
BOXING
Satish Kumar beat Jamaica's Ricardo Brown 4-1 in men's +91kg Round of 16 bout.
M C Mary Kom lost to Ingrit Colombia's Lorena Valencia 2-3 in women's 51kg Round of 16 bout.
GOLF
Men's Individual Stroke Play Round 1:
Anirban Lahiri carded 4-under 67 and was placed tied 8th after Round 1.
Udayan Mane, who made the field of 60 at a late stage, carded 5-over 76 and was last on the leader-board.
HOCKEY
India beat Argentina 3-1 in men's Pool A league match.
ROWING
Arjun Lal Jat and Arvind Singh finished fifth in Final B (for rankings; non medal round) and 11th overall in men's lightweight double sculls event.
SAILING
K C Ganapathy and Varun Thakkar finished 7th and are placed 17th overall in Men's Skiff 49er Race 5 and 6. They were 16th in Race 5 before pulling off a seventh-place finish in Race 6.
They are 17th out of 19 competitors with 76 net points.
Nethra Kumanan was placed 31st with 176 net points out of 44 sailors after finishing 22nd and 20th in Women's Laser Radial Race 7 and 8.
Vishnu Saravanan was 23rd overall out of 35 sailors with 138 net points after finishing 27th and 23rd in Men's Laser Race 7 and 8.
SHOOTING
In a field of 44 shooters, Rahi Sarnobat aggregated 287 and Manu Bhaker 292 in women's 25m Pistol Qualification Precision and finished 5th and 25th respectively.
The second stage of qualification -- the rapid round -- is on Friday.
The top-8 shooters in qualification enter the final.
SWIMMING
Sajan Prakash placed 46th overall after finishing second in his heat in men's 100m BButterfly; failed to qualify for semi-finals.