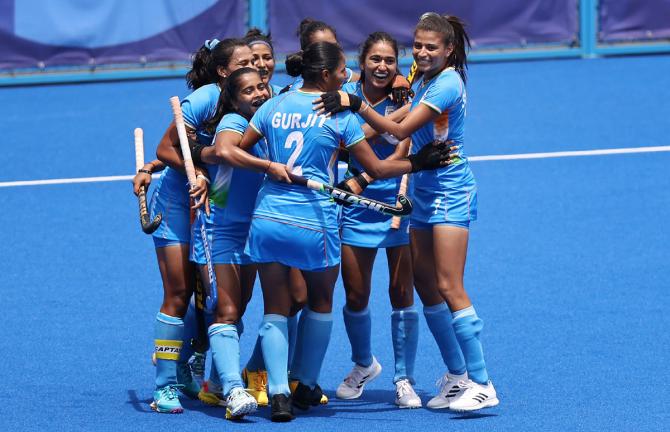 Underdogs India produced a spirited performance to shock three-time champions and world No. 2 Australia 1-0 and enter the semi-finals of the Olympics women's hockey tournament in Tokyo, on Monday.
Gurjit Kaur's goal from a penalty-corner proved decisive as Rani Rampal's team showed grit and determination to bounce back after three consecutive defeats in the league stage before making the quarter-finals to stay in contention for a medal.
India will meet Argentina, who scored a 3-0 win over Germany in the first quarter-final.
In the other semi-final, Britain will play the Netherlands, who defeated New Zealand 3-0 thanks to goals by Lidewij Welten, Frederique Matla and Lauren Stam.
Britain beat Spain via the penalty shoot-out.
After a tense 2-2 draw in regular time, Britain won the game by scoring twice in the shoot-out, while Spain missed four times thanks to a superb performance by Britain's veteran goalkeeper Madeleine Hinch.
On Sunday, India's men's team entered the Olympics semi-finals after a 49-year gap. On that occasion at the 1972 Munich Games, they lost 0-2 to arch-rivals Pakistan.
The last of their eight Olympic gold medals came way back in 1980, at the Moscow Games, but there were no semi-finals in that edition as only six teams participated in the event.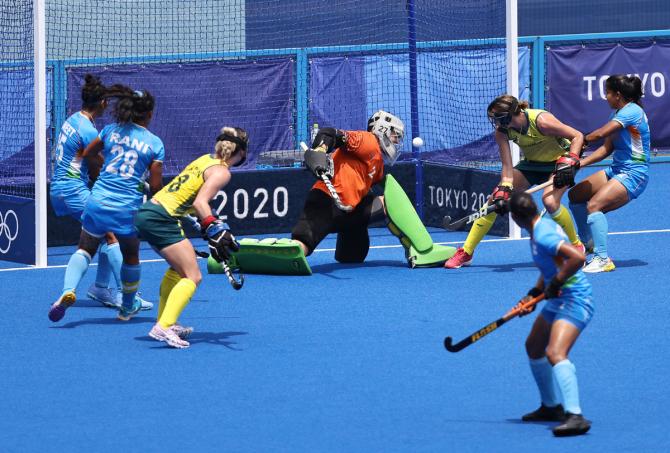 The Indian women hockey team's best finish at the Olympics was on debut at Moscow back in 1980 when it ended up fourth among six teams. In that edition, only six teams participated and India finished fourth in a round-robin format competition with no classification or elimination matches.
The Indian women's team's campaign is a story of resilience. After losing matches to the Netherlands, Germany and defending champions Great Britain, in that order, they staged a brilliant comeback, defeating higher-ranked Ireland 1-0 and overpowering South Africa 4-3 in their last two pool matches to keep themselves in the hunt.
"We are so happy, it is the result of hard work that we put in for several, several days. In 1980, we qualified for the Games but this time, we made the semifinals. It is a proud moment for us," said Gurjit, after the match.
"This team is like a family; we have supported each other and found support from the country as well. We are very happy," she added.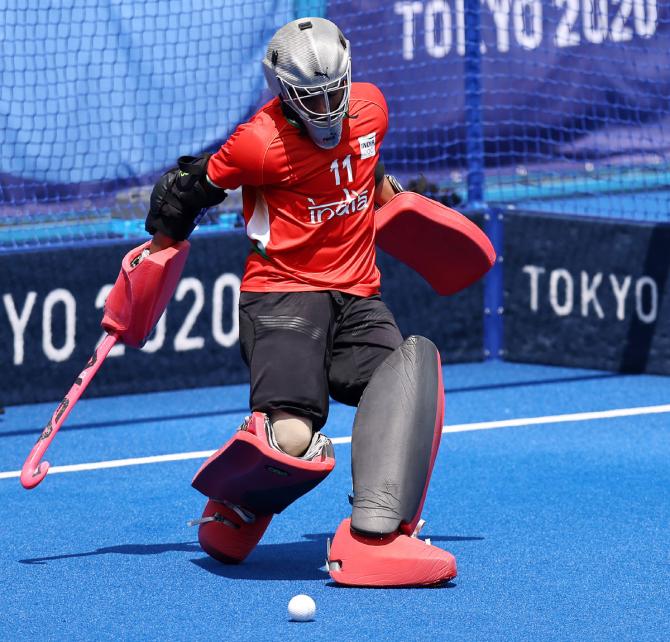 In Monday's quarter-final against the unbeaten Aussies, ranked world No. 2, India started off slowly but dominated possession in the first ten minutes during which they should have forged ahead, but Rampal's deflection off Vandana Katariya saw the post come in the way.
Australia then launched a counter attack and they too had a clear look at the Indian goal but Stewart blasted her shot over the post as the first quarter ended goalless.
The Aussies came out aggressively in the second quarter in an attempt to break the deadlock. They won the first penalty-corner of the match in the 20th minute after Amrosia Malone was pushed in the circle. India went for the review but it went against them.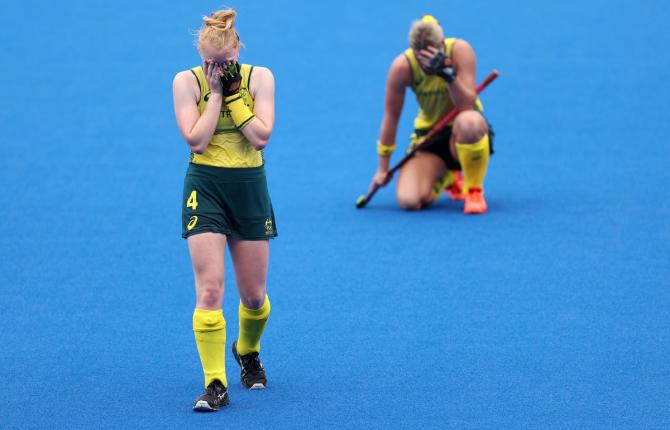 India earned their first penalty-corner in the 22nd minute and scored from it. Gurjit Kaur delivered a superb drag-flick that beat Australia goalkeeper keeper Rachael Lynch.
Australia pressed hard for the equaliser but India did well to keep them at bay in the last few minutes and go into half-time leading 1-0.
They continued their search for a goal in the third quarter and were all over the Indian half, but fine goalkeeping by Savita Punia, who came up with good saves to deny Mariah Williams and Madison Fitzpatrick, took India into last 15 minutes still leading 1-0.
The last quarter was a battle of attrition. The Aussies repeatedly raided the Indian citadel and forced a series of penalty-corners, but India's defence held firm for a memorable victory.