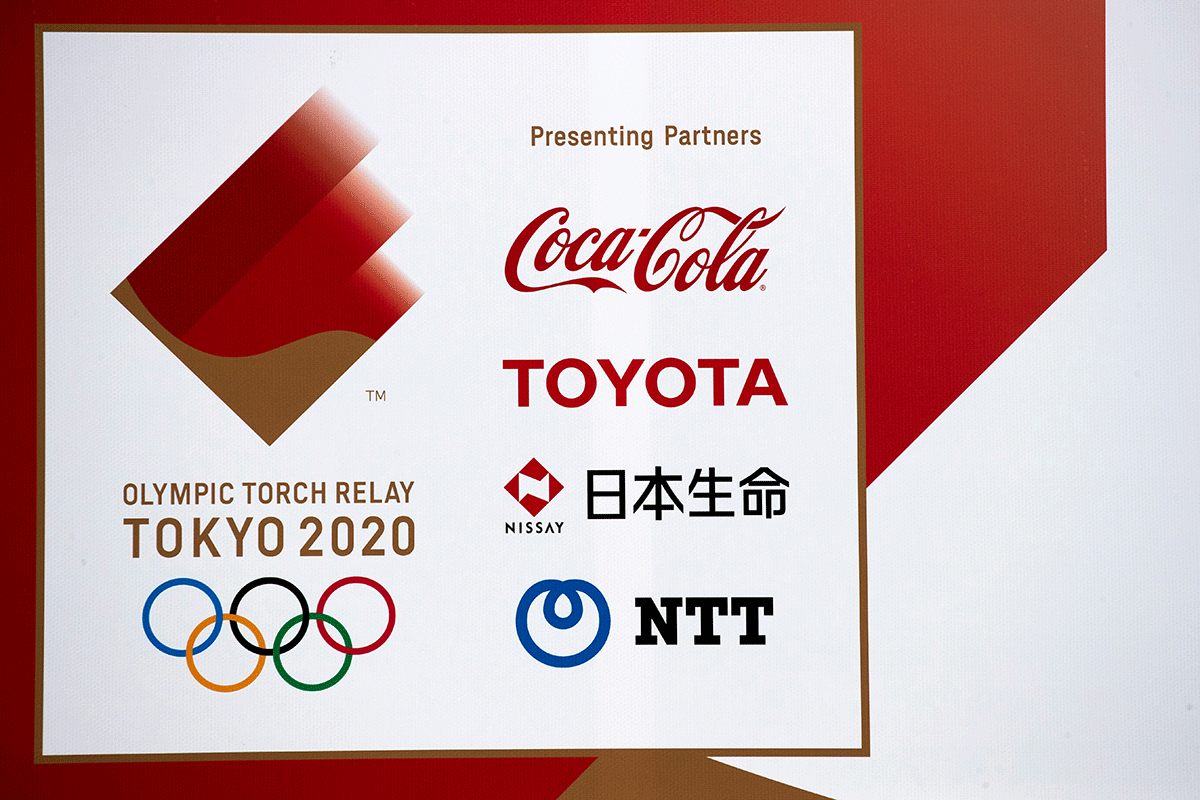 Tokyo 2020 sponsor Toyota will not run Olympics-related TV commercials amid lacklustre public support for the Olympics, with two-thirds of Japanese doubting organisers can keep the Games safe during the COVID-19 pandemic, according to a local media poll.
Chief Executive Officer of Toyota Motor Corp, Akio Toyoda, and other executives will not attend the opening ceremony either, Toyota said on Monday.
"It is true that Toyota will not be attending the opening ceremony, and the decision was made considering various factors including no spectators," a spokesperson said.
"We will not be airing any commercials related to the Games in Japan," she added.
Some 60 Japanese corporations who have paid more than $3 billion for sponsorship rights to the postponed 2020 Olympics now face a dilemma over whether or not to tie their brands to an event that has so far failed to win strong public backing.
With just four days before the opening ceremony in Tokyo, 68% of respondents in an Asahi newspaper poll expressed doubt about the ability of Olympic organisers to control coronavirus infections, with 55% saying they were opposed to the Games going ahead.
Three-quarters of the 1,444 people in the telephone survey said they agreed with a decision to ban spectators from events.
As COVID-19 cases rise in Tokyo, now under its fourth state of emergency, public concern has grown that hosting an event with tens of thousands of overseas athletes, officials and journalists could accelerate infection rates in Japan's capital and introduce variants that are more infectious or deadlier.
International Olympic Committee President Thomas Bach has said he hopes the Japanese public will warm to the Games once competition begins and as Japanese athletes begin winning medals. The Tokyo Olympics run July 23 through Aug. 8.
"We will continue to co-operate and work closely with organisers such as Tokyo Metropolitan Government, Tokyo 2020, and the IOC to ensure we have a safe and secure environment for the Games," government spokesperson, Chief Cabinet Secretary Katsunobu Kato said at a regular briefing.
OTHER HEADACHES
Japanese musician Keigo Oyamada, who described in magazines decades ago how he had bullied his classmates, said on Twitter that he was stepping down as a composer for the Olympics' opening ceremony, in the latest blow to the Games.
Olympics organisers on Monday had rebuffed calls for him to be dismissed.
Other officials have stepped down in the run-up to the Games for inappropriate comments, including former head of Tokyo 2020, Yoshiro Mori, in February and the creative director for the opening and closing ceremonies, Hiroshi Sasaki, in March.
In the political arena, South Korean President Moon Jae-in said he would not visit Japan for the Games or a first in-person summit with Prime Minister Yoshihide Suga after media reports cited a senior Japanese diplomat making offensive remarks about him.
Organisers warn participants against eating out over COVID-19 risks
Monday brought a warning from the Tokyo 2020 organiser following local media reports of Games related visitors drinking in downtown Tokyo. In an email it warned Olympic participants who had completed their 14 days of isolation to comply with Tokyo's emergency declaration rules by staying out of bars serving alcohol or restaurants "illegally" staying open after 8:00pm.
"These incidents have also been raised in the National Diet, and have the potential to severely damage the reputation of the Tokyo 2020 Games and your organisations," it said.
"Even after your first 14 days in Japan, this will be perceived as visiting a business that operates illegally and could constitute a grave reputational risk to yourself, your organisation, and the Tokyo 2020 Games," said the note sent to COVID-19 liaison officers responsible for ensuring the participants follow the protocols.
Spectators have been barred from almost all events and infections have hit a number of teams arriving in Japan less than a week ahead of the July 23 opening ceremony.
For Tokyo residents already living with those lockdown restrictions, travel on their city's roads became more difficult on Monday as the city readied for the start of the Olympics with new traffic restrictions, including reserved lanes for Olympic officials, athletes and journalists.
Transport authorities also hiked toll charges by 1,000 yen ($9) for private vehicles using the network of elevated expressways that snake through the city in a bid to reduce traffic during the Games.
South Korea team to screen its food over Fukushima radiation concerns
South Korea's Olympic team will cook food for its athletes separately and screen ingredients for radiation during the Tokyo Olympics, an official said on Monday, a potential further irritant to frayed Seoul-Tokyo relations around the Games.
South Korea has periodically irked Japan with such steps as curbing imports of Japanese seafood, citing safety concerns after the 2011 Fukushima tsunami and nuclear disaster.
A spokesperson for the Korean Sport & Olympic Committee said it has booked a hotel near the Olympic village to prepare and deliver boxed meals to its athletes, adding that the country has run its own food programmes at every Olympic Games to help its athletes feel at home.
The South Korean team, at the request of the International Olympic Committee, removed banners with an historic reference to a 16th-century war with Japan from the their Olympic village accommodation balconies in Japan.
It is not uncommon for countries to bring their own chefs to the Olympics -- the United States served its own food at the 2008 Beijing Olympics.
But the South Korean team has also stepped up its food safety checks at the Tokyo Games to gauge radioactive caesium levels, with its own chefs preparing about 400 meals a day.
"We are doing screening tests for caesium in food ingredients from kimchi we are bringing from home to other items including Japanese ingredients," said the South Korean Olympic spokesperson, who asked not to be named.
Japan's top government spokesman, Katsunobu Kato, declined to comment on South Korea's separate training table, but he said the organisers use ingredients that meet their standards and disclose their origin.
Japan had originally billed the Games, which were postponed by one year due to the COVID-19 pandemic, as a "recovery Olympics" from the devastation of a decade ago, including by promoting Fukushima produce. Organisers say such food will be safe when served at the Olympics.
The World Health Organization said in 2016 that the Japanese authorities had monitored food contamination closely and implemented protective measures to prevent sale and distribution of contaminated food in Japan and outside of Japan.
Still, the organisers withdrew plans to label food from the prefecture and the other nuclear disaster-hit regions at the Olympic village because of protests from some countries, the Tokyo Shimbun newspaper reported on Monday, citing an unnamed organising committee official.
The organisers did not immediately respond to an email seeking comment.
Japan has said many nations such as the United States and Australia had lifted or eased Fukushima-related restrictions and Fukushima food including rice is being exported to markets like Thailand.