India hockey coach Michael Nobbs defended the decision to drop a few senior players from the squad for next month's Olympic qualifier, insisting that form and fitness were the only criteria for selection.
Former captain Rajpal Singh was dropped and Arjun Halappa listed as standby in the squad that was announced by Hockey India on Monday for the upcoming tournament in Delhi, February 18 to 26.
- Olympic hockey qualifier: 'Tough to beat India'
- Rajpal, Halappa fail to make hockey squad
Nobbs said he was happy with the squad, adding only those who can win matches for India have been picked.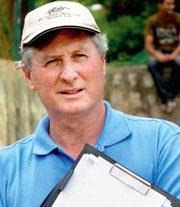 "I'm happy with the team. The selectors have unanimously decided to have this team on the basis of current form and fitness of the players, who can win the game for us. I'm 90-95 per cent confident we will qualify when the results are out on judgment day," Nobbs told reporters.
"In the last few weeks, we have spent time assessing the attack, defence, weaknesses and strengths of the players during the South Africa series, and in the next couple of weeks we will work further on the various skills and strive for perfection," he added.
Hurt at missing out on selection, Rajpal questioned Hockey India's decision to rule him "unfit" without even conducting a fitness test for him.
Asked why a senior player like Rajpal was axed, Nobbs replied: "My job is to show no favour to reputation. We have picked the best players right on this time; in-form players who can fit into the system and structure of the team."
Grilled further for an explanation on dropping senior players, Nobbs retorted: "Are you suggesting we should pick players with reputation and not form?
"It is a unanimous decision and Hockey India selectors are all experienced people… and there is a selection policy."
Nobbs said it was tough for him to take such hard decisions, but insisted it is the right time for change.
"We want to have a healthy competition among 33 players, where three players are fighting for a place. We need to support the young players and take some tough decisions. I don't like to drop players, it hurts. "I myself was dropped as a player, but then change is difficult and this is change," he added.
Talking about the challenge at the Olympic qualifier, Nobbs said India will not take any team lightly.
"It might seem easy, but easy is a relative term and we are not taking any team lightly. Doesn't matter if it is Singapore, ranked 41 or Canada; we will try to control things which we can," he said.