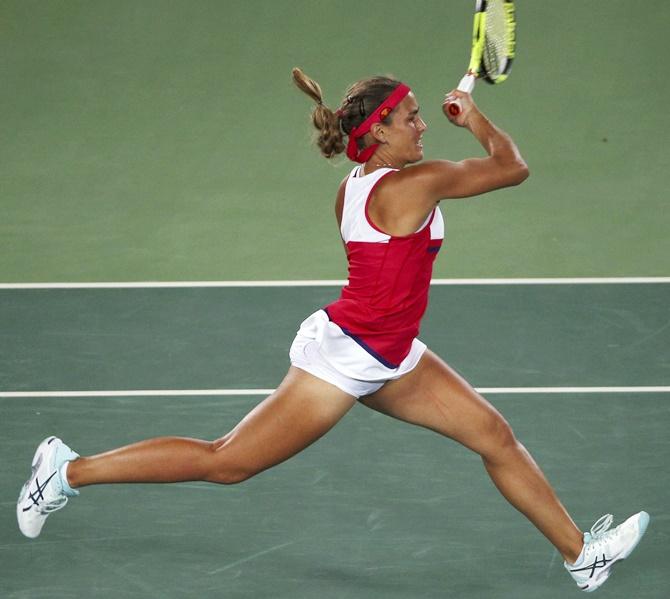 IMAGE: Olympic champion Monica Puig of Puerto Rico wants to capitalise on her victory, both on and off the court. Photograph: Kevin Lamarque/Reuters.
Put the rubbish out, get the shopping done, win an Olympic gold medal.
That was the to-do list of Monica Puig, the 22-year-old whose victory in the women's singles in Rio earlier this month made her the first ever Puerto Rican to win Olympic gold.
It was an unlikely but fully-deserved win for the world number 34, catapulting her to hero status and making her a role model for young people in the island Commonwealth that is enduring tough economic times.
Now Puig wants to capitalise on her victory, both on and off the court.
"I know that there's no doubt in my mind that I can probably win a Grand Slam because the Olympics was one," she told Reuters at Flushing Meadows on Sunday, on the eve of the US Open.
"It just doesn't have the title Grand Slam but the best players in the world were there, including Serena (Williams).
"I won the biggest thing on my to-do list and I just want to keep knocking off other ones, and that would be to win a Grand Slam."
Confident but at-ease despite all the new-found attention, Puig is still coming to terms with her stunning victory in Rio.
"I don't think it's really sunk in," she said. "It's a little bit difficult to process. I was by no means the favourite. It was such a surreal ride."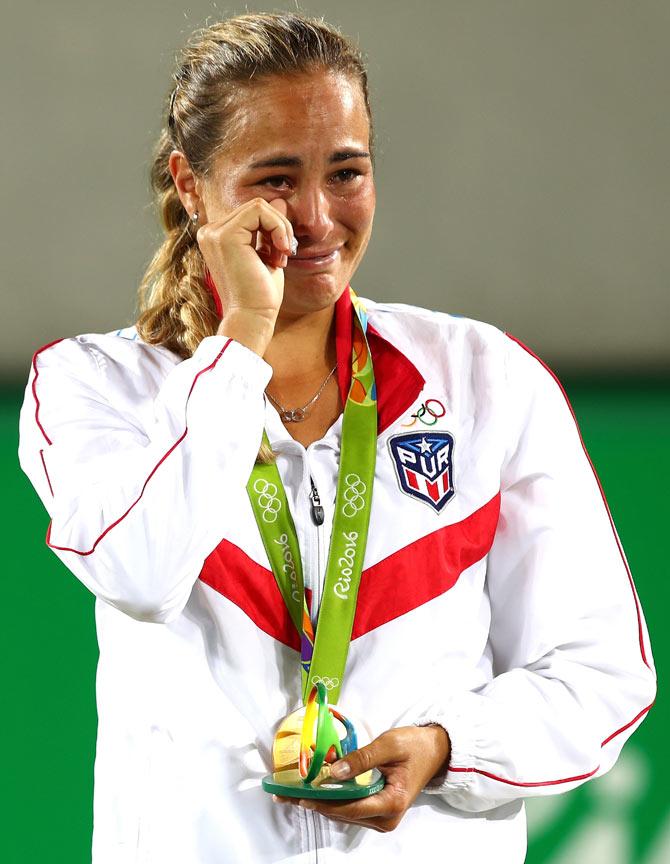 IMAGE: Monica Puig reacts during the medal ceremony on Day 8 of the Rio 2016 Olympic Games. Photograph: Clive Brunskill/Getty Images
In floods of tears during the medal ceremony, Puig and her gold medal have been virtually inseparable ever since.
"I remember waking up several times in the middle of the night and just looking at my night stand to actually see if my medal was there because I didn't believe it," she said.
"I wasn't able to sleep very much for three, four or five days. It was the most surreal feeling in the world to be an Olympic champion that morning."
Along with congratulations from her fellow players, Puig has been subjected to abuse on social media, with many people expecting a let-down at the US Open, where she faces Saisai Zheng of China in the first round.
"Unfortunately I'm guilty of reading my Twitter and sometimes the comments under articles but you know what, a lot of that fuels my fire," she said.
Puig, who was greeted by thousands of people when she landed in Puerto Rico after her victory, embraces being a role model.
"I see it as a responsibility," she said. "I know what comes with that responsibility as far as conducting myself in the same way that I have, in a very respectful manner, always setting a good example, especially for the youth of Puerto Rico, which is very important.
"I gave me a lot of hope back to the people of Puerto Rico, which was really important for me because they're going through such difficult times.
"The message is that nothing is ever impossible. People probably thought me winning a medal was impossible and I proved them wrong."
Not surprisingly, Puig says she will have a special role in the 2020 Olympics in Tokyo.
"They have approached me to be flag-bearer," she said. "They've already asked me about the possibility of doing it in 2020 and there's no way I could say no."