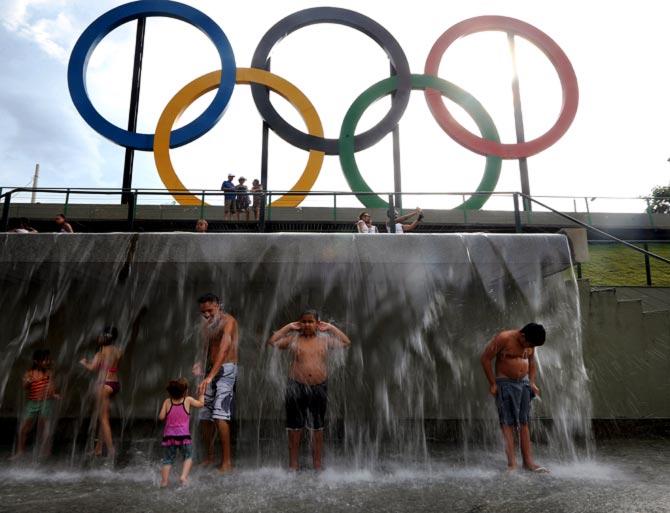 IMAGE: People cool off beneath a water fountain beneath the Olympic rings in Madureira Park in Rio de Janeiro, on December 30, 2015 (Image used for representational purposes). Photograph: Mario Tama/Getty Images
A proposal for new world record ratification rules that could have a retroactive effect faced opposition from the World Olympians Associations (WOA) on Friday, who said it would cast suspicion on all past performances.
European Athletics, the body governing the sport in Europe, called this week for new ratification rules to maintain the integrity of the sport, calling for higher technical standards and increased doping control measures.
It said previous race records were not judged according to the new standards so performances could not be compared.
The WOA, a member organisation for some 120,0000 past and present Olympians, said every athlete would thus be presumed guilty.
"WOA is committed to ensuring that all athletes are treated as innocent until proven otherwise," WOA President Joel Bouzou said in a statement.
"As a result, we must question the recommendations made by European Athletics to reset any world or European record that was held by an athlete who has not met their proposed criteria.
"The criteria recommended by European Athletics have a very wide reach, and seem likely to affect many clean athletes, inevitably leading to innocent record holders being stripped of their achievements," Bouzou said.
European Athletics will forward a report to the International Association of Athletics Federations (IAAF), which will study it at its council meeting in August.
The report proposes that world and European records should only be recognised if the performance is achieved at an approved event where high standards of officiating and technical equipment can be guaranteed.
It also calls for an agreed number of doping control tests in the months before the performance and the doping sample after the record to be stored and made available for re-testing for 10 years.