The Government of India is set to appoint Hockey India's Director High Performance Roelant Oltmans as Chief Coordinator and High Performance Director for Indian Hockey.
His has been roped in till Rio Olympics 2016.
This is the first time that the Government of India has engaged an individual in a High Performance role.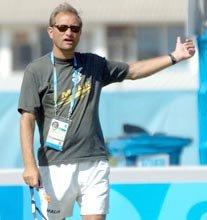 Oltmans was first hired by Hockey India (HI) as Director High Performance in January this year as part of its plan to further professionalise the sport.
As High Performance Director, Oltmans will be responsible for ensuring the long term strategy for senior, junior & sub-junior teams.
Oltmans will also put in place a professional coaching curriculum and program for the sport.
HI Secretary General Narinder Batra said, "We welcome the initiative taken by the Government of India in engaging Roelant Oltmans as High Performance Director. In the past eight months, Roelant has been working with our coaching and support staff of the Senior and Junior teams to support their efforts to win medals at the Junior Women World Cup, Asia Cup Men & Women, Sultan of Johar Cup and Junior Men World Cup.
"We are confident that this additional support from Government of India will assist us in achieving our objectives and bringing further laurels to the nation," he added.
"I am happy to strengthen the contacts with the Sports Authority of India and look forward to work closely together to improve the sports level in India and hockey in particular. The past eight months has shown a lot of talented athletes in the country and I am confident that their level will increase by giving them the right support," Oaltmans said.
"We made a promising start and hopeful of getting better results in the future events. As a part of my new responsibilities, I will focus on the coaching development in the country." said Oltmans.
Under Oltmans's guidance, the Dutch team, who he coached for 14 years, won the gold medal at the Atlanta Olympics. It also bagged two FIH World Cups, three FIH Champions Trophy and the Euro Hockey League.
The former Dutch coach, who worked with the Dutch Olympic Committee as its Performance Manager for Elite Sports, is also an International Hockey Federation (FIH) Master Coach. Oltmans is also the chief coach with the Uttar Pradesh Wizards for the Hockey India League.