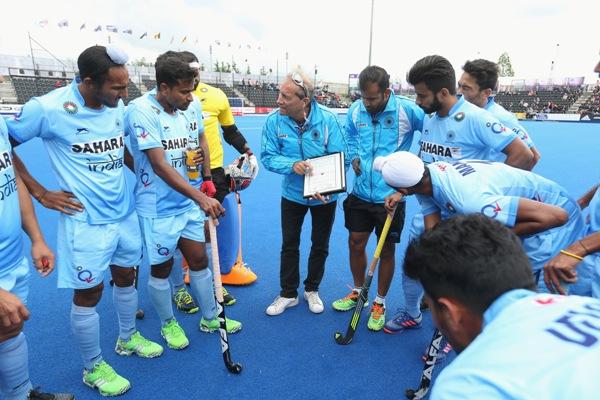 IMAGE: India coach Roelant Oltmans talks to his players during the FIH Mens Champions Trophy. Photograph: Alex Morton/Getty Images.
While praising the Indian men hockey team's progress under the guidance of coach Roelant Oltmans, former international Viren Rasquinha did not hold out a realistic chance for the country to climb the medals podium at the upcoming Rio Olympics.
"We have to take one step at a time. In Beijing (2008 Olympics) India did not qualify and we were 12th (and last) in London (Olympics in 2012). From there to go and win a medal is unrealistic. Our first aim should be to qualify for the quarterfinals," he said.
Rasquinha was speaking at a panel discussion after being named by Star Sports network as one of its commentators during its coverage of the August 5-21 Games.
The 35-year-old former player, who represented the country at the Athens Games in 2004, said Australia were the favourites for the gold, while India can nurture hopes of getting past all other teams on its current form.
"The first priority for the Indian squad would be to make it to the quarter-finals (under the changed format for the tournament). Australia are undoubtedly the favourites. But take away Australia and we have a chance against all other teams.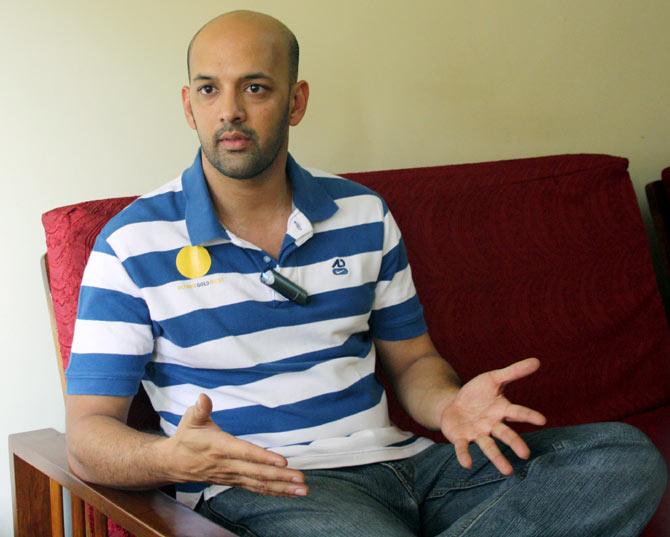 IMAGE: Viren Rasquinha. Photograph: Hitesh Harisinghani/Rediff.com.
"All are within our range. If we meet any of those countries in the quarters I would have hopes (for India) but if we meet Australia I don't have hopes as our record is not good. The no 1 priority is to qualify (for quarters) and no 2 is to avoid Australia (in quarters)," said Rasquinha.
The ex-international has been roped in as an expert commentator by the channel along with Australian swimming great Ian Thorpe, Indian shuttle ace Prakash Padukone, former shooting champion Anjali Bhagwat and Olympic swimmer Rehan Poncha. Rasquinha was all praise for Oeltmans and said he, for one, is not surprised at the improvement in the Indian team under the Dutchman.
"Oeltmans is doing a fantastic job. He has built a fine team ethics. Everyone comes back to help the defence. There has been effective rolling substitution because of which India is playing at a very high intensity that has surprised many. But but I have not been surprised," he said.
"I had seen Oeltmans making a difference to Pakistan in Athens. I don't want to talk about the past, but he's the best person to guide India and has done a wonderful job. I am not surprised to see India playing really well in the (ongoing) Champions Trophy," Rasquinha said.
Rasquinha, however, cautioned that from what he had seen thus far a few problem areas remained for the team.