President Barack Obama believes women should be allowed to join the all-male Augusta National Golf Club, the White House said on Thursday, adding pressure on the exclusive 80-year-old organization to drop its restrictive policy.
"His personal opinion is that women sh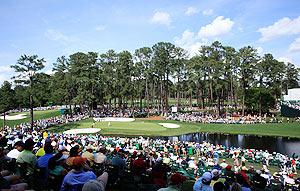 ould be admitted," White House spokesman Jay Carney told reporters, saying he had spoken to Obama about the issue, as the prestigious Masters tournament got under way in Augusta, Georgia.
In a rare moment of agreement with Obama, Republican front-runner Mitt Romney, the Democratic president's likely opponent in the November 6 election, said if it were up to him, "of course I'd have women in Augusta."
The question of whether women should be allowed to become members at the home of the Masters has been around for years. But it took on added significance after Ginni Rometty became chief executive officer of IBM, one the tournament's longtime sponsors, in January.
The White House weighed in on the issue during an election campaign in which Obama and his fellow Democrats are seeking to exploit a "gender gap" in polls showing the president ahead of Republican presidential contenders with women voters. Obama is hosting a conference on women and the economy on Friday.
Carney was asked whether Obama believed the men's-only Augusta club should open its ranks to women, especially given Rometty's position.
"It is obviously up to the club to decide," Carney said at the daily White House briefing. "He believes Augusta should admit women. You know, we're kind of long past the time when women should be excluded from anything."
Club chairman Billy Payne was pressed on the eve of the Masters on whether the club would alter its policy.
And in keeping with the club's secretive traditions, he refused on Wednesday to provide a clear answer, saying only that membership issues were not for public debate.
IBM, the world's largest technology services company, is a long-standing sponsor of the Masters and its past four CEOs have been granted membership to Augusta National.
The club now faces a dilemma of whether to change its policy to allow Rometty to join or spurn one of its major sponsors.
Augusta's invitation-only membership has been steeped in secrecy since the conservative club opened in 1932. Women are allowed to play the course if invited by a member but cannot become members themselves. The club resisted pressure to desegregate for decades and only admitted its first black member in 1990.
The club does not reveal its full list of members, believed to be around 300, although it is known that some of the powerful men from industry and finance, including Bill Gates and Warren Buffett, are members.
When asked whether Obama -- who has played golf regularly during his presidency -- would ever play at a men's-only club, Carney said, "I didn't have that conversation with him."
Photograph: David Cannon/Getty Images