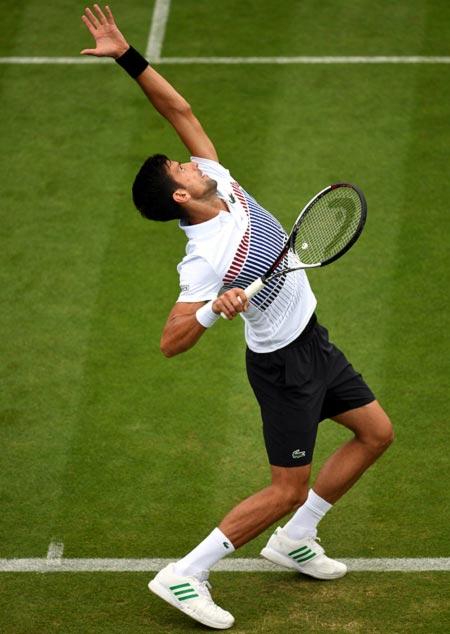 Three-time Wimbledon champion Novak Djokovic beat Canadian Vasek Pospisil 6-4, 6-3 in his first grasscourt match of the season on Wednesday to reach the third round at the Aegon International in Eastbourne.

Having played only 13 points due to rain on Tuesday, the 30-year-old Serb returned to Devonshire Park to record his 25th win of the season. He had received a bye in the first round.

"I'm glad that I came here to Eastbourne," Djokovic, who is playing his first grasscourt warm-up tournament ahead of the Championships since 2010, said after the match.

"I have had a great couple of days of training with good players, different styles of game. I felt good on the court, considering it's the first match. I have played against an opponent that has a really good game for grass. It was a really, really solid win. I'm happy with it."

Djokovic, who suffered a quarter-final exit at the French Open, is hoping to adapt to the conditions in as many matches he can play this week at Devonshire Park ahead of the third Grand Slam of the year starting July 3.

"Well, I think the first thing I'm looking for is to experience that match play...Mentally, physically, tactically, every way you look at it," said Djokovic.

"The movement is very different from clay or hard court. You've got to be very soft, very gentle, but yet very reactive."

Djokovic, who will have coach Andre Agassi in his corner for the Wimbledon fortnight, said he is communicating with the American on a daily basis as they "get to know each other".

"Even though when we are a distance from each other or not together, we still keep the communication," Djokovic added.

"He (Agassi) shares his thoughts. He obviously wants me to share what I feel and how I see things...and getting a sense of how we go about tennis, about life, and what are our perspectives and analysis of the match."

Djokovic, seeded second for next week's Wimbledon championship, will meet Donald Young or his fellow American Jared Donaldson in the third round in Eastbourne.
Image: Novak Djokovic serves.
Photograph: Mike Hewitt/Getty Images