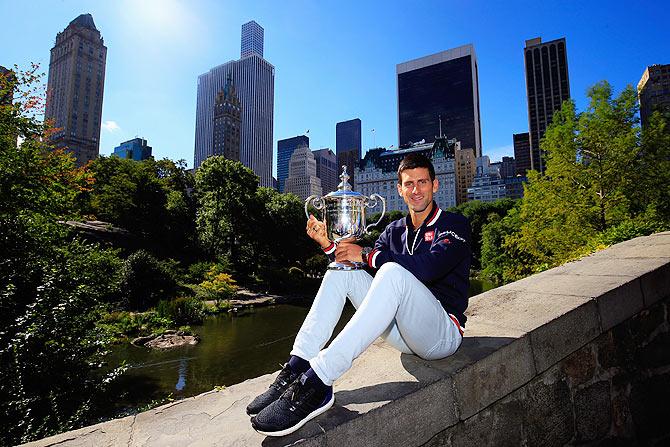 IMAGE: Serbia's Novak Djokovic the 2015 US Open Men's champion poses with the winner's trophy in Central Park in New York City on Monday. Photograph: Chris Trotman/Getty Images for ATP
With Novak Djokovic's 10th grand slam title secured and the year-end number one ranking already in the bag, his stranglehold on men's tennis looks unshakeable and records beckon.
- In PHOTOS: Djokovic's rise ten years since Grand Slam debut
- How Hollywood star Butler inspired Djokovic to US Open triumph
The 28-year-old Serb's initial slow accumulation of major silverware after his breakthrough at the 2008 Australian Open has accelerated to such an extent that talk of him surpassing the likes of Bjorn Borg, Rafael Nadal and even Roger Federer is no longer fanciful.
Djokovic's four-set defeat of 17-times major champion Federer in a spellbinding US Open final on Sunday was achieved despite a relentless Federer onslaught and with virtually the whole New York crowd roaring every winner from the Swiss maestro.
At times, Djokovic appeared the loneliest man in the world but he soaked up the pressure, sucked in the night air, and showed why beating him on the biggest of stages is almost mission impossible.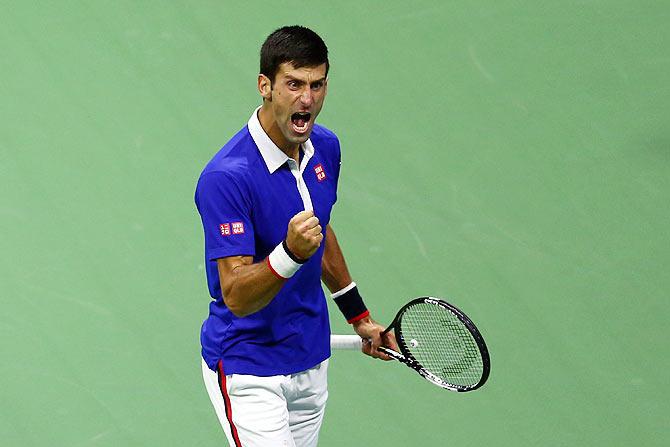 IMAGE: Serbia's Novak Djokovic celebrates a point against Switzerland's Roger Federer during their US Open men's singles final on Sunday. Photograph: Maddie Meyer/Getty Images
Rarely in his career can the 34-year-old Federer have hit the ball with more ferocity, yet delivering the knockout blow to a player whose ability to turn tendon-stretching defence into clinical attack proved tantalisingly out of reach.
ATP Tour chief Chris Kermode, blessed with a golden men's era that just keeps giving, described Djokovic's season as "awe inspiring" and few would argue.
But for a stupendous display by Switzerland's Stanislas Wawrinka in this year's French Open final, the Serb would now be celebrating a calendar year grand slam that has proved beyond the greatest players of the modern era.
The way he bounced back from heartbreak in Paris, first at Wimbledon and then in New York, suggests he could complete the fabled 'slam' next year.
"He's in his prime, unquestionably at the pinnacle of the game, and fully deserving of this latest accolade, a true credit to our sport," Kermode said of Djokovic clinching the year-end top ranking for the fourth time on Monday.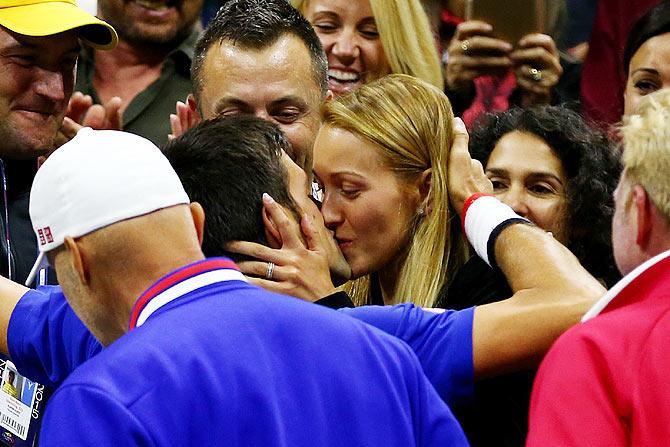 IMAGE: Novak Djokovic celebrates with his wife Jelena Djokovic. Photograph: Clive Brunskill/Getty Images
Djokovic, ranked number one since July 2014, will move past John McEnroe's feat of 170 weeks at the top in November and then only Jimmy Connors (268), Ivan Lendl (270), Pete Sampras (286) and Federer (302) will have spent longer at the summit since the ATP rankings were introduced in 1973.
"He's put himself among the greats. His steely resolve is what separates him," said McEnroe who analysed the final for ESPN as the Serb fought off 19 of 23 break points against Federer on a raucous Arthur Ashe court.
"He doesn't get the cheers like Roger but maybe some day when he's 34 and has 16 or 17 Grand Slams, he will."
Djokovic's calmness on court, apart from the occasional racket-busting episode, speaks volumes for the contentment he enjoys off court with wife Jelena and son Stefan.
"I'm enjoying this year more than I did any previous one because I'm a husband and a father and that makes it sweeter," he said.
"I love this sport and all these results and achievements are incentive for me to keep on going."