'I'll be absolutely disappointed if it's anything else. And I believe (being a senior player), I have a bigger role'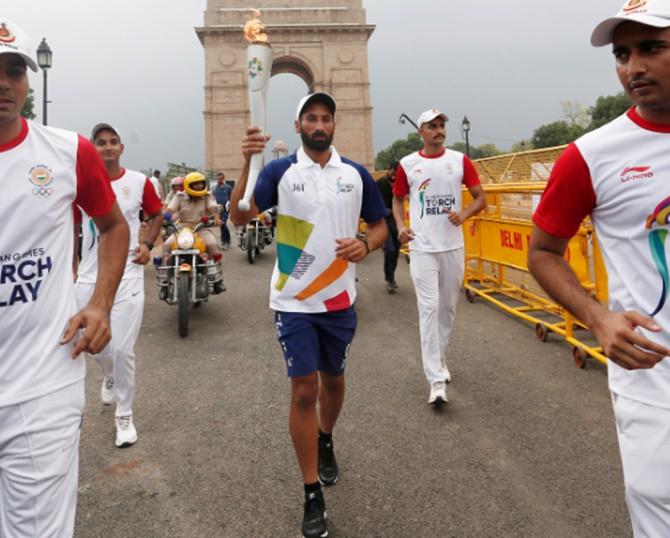 Anything less than the gold medal will be a disappointment for the Indian men's hockey team at the Asian Games in Indonesia, veteran midfielder Sardar Singh said on Friday.
Former hockey giant India won the last of their eight Olympic golds in 1980 but remain a strong continental force who won the men's title at the 2014 Asian Games in Incheon.
Australia denied them via shoot-off in the final of this year's Champions Trophy but India's strong run in the elite tournament has convinced Sardar of their Asiad credentials.
"Gold medal," the former India captain told reporters when asked about the team's prospects in Indonesia.
"I'll be absolutely disappointed if it's anything else. And I believe (being a senior player), I have a bigger role, to make sure the team fights together and we win the medal."
Harendra Singh was appointed coach of the men's team following their fourth place finish at the Commonwealth Games and Sardar admitted it was not easy adapting to a new style.
"It's never easy because every new coach brings new ideas, new style. I have worked with several coached in the last 10-12 years and each of them preferred a different strategy," said the 32-year-old.
"But now we have a new coach, who knows the Indian culture. He has grown a lot as a coach and has done well with the women's team. He knows the strength and weakness of this team.
"Besides, I believe communication in that two-minute period after every quarter is crucial and he speaking to the players in Hindi easily gets the message across. It's a clear advantage."
Sardar did not hide his disappointment at being dropped from the Commonwealth Games squad but insists he has moved on.
"They pointed out certain areas they wanted me to improve on. I took it positively and worked on it. I thank the selectors for showing trust in me again."
Having played 300 matches for India since making his international debut in 2006, Sardar is now looking forward to drive India's campaign for their fourth hockey Asiad gold in the men's competition.
"I have received certain instructions about my role in the midfield," he said. "We need to keep it simple. We have some outstanding forwards, who are real fast and eye contact is important.
"The aim is to feed them long passes, which is my strength, as quickly as possible. That would help the team. I have to ensure we don't easily lose the ball to opponents. These are small areas but we need to work on them."