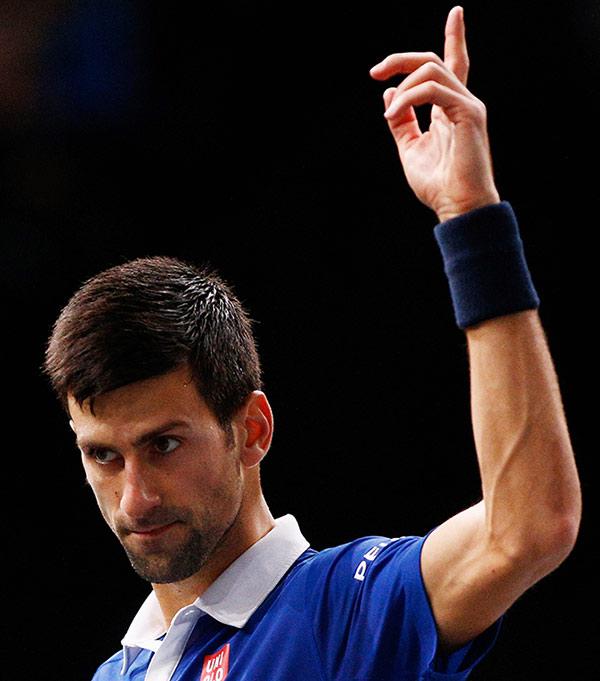 IMAGE: Novak Djokovic of Serbia during the Paris Masters. Photograph: Dean Mouhtaropoulos/Getty Images
A long year has taken its toll on some of the world's best tennis players but the relentless Novak Djokovic gives no indication that he is about to slacken the pace as he heads to the season-ending ATP World Tour finals in London.
The world number one impressed in a 6-2, 6-4 defeat of second seed Andy Murray to clinch his fourth Paris Masters on Sunday, becoming the first man with four titles at Bercy and also the first to win six Masters titles in a season.
While Roger Federer and Rafa Nadal faltered in the third round and quarter-finals respectively a few days after playing the final in Basel, Djokovic cantered through the rounds on the banks of the River Seine, being tested only by Stan Wawrinka in the semis.
"I will continue to do what I'm doing so far. There is no reason for me to decrease the pace of the training and preparations and performances," Djokovic told a news conference.
"It's the last tournament of the year, a very big tournament where I have done very well in the past."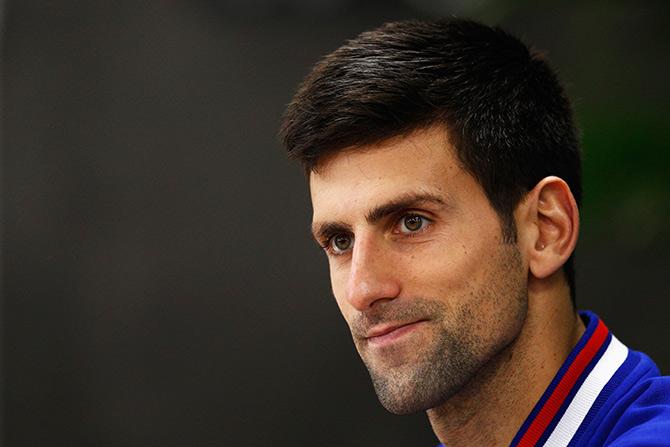 IMAGE: Novak Djokovic of Serbia speaks to the media. Photograph: Dean Mouhtaropoulos/Getty Images
Djokovic has won the last three editions of the season's finale that features the year's eight best players and Sunday's performance suggested it will take an exceptional performance to topple him at the O2 Arena in London.
Yet the Serb insisted: "I try to take nothing for granted... the only way I'm managing to stay successful is by continuing to improve.
"I'm not trying to keep the status quo, because for me that's a regression."
Right now, all stars are aligned for Djokovic, a happy man and obviously a happy player who won three of the four grand slams, losing only in the French Open final.
"I'm a married man, and I'm a father, as well," he said.
"I think I have a nice balance and serenity in private life that reflects on the professional life, and vice versa. I have this belief that the holistic approach will definitely get the best out of yourself."