'We have got the start. We should not stop here. I hope we get the Under-20 World Cup, so that the start gets even bigger momentum.'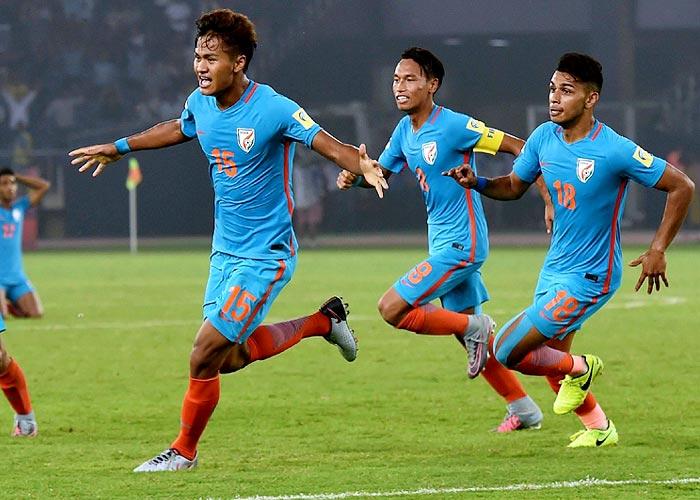 IMAGE: Jeakson Thounaojam, left, celebrates after scoring a goal for India against Colombia during the FIFA Under-17 World Cup. Photograph: PTI
Sports Minister Rajyavardhan Singh Rathore hopes that the stupendous success of the Under-17 World Cup would motivate the country's budding footballers to improve their game and look to win a place in the FIFA World Cup in the near future.

"We have got the start. We should not stop here. I hope we get the Under-20 World Cup, so that the start gets even bigger momentum. I believe if things go like this, it's not far when India will play in a World Cup on their own," Rathore said in Kolkata on Sunday.
Rathore, who was invited for the Under-17 World Cup prize distribution ceremony, said all big sporting organisations like FIFA have India on their radar and the country should make the best use of it.

"It's a matter of pride that the Under-17 World Cup came to India. It has taken India's importance at the world level to greater heights. Now the big competitions and sports which were earlier non-existent in India are feeling the need to come to this country.

"The fans response has been fantastic, we broke all records of the most attended World Cup ever," said Rathore.

The Olympics silver medallist said it is time that football became a pan-India thing.

"Football is popular only in a few regions like West Bengal, Goa and North East. It's a nice opportunity to make the sport popular all over. We must make full use of this.

"We will take full responsibility from the Centre by bringing up more infrastructure and prepare elite athletes by looking after their funding and resources. You have seen the overall infrastructure and the modifications that have come in place have been very satisfying. We now need to be prepared for the upcoming competitions," he said.

The former shooter had a special word of praise for the sports loving crowd of Kolkata.

"Kolkata has sports lovers. They understand the sport better. They waited for the ceremony to get over even after the match was over. They showed respect to both the teams. My heartfelt thanks to all the fans of Kolkata."

Rathore urged the athletes to be more determined, saying resources alone cannot guarantee medals.

"If you were to win an Olympic medal only because of the money and funding or resources, then the medals list would have the who's who of the society but that's not the case. There's something that is very important in each of us and that is the determination. That's the biggest strength in all of us," he said.

Rathore refused to comment on whether the ministry has directed National Anti Doping Agency (NADA) to conduct random tests of the cricketers during domestic and international cricket matches, being played in India.

Rahul Bhatnagar, secretary, ministry of youth affairs and sports, said they have received a letter from WADA complaining about non-compliance in cricket.

"I don't have anything to add to that."