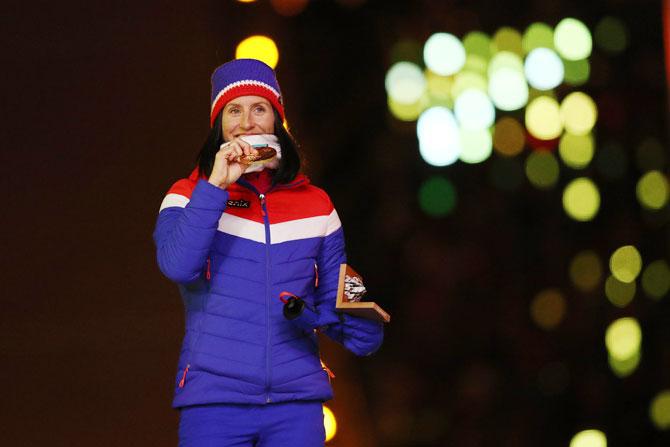 IMAGE: Norway's gold medallist Marit Bjorgen poses during the medal ceremony for the Cross-Country Skiing - Ladies' 30km Mass Start Classic during the closing ceremony of the PyeongChang 2018 Winter Olympic Games. This was her 15th Olympic medal, making her the most decorated Winter Olympian of all time. Photograph: Maddie Meyer/Getty Images
Norwegians celebrated becoming the most successful ever nation at a Winter Olympics, after a triumphant campaign at Pyeongchang, but their Nordic reserve was on show too.
The nation of 5.3 million people won 39 medals, 14 of them gold. That broke the record of 37 medals won by the United States -- whose population is more than sixty-times that of Norway's -- at Vancouver in 2010.
Aksel Lund Svindal became the first Norwegian to win the Olympic men's downhill, the blue riband event of the Alpine skiing programme, and Norway took gold in biathlon, ski jumping, speed skating and freestyle skiing.
But the focus of celebrations was on Marit Bjoergen, who stormed to gold in the women's 30km mass start cross-country skiing on Sunday to claim her 15th Olympic medal. She is now the most decorated Winter Olympian of all time.
The front page of Norway's biggest daily, Aftenposten, showed a beaming Bjoergen, with no text except the newspaper's logo, framed by a gold medal. Tabloid VG printed the same picture with the headline: "Now you are the greatest!"
"She is fantastic," Prime Minister Erna Solberg told state broadcaster NRK.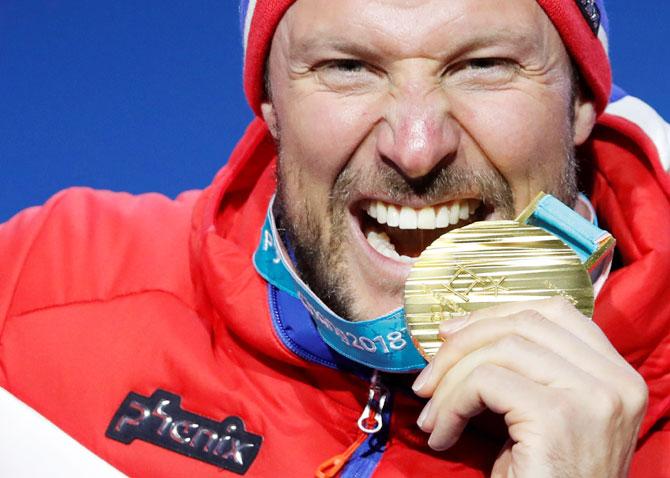 IMAGE: Norway's Aksel Lund Svindal celebrates winning gold in the Alpine Skiing Men's Downhill event on Feb 15. Photograph: Eric Gaillard/Reuters
Describing what made the athlete great, Solberg emphasised qualities held dear in the majority-Protestant country where Jante's Law -- the Nordic equivalent of Britain's tall poppy syndrome whereby individual success is often scorned - holds sway.
"She is down-to-earth, direct, she shares her joy with everyone around her. All we hear is that she is a motivator for everyone else in the team," Solberg said.
"She is a great team player ... and she contributes to others being great too."
NRK asked Solberg whether there was a danger of Norway becoming too nationalistic as a result of its Olympic success.
"Norwegians are quite grounded. We know we are good at this but there are other things for which we know we have to be better at in the years to come," she said.
"But everyone can enjoy for a little bit the high the Olympics have been for us."