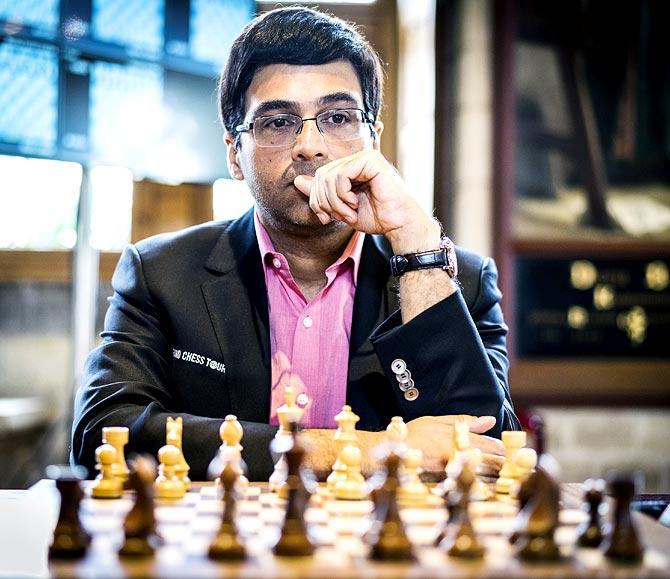 Viswanathan Anand played out his fourth draw on the trot, signing peace with Wesley So of United States in the fourth round of the Altibox Norway Chess tournament in Stavanger, Norway.
Taking his tally up to two points out of a possible four, Anand now has his task cut out for the remaining five games in this strongest tournament of the year. The world rapid champion needs a couple of victories to stake a claim in the tournament.
Meanwhile, reigning World champion Magnus Carlsen was pleasantly surprised to see a rather unambitious approach with white pieces by Hikaru Nakamura of United States. The game ended in a draw helping Carlsen to remain at the helm on three points from his four games.
Sergey Karjakin of Russia took sole second spot on 2.5 points after defeating Maxime Vachier-Lagrave of France. This was certainly the game of the day wherein Karjakin first showcased his deep preparation and then came up with an astounding display to outwit the Frenchman.
Anand now shares the third spot along with Levon Aronian of Armenia, Wesley and Nakamura.
In other games of the day, Aronian came back to fifty percent score after demolishing Shakhriyar Mamedyarov of Azerbaijan while Chinese Ding Liren did not play his game against Fabiano Caruana of United States owing to an injury.
Liren's injury demanded a surgery and it's not clear whether the Chinese star will be able to continue in the tournament. His fate in the tournament will be known before the start of the fifth round game.
Anand tried the English opening after a stellar performance as a 舛hef' on the rest day when he paired up with Liren to win the best team award in cooking.
The opening gave only an optical advantage as Wesley So was able to execute his plans in time and it was a fine finish in the end as the Filipino turned American sacrificed a rook to force perpetual checks.
Karjakin was a class act with white as he blitzed out the first 24 moves in quick time showing deep preparation. Vachier-Lagrave decided to play actively at this point by sacrificing a rook for a minor piece but the Russian had his technique in place once he was ahead on material.
The next round will be crucial for Anand as he will meet Carlsen who will have white pieces. The Norwegian has won both his white games thus far in the event besides two draws as black. Another draw as black will be fine for Anand as thereafter he can focus on his last two white games.
Results round 4: V Anand (Ind, 2) drew with Wesley So (Usa, 2); Hikaru Nakamura (Usa, 2) drew with Magnus Carlsen (Nor, 3); Levon Aronian (Arm, 2) beat Shakhriyar Mamedyarov (Aze, 1.5); Sergey Karjakin (Rus, 2.5) beat Maxime Vachier-Lagrave (Fra, 1.5); Fabiano Caruana (1.5) vs Ding LIren (Chn, 1.5) game postponed.