- 'This league is very crazy. I think the big teams have to stay at a high level, but sometimes it means nobody wants to win the league -- it's very strange this league.'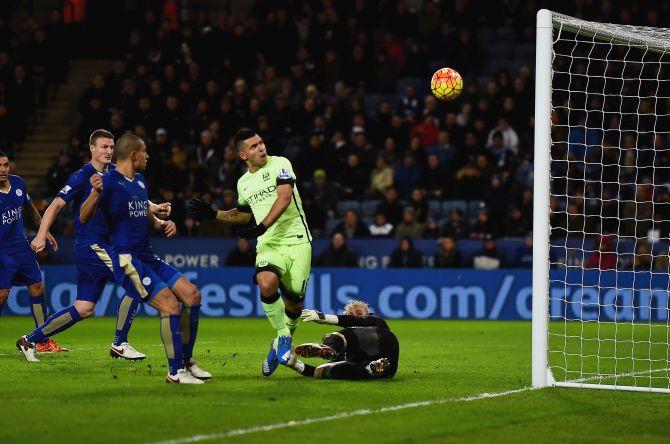 IMAGE: Sergio Aguero of Manchester City misses as Leicester City goalkeeper Kasper Schmeichel attempts to block. Photograph: Laurence Griffiths/Getty Images
Leicester City manager Claudio Ranieri underscored the unpredictable nature of the English Premier League this season, stating that it seems as if "nobody wants to win the league".
Ranieri's side failed to regain top spot after a goalless draw at home against Manchester City on Tuesday, which kept Leicester behind Arsenal only on goal difference.
The surge of smaller teams as well as sides eyeing a maiden league triumph have opened up the league at the halfway stage.
Tottenham Hotspur, in with a chance of winning their first title, are placed fourth while Crystal Palace, who finished 10th last season, are in fifth spot.
Promoted side Watford too have put their hat in the top-half mix, placed eighth, after stitching up four wins on the trot.
"This league is very crazy. I think the big teams have to stay at a high level, but sometimes it means nobody wants to win the league -- it's very strange this league," Ranieri told BT Sport after the City game.
"It's not easy for us but we want to fight with everybody. It's a miracle what we are doing."
Despite dropping points at home, the Italian was happy with his team's performance against City, particularly after Saturday's defeat against Liverpool.
"I'm very pleased but I'm also very pleased with a clean sheet against these great champions (City). I think we showed a very good performance and after the Liverpool defeat we've played so well," Ranieri told the club's website (www.lcfc.com).
Ranieri also insisted that he went for a win against City.
"I saw in the second half we can do something better. Win or lose for me it was the same and the team responded very well. I wanted to put on another striker to try to win," added Ranieri, whose side host Bournemouth next on Saturday.
'Manchester City not where they should be at yearend'
Manchester City have gone off the boil after a good start to the season and the team should have been placed higher than third in the Premier League table at the end of the year, goalkeeper Joe Hart has said.
City began December in first place, ahead of Leicester City on goal difference, but picked up just seven points from their next five games to slip to third place.
"We are not where we should be right now in the table. We are right in the mix without really playing that well," Hart told the club's website (www.mcfc.co.uk).
The Sky Blues opened this season's campaign with five successive league wins till mid-September, scoring 11 goals in those games and conceding none.
City have since failed to win a single league game on the road, with their last away victory coming at Crystal Palace more than three months ago.
"We started the season strongly, but we have not been great over the last 12 games or so. The two teams above us (in the table) deserve to be there," the England international said.
"Without doubt, (we need) to push on, we need to win all our home games and be hard to beat in our away games as well."
Hart said City were unfortunate not to have taken more than a point against Leicester.
"It is a game we could and should have won but we did not. Kasper Schmeichel did well and made a few good saves, but we maybe should have done better with the chances we had," he added.
Manuel Pellegrini's men travel to take on eighth-placed Watford, who have won four of their last six games, in the league on Saturday.