'The problem in the competition in the high level, you don't have time to miss people'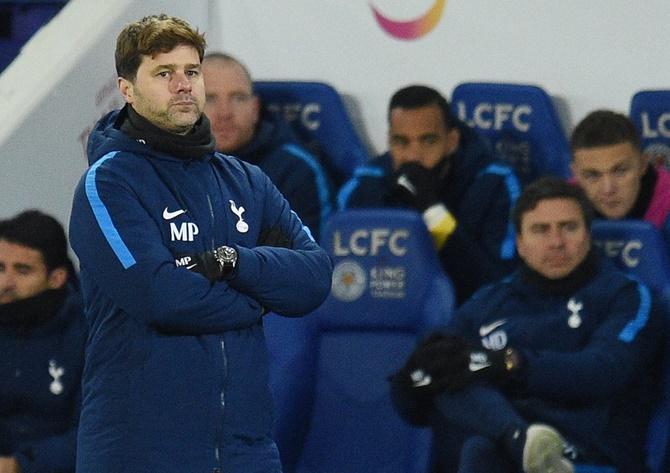 Tottenham Hotspur cannot dwell on their growing injury list and do not have time to "sit and cry" as games come thick and fast in the Premier League, manager Mauricio Pochettino said on Friday.
Spurs lost goalkeeper Hugo Lloris to a long-term elbow injury, with the skipper undergoing surgery earlier this week, while midfielder Erik Lamela and defender Jan Vertonghen are sidelined with hamstring injuries.
"The problem in the competition in the high level, you don't have time to miss people," Pochettino told reporters ahead of Saturday's home match against Sheffield United.
"It's like now with Lamela or Vertonghen, how you sit in the chair and cry because you miss someone... But the competition does not allow you to cry. You have to move on quick. It's a bit cruel, but you have to move on and try to win the next game."
Pochettino also said he was glad Son Heung-min had overcome the guilt of his tackle leading to a horrific injury to Everton's Andre Gomes, who needed surgery to repair a fracture dislocation to his right ankle, last weekend at Goodison Park.
The South Korean forward scored two goals as Spurs won 4-0 at Red Star Belgrade in the Champions League on Wednesday.
"He was affected like everyone during the (Everton) game and after the game," the Argentine coach said.
"Son was good afterwards with his reaction. Son showed he was at a very good mental level.
"He's sorry about what happened to Andre but relief because he saw Andre was positive on social media."
Spurs face a promoted Blades side that have the best defensive record in the division having conceded only eight goals and kept five clean sheets in 11 games.
Chris Wilder's team are also unbeaten in all their away games so far and Pochettino praised his counterpart for how he had drilled United into a hardworking unit.
"It's going to be very difficult, they work so hard," Pochettino said.
"What impressed me the most is the belief, the togetherness, spirit like a rugby team that fights for each other. That's fantastic to see in a football team.
"They have a good squad, great organisation, a great manager. I think, to fight for each other, they have good players. That's the key for Sheffield United and that's why they are doing so well with so many points."
Arsenal's Xhaka to be dropped for Leicester game
Arsenal midfielder Granit Xhaka has asked Unai Emery not to be picked for Saturday's Premier League match at Leicester City and the manager said they would wait until he is in the right frame of mind to play for the club again.
Xhaka reacted angrily to home fans booing him after he was substituted during Arsenal's 2-2 draw with Crystal Palace at the Emirates Stadium last month and the Switzerland international was stripped of the captaincy as a result.
With on-loan midfielder Dani Ceballos also injured and unavailable, Emery said Xhaka was not in his plans but Mesut Ozil -- who has played only twice in the league this season -- was in contention.
"I spoke with him (Xhaka) on Tuesday, for how he is feeling now and his mind, because he is working well and training well. But he said he can't play at the moment and we are going to wait," Emery told reporters on Friday.
"(Ozil) is training well and I think he is now being consistent in the training, he is also helping and being positive. I am thinking he has a possibility to play tomorrow."
With Xhaka no longer an option for the captain's armband, it has been passed on to Pierre-Emerick Aubameyang and Emery said the Gabonese striker had the qualities to lead the squad.
"Aubameyang is first (captain) because he is experienced and he has the respect of the dressing room," the Spanish coach said. "He was the top scorer last year in the league and I know he needs time to take that responsibility 100% but we will support him.
"Every player will support every captain and we are going to support him as first captain because he took a step ahead to take that responsibility."
Fifth-placed Arsenal are six points behind Leicester and Emery has been under pressure to deliver after winning two of their last nine league games but he said he had not been in discussions with the board regarding his future.
"We are speaking about our process to continue working and they (the board) did not show me doubts," he said.
"I was speaking with the players this week about how is our next step to improve and it's clear there are two ways. One is to play better with the ball, play with more confidence with our style, and take more responsibility on the pitch."
Chelsea's Kante is more than a defensive midfielder, says Lampard
Chelsea's N'Golo Kante is much more than a pure defensive midfielder and manager Frank Lampard hopes to reap the rewards of his other qualities now he is fit again.
Lampard confirmed Kante, who has been plagued with injuries this season and started only three league games for Chelsea, had shaken off a groin problem to be available for Saturday's match against Crystal Palace.
Former manager Maurizio Sarri deployed Kante in an advanced role last season and Lampard has also used similar tactics with Italian Jorginho playing at the base of midfield.
"People talk about him (Kante) very casually as the best defensive midfielder in the world but I don't think that's the full story," Lampard told reporters on Friday.
"I'm not criticising him, it's actually the opposite. There's much more to his game than that ... A defensive midfielder in my mind is someone who sits in front of the back four or back three but I think he has got much more than that.
"He has shown all of those assets over the last four years for whoever he has played for - Leicester, Chelsea and France. He can give you more. That's hopefully what we will be getting now he is fit again."
With Jorginho suspended for one game after collecting five yellow cards this season, Lampard did not say whether Kante would return to a defensive midfield position against Palace.
"It depends how we set up as a team, they have different qualities," Lampard added. "We will set up the midfield as it is not just a like-for-like with those two.
"There's other players and it will be how we set up as a unit rather than the individual as the replacement."
Lampard also said Mason Mount was in the squad but he would make a late call on his participation after the midfielder injured his ankle in the midweek Champions League draw with Ajax Amsterdam.
However, defender Antonio Rudiger is set for a longer spell on the sidelines after undergoing surgery on a groin issue.
"He had an operation and he is going to be out probably for three weeks, hopefully," Lampard said. "Then we will have to see where match fitness comes in because he has been out for a long time now."