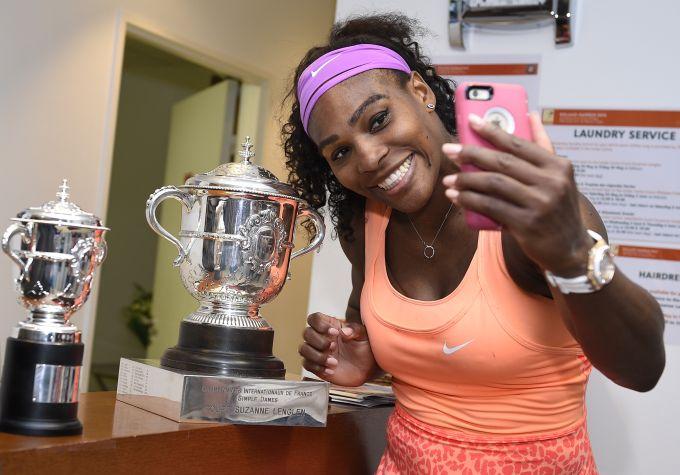 Serena Williams of the U.S. takes a selfie with her trophy as she poses in the dressing room after winning the women's singles final match against Lucie Safarova of the Czech Republic. Photograph: Corinne/Reuters
Nothing, absolutely nothing could stop Serena Williams from completing the magnificent TWO-O on Saturday and the American joyously bounced around as she hoisted a Grand Slam singles trophy for the 20th time with victory at the French Open.
It was a victory that seemed unlikely just 24 hours earlier as she battled from the debilitating effects of the flu.
It was a victory that seemed unlikely as she raged at allowing a 6-3, 4-1, 40-15 lead slip through her fingers in the second set.
It was a victory that seemed unlikely 20 minutes earlier when Lucie Safarova had broken for a 2-0 lead in the third set.
Yet Williams is not considered one of the all-time greats for nothing and she screamed, shouted and roared her way to a 6-3, 6-7(2), 6-2 victory over Czech 13th seed Safarova.
As Williams celebrated by raising both arms and looking skywards, her coach Patrick Mouratoglou held up two fingers in one hand and shaped an O with the other to signal her 20th triumph.
"I got a bit nervous but it's alright, it's a dream for me," Williams told the crowd following a victory which left her only behind Margaret Court (24) and Steffi Graf (22) on the list of major winners.
"To win it (the 20th grand slam) here is special for me because I don't always play very well here," added Williams after being presented with the trophy by fellow American Martina Navratilova.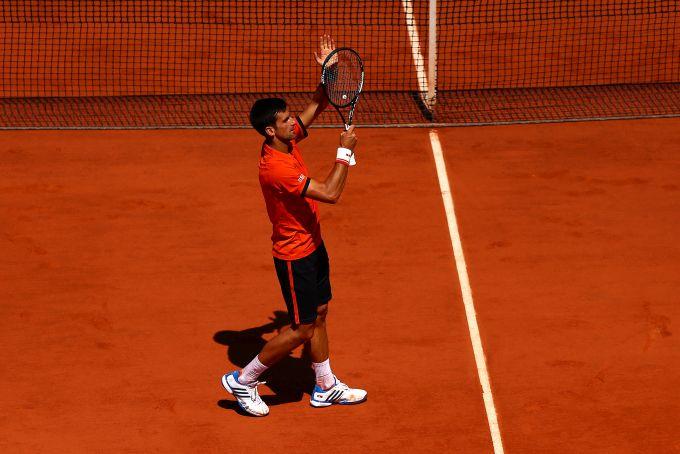 Novak Djokovic of Serbia celebrates winning the Men's semi-final match against Andy Murray of Great Britain on day fourteen of the 2015 French Open. Photograph: Dan Istitene/Getty Images
The result also left her one Wimbledon trophy away from completing what she calls the Serena Slam -- holding all four slams at the same time -- for the second time in her career having also achieved the feat in 2003.
Twelve years ago Novak Djokovic was a complete nobody in tennis circles but on Sunday he will be hoping to add his name to the greats of the sport as he bids to become the eighth man to complete the career Grand Slam.
He earned that opportunity by subduing British third seed Andy Murray 6-3, 6-3, 5-7, 5-7, 6-1 to set up a final showdown with Switzerland's Stan Wawrinka.
"This is the kind of situations that you work for entire year, to get yourself in a position to play against one of the biggest rivals and to fight for major titles. I'm just glad I overcome the challenge," Djokovic said after beating Murray for the eighth successive time.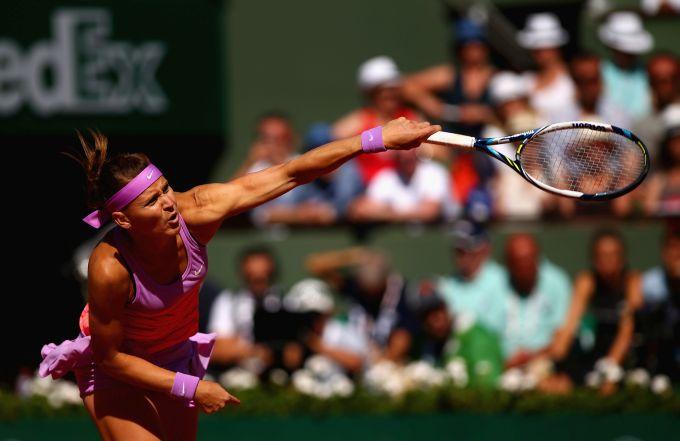 Lucie Safarova of Czech Republic serves in the Women's singles final againt Serena Williams of the United States. Photograph: Dan Istitene/Getty Images
Eight-0 was the record Williams held over Safarova going into Saturday's final and at 6-3 4-1 40-15 up, it seemed only a matter of time before that would turn into 9-0 -- prompting one booming male voice to sing out from the stands "Serena's on firrrrrre".
But if Williams was feeling "lousy" 24 hours earlier as she battled flu, it was nothing compared to the fury she felt when she surrendered two successive serves with double faults to lose four games on the trot.
It was now Safarova who was on fire and the 13th seed, bidding to become the first Czech woman to lift the Suzanne Lenglen Cup since Hana Mandlikova in 1981, stormed through the tiebreak 7-2 in the tiebreak before breaking again in the opening game of the third.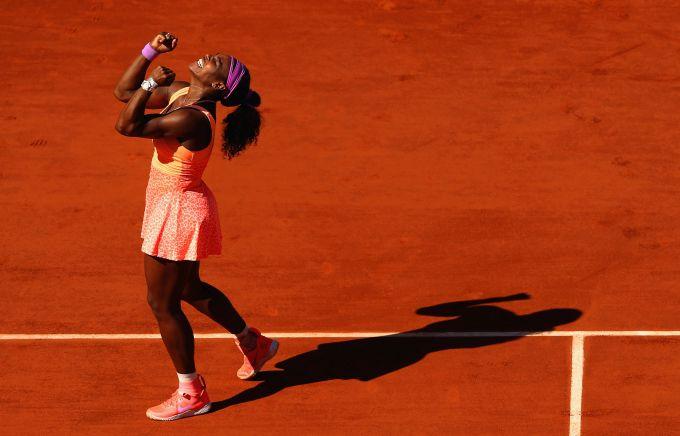 Serena Williams of the United States celebrates match point in the Women's Singles Final against Lucie Safarova of Czech Repbulic. Photograph: Clive Brunskill/Getty Images
Williams saw red and obscenities flowed out from her mouth -- earning her a warning -- while she angrily flung the official red and black tournament towels away from her chair.
The explosion had the desired effect as she channelled her anger to hit some audacious shots, including a left-handed forehand midway through a 19-stroke rally that she ended up winning.
The woman who had survived four three-set battles to reach the showpiece match -- including a semi-final when she had been totally out of sorts -- was determined to go the distance again.
Williams won the last six games to complete a remarkable triumph that looked nigh on impossible 48 hours ago, 24 hours ago and even 20 minutes ago.