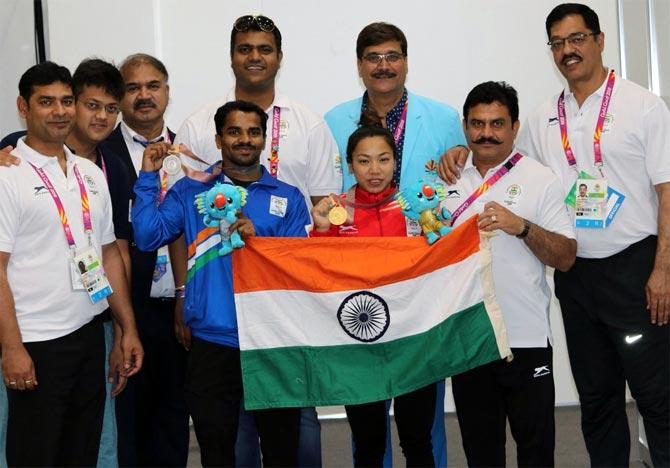 India's weightlifters delivered the medals on Thursday, but the system seems to have let them down at the ongoing Commonwealth Games.
Mirabai Chanu (48kg) smashed snatch, clean and jerk and the overall Games records on Thursday to claim India's first gold medal of the ongoing edition, while P Gururaja (56kg) overcame a few nervy minutes to clinch silver in the men's competition.
The hue of their medals may have been different, but the one thing common to their performances was that neither of them had a physio by their side to take care of their aches and niggles during a demanding day.
"I don't have a physio with me here in the competition. He was not allowed here; I did not get enough treatment coming into the competition. There is nobody; we did tell officials but nothing happened," Chanu said, after her record-breaking gold-winning performance that earned her a massive ovation from spectators at the competition in Gold Coast.
"I had requested that my physio be allowed but he has not been allowed. But we are helping each other and managing so far," she added with a smile.
Gururaja, the soft-spoken wannabe-wrestler-turned-weightlifter from Karnataka, also spoke about the problems he faced.
"I've sustained multiple injuries. My physio is not here, so I haven't been able to get the treatment that I need for my knee and sciatic nerve," he revealed.
The sciatic nerve begins in the lower back and runs through to the lower limb, making it the longest and widest single nerve in the human body.
Despite repeated attempts, India's Chef-de-Mission Vikram Sisodia was unavailable for comment on the matter.
The size of the contingent was a massive issue prior to the Games after the Sports Ministry ordered that the number of officials should not be more than 33 per cent of the number of athletes.
As a result, several athletes had complained about their preferred support staff not making the official contingent.