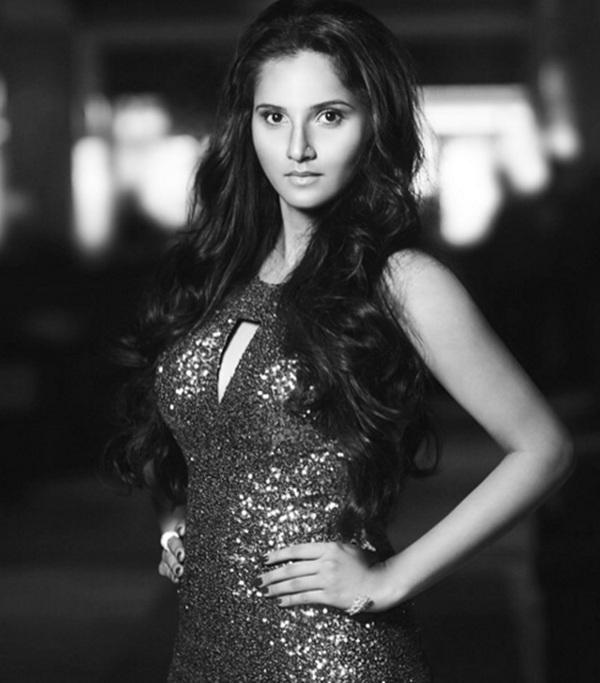 IMAGE: Sania Mirza features in the BBC's 100 women of 2015. Photographs: Instagram
Indian tennis sensation Sania Mirza, currently the world women's doubles champion, features in the BBC's 100 women of 2015, a list of 'aspirational women' across the world, compiled by the media conglomerate.
She is the first Indian woman to do everything... from breaking into the Top 50 to reach No 1 and go from winning WTA titles to Grand Slams.
The Hyderabadi says she is proud to be part of the change in India.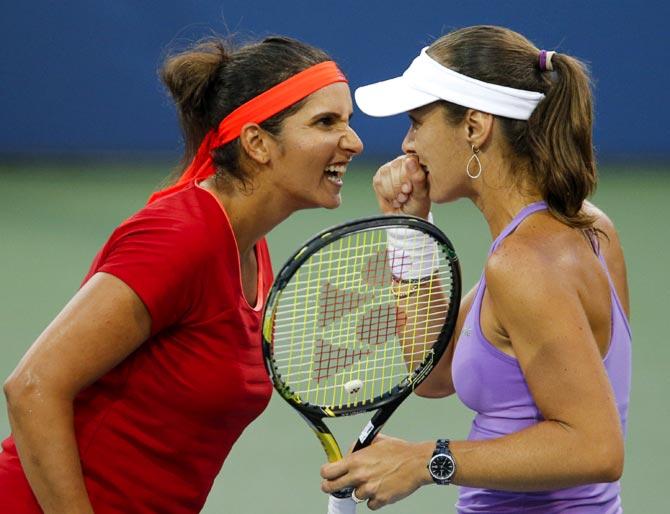 IMAGE: India's Sania Mirza (left) with doubles partner Martina Hingis of Switzerland. Photograph: Eduardo Munoz/Reuters
She spoke about the pressure she faces as a female athlete.
"When you're a woman you have to fight a lot harder. It has nothing to do with India; it has nothing to do with this side of the world."
The 29-year-old is married to former Pakistan cricket team captain Shoaib Malik and is always flooded with queries about when the couple plans to have a baby.
"No one has the right to ask me what happens in my bedroom," she told the BBC.
On the tennis front, the star had a dream year, but said it is tough to have a better year than 2015, but she will strive hard to at least match the achievements of this season, in which she won two Grand Slams and also became world No 1 in the individual doubles rankings.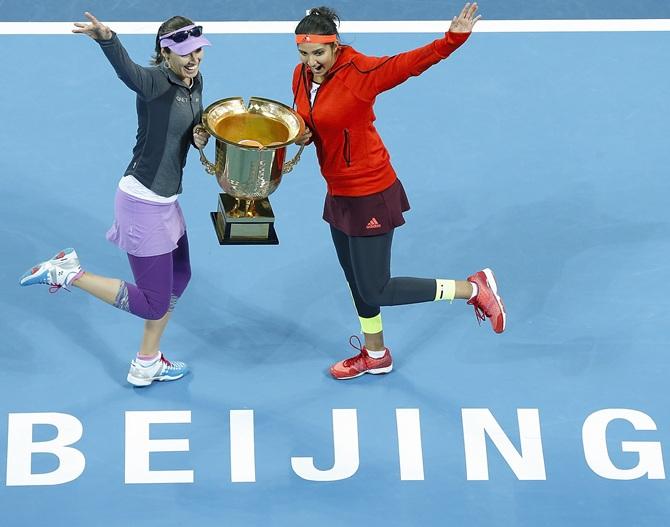 IMAGE: India's Sania Mirza, right, and Martina Hingis are elated after beating Hao-Ching Chan and Yun-Jan Chan of Taiwan in the final of the Beijing Open. Photograph: Lintao Zhang/Getty Images
Sania said 2015 -- during which she bagged two Grand Slams and eight other titles partnering Switzerland's Martina Hingis in a dream run -- is particularly special because of the number of victories she chalked up.
"It's not just about the year. My whole career has been amazing. Last few years have been really good. It so happened that in one year we have been able to dominate the court.
"Too many things have happened. That's very good. It's the contribution of many years. The hard work, the sacrifice that has gone in from the family, the people and the media, everyone who has been with me," she said.
Besides Sania, six other Indian women feature in the list. They are legendary singer Asha Bhosle, veteran actress Kamini Kaushal, farmer Rimppi Kumari, campaigner Mumtaz Shaikh, and entrepreneurs Smriti Nagpal and Kanika Tekriwalare.