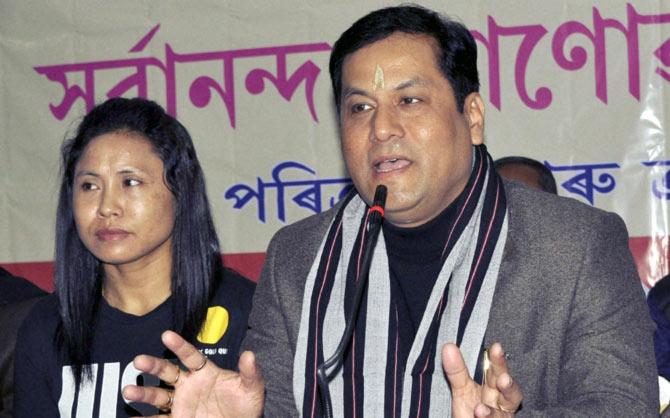 India boxer Sarita Devi (left) with Sports and Youth Affairs minister Sarbananda Sonowal in Guwahati. Photograph: PTI
Boxing India on Monday told the Delhi high court that it cannot appeal against the International Boxing Association's (AIBA) decision to suspend boxer Sarita Devi for refusing to accept the bronze medal at the 2014 Asian Games in South Korea.

"No appeal lies against the disciplinary authority's (AIBA) decision to suspend India's woman boxer Laisram Sarita Devi," it told a bench of Chief Justice G Rohini and Justice Rajiv Sahai Endlaw.

Boxing India's submission came in response to its reply being sought by the court on December 24, last year while hearing a plea challenging AIBA's Disciplinary Commission's decision.

The sports body told the court that "even Sarita Devi is not aggrieved with AIBA's decision and has also not sought their interference".

Taking on record the submission of the sports body, which further said that Sarita Devi's suspension was reduced from two to one year, the court asked the petitioner, "What more remains in his petition?

"It is really a peculiar case where respondent 5 (Sarita Devi) and respondent 3 (Boxing India) are not aggrieved with the decision," the court said.

Senior advocate Rajiv Dutta, the petitioner, then sought directions to the Sports Ministry and Boxing India to produce the relevant rules and regulations which do not provide for an appeal against AIBA's decision.

Taking note of his plea, the court asked the authorities concerned to place all relevant materials before it for its consideration and fixed the matter for further hearing on January 14.

Sarita, who had refused to accept the medal to protest against her controversial semifinal bout loss, has been banned retrospectively from Oct 1, 2014 to Oct 1, 2015 and fined 1000 Swiss francs.

Earlier, the Centre had told the Delhi high court that it has written to AIBA requesting it to revoke the suspension of Devi.

The Sports Ministry, in its letter to AIBA, had requested it to take a lenient view and not take any further action against her, saying she comes from a humble background and has risen very high in her sport due to her hard work and that her suspension would have a demoralising effect on other aspiring sportsperson.

The Ministry's submission had come after filing of the petition which has sought a direction to the Centre to take due cognizance of the rules and regulations framed by Court of Arbitration for Sports (CAS) situated in Lausanne for settling disputes.

It has sought a direction to the Centre to exercise its inherent power to ask the respective local federations and associations in its jurisdiction to incorporate the CAS Arbitration Clause within their respective rules.

The plea has alleged that there is absolutely no clarity on resolution of disputes in the event that an international body like International Boxing Association takes any coercive action against individual sportsperson, as has occurred in the case.