Nike froze its contract with "Blade Runner" Oscar Pistorius on Thursday after he was charged with murdering his girlfriend, the latest in a series of scandals to hit athletes sponsored by the sportswear giant.
Criticised in the past for being slow to respond when its sporting heroes got into trouble, Nike distanced itself from Pistorus, the Paralympics champion accused of shooting dead model Reeva Steenkamp on February 14, Valentine's Day.
"Nike has suspended its contract with Oscar Pistorius," the world's largest sportswear company said in a brief statement released in London.
"We believe Oscar Pistorius should be afforded due process and we will continue to monitor the situation closely."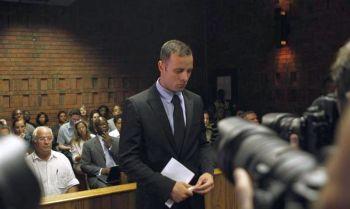 The decision means the South African will receive no further payments from Nike for the time being and not appear in any of its promotions.
Pistorius, the world's best known Paralympic athlete, denies murder. He says he killed his girlfriend by accident after firing into a locked toilet door when he feared an intruder had broken into his home.
Nike, famous for its "swoosh" logo, has had to try to limit the damage to its brand from a number of scandals involving highly paid sports stars in recent years.
It ended a long-standing sponsorship of U.S. cyclist Lance Armstrong last October after the Texan was caught up in a doping scandal that led to him being stripped of his seven Tour de France titles.
Nike stuck with American golfer Tiger Woods in 2009 when a series of extra-marital affairs were exposed.
Contrasting the treatment of Armstrong and Woods, marketing experts drew a distinction between evidence of cheating in sport and a greyer area of trying to make moral judgements on an athlete's private life.
Pistorius, a double amputee, ran against able-bodied athletes in the London Olympics last year, further raising his profile after a battle to be allowed to compete.
His story of sporting triumph over physical disability made him especially attractive to advertisers and he had endorsement contracts worth an estimated $2 million a year.
Nike has sponsored Pistorius since 2007, supplying him with running kit and special soles that he wears on the base of his carbon fibre racing blades.
His other sponsorship deals with companies include British telecoms firm, U.S. sunglasses maker Oakley <LUX.MI> and French designer Thierry Mugler.
His sponsors have largely declined to comment on their contracts while his bail hearing is taking place in Pretoria.
Nike is still prepared to pay big money to tie up the next generation of sporting stars.
It added world number one golfer Rory McIlroy to its roster last month in a deal reported to be worth up to $250 million over the next decade.