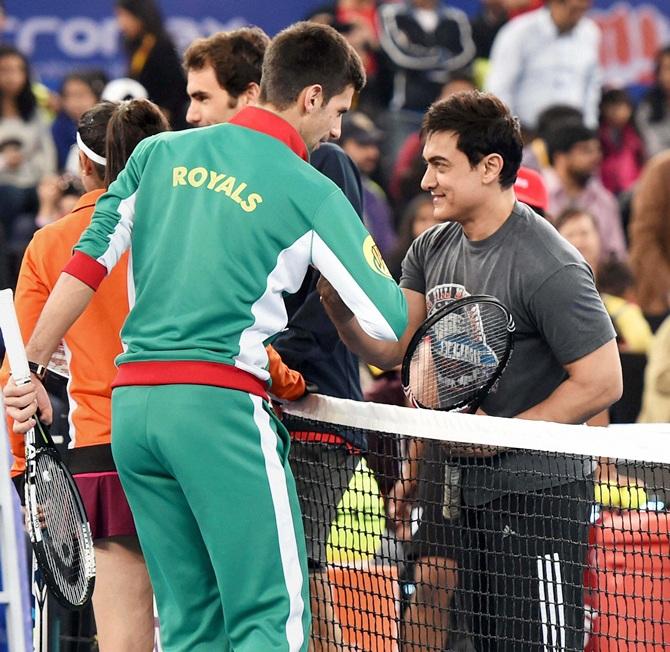 Image: Novak Djokovic with actor Amir Khan during IPTL in New Delhi. Photograph: PTI
With a crop of talented young players such as Kei Nishikori and Milos Raonic knocking on the door of the exclusive men's Grand Slam club, the 'Big Four' hegemony over the game's top tournaments may be coming to a close, said Novak Djokovic.
World No 1 Djokovic, Roger Federer, Rafael Nadal and Andy Murray have shared 36 of the last 39 Grand Slam titles.
When Croatia's Marin Cilic beat Japan's Nishikori in this year's US Open final, it was the first time since the 2005 Australian Open that a men's grand slam final did not feature either Djokovic, Nadal or Federer.
Djokovic expects the upcoming season to be even more competitive than 2014, a year that saw four different grand slam winners including first-time champions Cilic and Stanislas Wawrinka.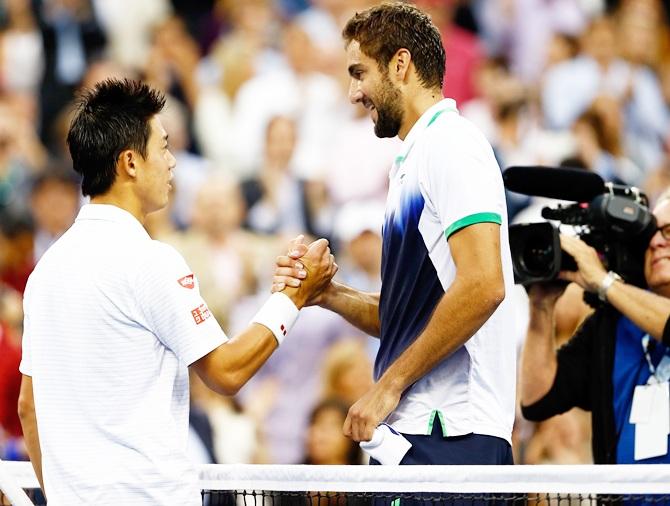 Image: Marin Cilic, right, of Croatia greets Kei Nishikori of Japan. Photograph: Julian Finney/Getty Images
"It's really unpredictable, it's going to be hard to say who are the clear favourites to win the grand slams," the Serb told reporters late on Monday after playing in the India leg of the International Premier Tennis League (IPTL).
"Obviously Cilic, Wawrinka and some new names who have been winning Grand Slam titles and challenging the best and winning against the best in the big events, they have proven to everybody that it is possible.
"The dominance of first of all Roger and Rafa over the years was fantastic. Then Andy Murray and myself, we got into the mix and us four have been winning most of the big events in the last six, seven, eight years," Djokovic said.
"Now it's normal to expect that there is a new generation of players, younger players that are right at the top like Nishikori, Raonic, (Grigor) Dimitrov who have the quality to win against the best and they have done that.
"It's definitely going to be an interesting year."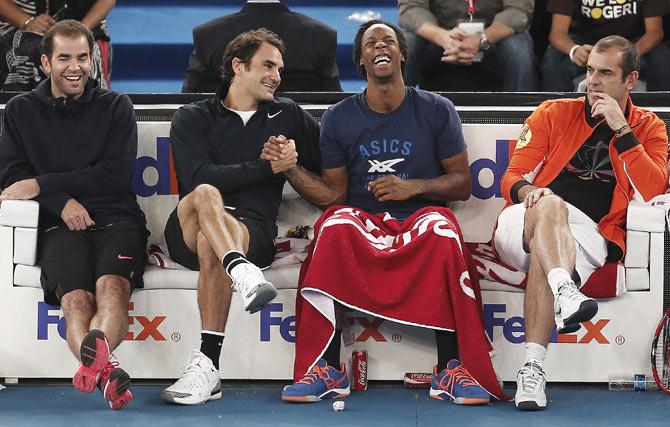 Image: From left, Pete Sampras, Roger Federer, Gael Monfils and Cedric Pioline of the Indian Aces share a laugh during their IPTL match on Sunday. Photograph: Adnan Abidi/Reuters
Bulgarian world number 11 Dimitrov has also impressed Pete Sampras but the American great felt in the end, the trio of Djokovic, Federer and Nadal might still dominate Grand Slams.
"Novak is the obvious choice," the 14-time Grand Slam champion, one of the past champions playing IPTL, said.
"Roger is very motivated to get to number one, Rafa is uncertain with his health but I feel once he is healthy, he will be in the mix.
"I see guys threatening them, but when push comes to shove, you'll see those three guys in the second weeks of majors, in the semi-finals and finals."