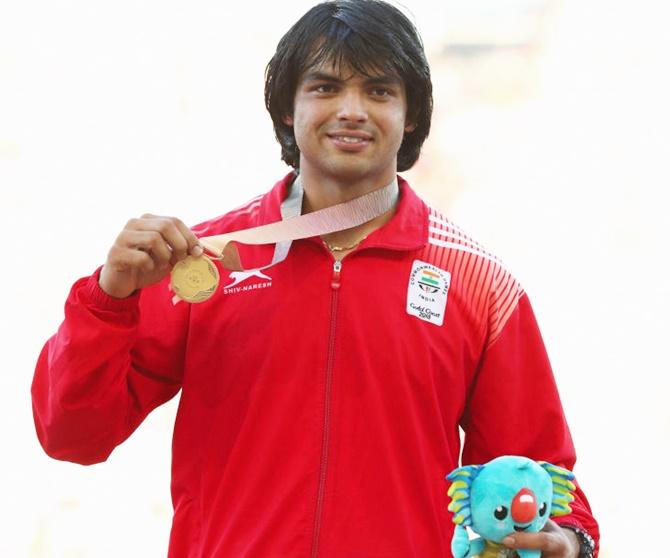 Neeraj Chopra became the first Indian javelin thrower to win a gold medal at the Commonwealth Games, on Saturday.
The 20-year-old World junior champion registered a season's best effort of 86.47 metres in the final which was more than enough to get him gold in the 12-man field. Hamish Peacock of Australia won silver with a throw of 82.50 metres while Grenada's Peter Anderson (82.20m) took bronze.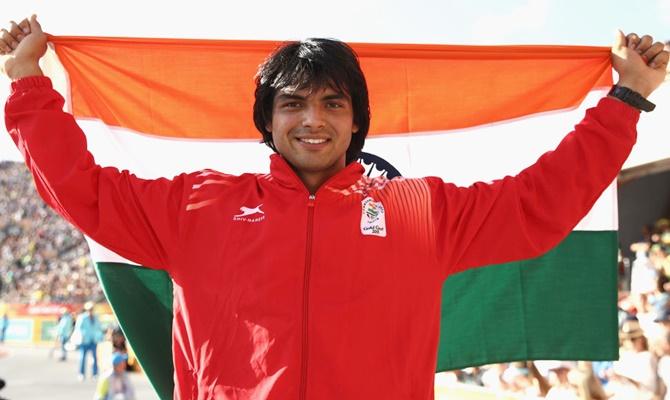 On Friday, he attained the qualifying mark with his first throw.
Neeraj is only the second Indian javelin thrower to win a Commonwealth Games medal -- the first being Kashinath Naik, who won fetched a bronze in the 2010 Delhi Games.
Overall, his his medal is only India's fifth track and field gold in the quadrennial event, the other winners being sprinter Milkha Singh (1958), discus thrower Krishna Poonia (2010), the women's 4x400m relay quartet of Manjeet Kaur, Sini Jose, Ashwini Akkunji and Mandeep Kaur(2010) and shot-putter Vikas Gowda (2014).
"It is a very important medal for me. I wanted to touch my personal best but I missed it by a centimetre. In my desperation for that I tried so hard that I tumbled over in my last two attempts. But I am very happy and I have lot of competitions this year to achieve the personal best," Neeraj said after his triumph.
"The competition was very good here; the World champion was here but he could not qualify. It was still quite tough but I was very sure of myself," he added.
A gold medallist at the Asian Championships, Neeraj simply destroyed the field with his very first attempt of 85.50 metres.
With none being able to surpass that effort it was left to him to up the ante, which he did with a season's best 86.47 metres in his fourth attempt.
He consistently crossed the 82 metres mark in the final, fouling on two attempts.
"It makes a lot of difference when you manage to get a first throw like that. It builds pressure on others. As for me, I was not under any pressure or nerves, I was well-prepared," he said.
Asked how he will celebrate the success, he replied: "One shouldn't be too serious in life; it's good to be disciplined but you should not overdo food restrictions. A bit of enjoyment always works. One should have faith that their training is good enough. It's not healthy to just lock yourself in a room before a big competition."
Neeraj was favourite for gold here after his 85.94 metres throw last month at Patiala during the Federation Cup National Championships.
The field was depleted after Olympics and World silver medallist Julius Yego of Kenya failed to qualify for the final round and 2012 Olympic champion and Rio Games bronze winner Keshorn Walcott opted out of the Games.
But there was heartbreak for the men's relay team and triple jumper Arpinder Singh.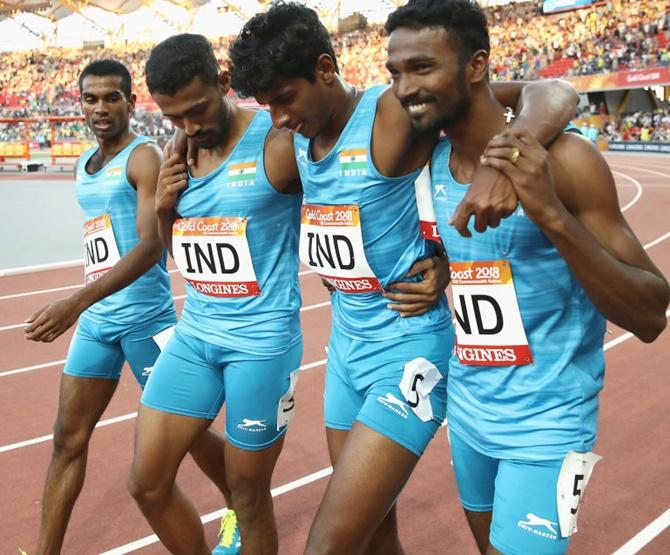 However, there was disappointment elsewhere with Arpinder Singh -- last edition bronze medallist -- finishing an agonising fourth in the men's triple jump event. Cameroon's Marcel Mayack II produced a personal best of 16.80m to put the Indian out of medal contention. Arpinder's best effort was a 16.46m jump.
In the men's 4x400m relay, the Indian team had to pull out midway through the race after Amoj Jacob pulled a hamstring. Because of this, the quartet of A Dharun, Jacob, Muhammed Anas and Rajiv Arokia could not even complete one lap during the race.
The women's 4x400m relay team of Sonia Baishya, M Poovamma Raju, Laxmanbhai Gayakwad Saritaben and Hima Das finished seventh in their event.
Indian track and field athletes thus ended their Gold Coast CWG campaign with 1 gold, 1 silver and 1 bronze, the same number and colour of medals as in the last Games in Glasgow in 2014.