Neeraj Chopra betters own National record, clearing 87.43m, in season-opening Diamond League series meet in Doha.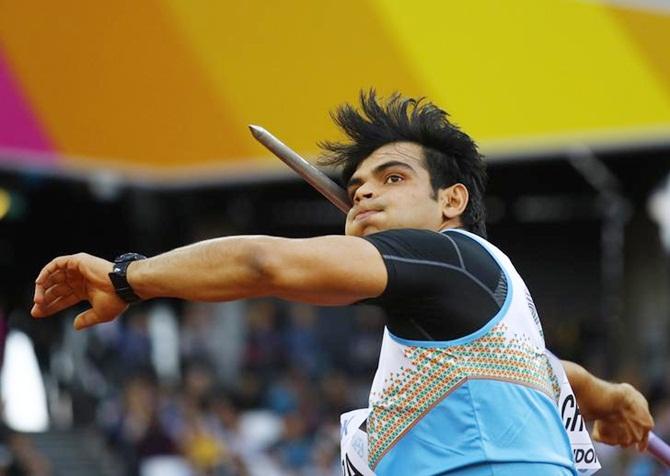 The list of Indian javelin thrower Neeraj Chopra's admirers has grown, with reigning World champion Johannes Vetter predicting a bright future for the Commonwealth Games gold medallist.
On Friday, Neeraj shattered his own National record by clearing a distance of 87.43 metres en route a fourth place finish in a star-studded field in the season opening Diamond League series meeting, in Doha.
After winning gold at the Gold Coast Games with his second career-best throw of 86.47m, the 20-year-old Neeraj had said that he would like to join the '90m club' soon.
"He (Neeraj) is really young. He is able to throw between 88 and 90m, this year of course," Vetter, who has a personal best of 94.44m, was quoted as saying by the Olympic Channel.
Neeraj was competing against a host of champions on Friday. The star-studded field included Olympic champion Thomas Rohler and Rio Olympics silver medallist Julius Yego of Kenya, besides Vetter. But the 22-year-old Indian was not intimidated as he sent the spear to 87.43m in his second attempt to better his earlier National mark of 86.48m.
In the process, Neeraj beat 2017 London World Championships silver medallist Jakub Vadlejch of Czech Republic, who finished fifth with a best throw of 86.67m.
Rohler won the gold with a best throw of 91.78m which he came up in his second attempt. Vetter was second with 91.56m while Hoffman was third with 90.08m as Germans swept all the top three spots.
Neeraj's personal best stands at 86.48m, that won him gold at the Under-20 World Championships in 2016 in Bydgoszcz (Poland), which is also the existing World junior record.
Only 18 athletes have ever thrown over 90m, including six who are still in action -- Yego, Vetter, Rohler, Tero Pitkomaki, Andreas Hoffman and Asian record holder Chao Tsun Cheng.
However, none of these stars had inched past 80m in their teens -- a fact that is not lost on Yego.
"It's possible (for Neeraj to throw 90m). He is a great talent and has a great, bright future. He has the qualities of becoming an elite thrower. He already holds the world junior record. He is way ahead of me," said Yego.
If Neeraj, who now trains under world record holder Uwe Hohn, hits 90m, he would be the youngest thrower to go past the javelin gold standard.
Neeraj will next take part in the Eugene (United States) leg of the Diamond League series on May 26 and there again he will be up against Rohler, Vetter, Hoffman and Vadlejch.
A fresh challenger from a 'non-javelin' nation gives his sport a welcome boost of energy, according to Vetter, who competed alongside Neeraj earlier in the season in Offenberg, where the Indian had a three-month stint before the Commonwealth Games.
"Javelin is going more and more all over the world… There are a lot of young guys who are trying this and have good potential in Africa, Asia, and I think it is developing each year," said Vetter.