'We have lost the importance of physical movement. It is important we encourage kids to take up sport.'
Rediff.com's Norma Godinho listens in as Rio Olympic silver medallist P V Sindhu and her coach P Gopichand spells their plans going forward.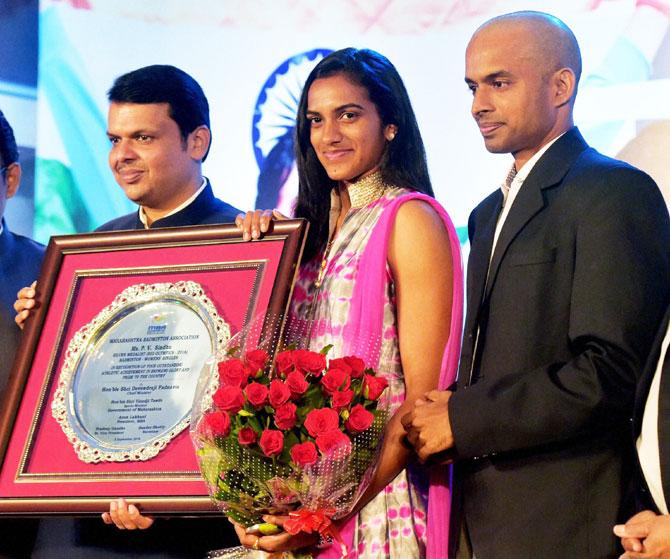 IMAGE: Maharashtra Chief Minister Devendra Fadnavis felicitates Olympic silver medallist P V Sindhu and her coach P Gopichand in Mumbai, September 6, 2016. Photograph: PTI
Since winning the silver medal at the Rio Olympics, P V Sindhu and her coach Pullela Gopichand have been on a spree of felicitation ceremonies.
After being feted by the governments of Andhra Pradesh, Telangana and Delhi last month, it was the Maharashtra government's turn to felicitate coach annd protege.
"This evening brings back lovely memories of the day I was felicitated after my victory in the All England Championships in 2001," Gopichand told the gathering. "Felicitations are inspirational and motivational in my thinking. I remember what motivated me a huge deal was when Karnam Malleswari was given a hero's welcome after returning with a bronze medal from the Sydney Olympics."
"Governments and associations should felicitate young talent so that they get inspired to reach higher," the Dronacharya awardee added.
"We are a nation that excels in alphabetical and numerical literacy. We have forgotten the art of physical literacy. We need to be active," Gopichand said. "We have lost the importance of physical movement. It is important we encourage kids to take up sport."
"Kids need to play. Even adults need to play. I read somewhere that kids have fun playing sport but playing sport makes adults happier. We need to get out and play sport. Playing sport will make our happiness index go up," Gopichand, who sported a clean shaven head after his visit to the Tirupati temple in Andhra Pradesh on Sunday, added.
"We need to re-evaluate our education system. We have to ensure that we have physical literacy in our schools. A balance has to be maintained. Last year, Sindhu was out injured for 6 months; in that time she completed her B Com and is now pursuing an MBA degree." he said.
"Sport makes you healthier and studies have shown that physical activity helps develop more brain cells. There is more to sport than medals. At the Rio Olympics final, I told Sindhu, 'doesn't matter if you win gold or silver you have to give it your all'. Sports should take centre-stage in one's life," said Gopichand, who sought to drive home his point by invoking Swami Vivekananda's football quote -- 'You will be nearer to Heaven through football than through the study of the Gita.'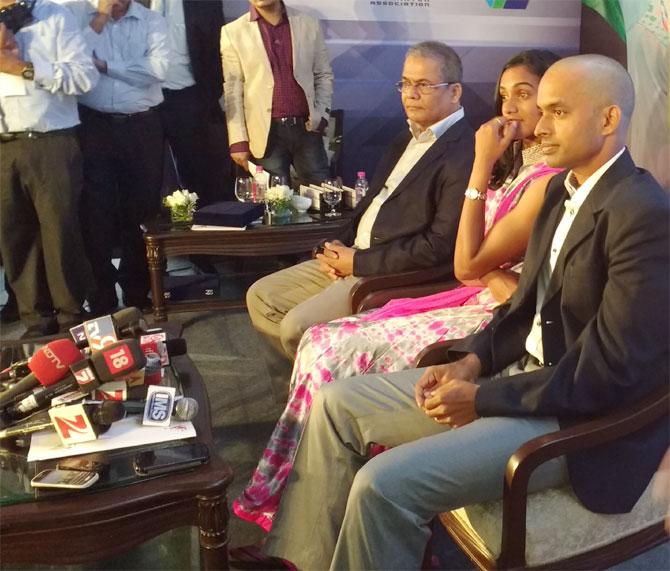 IMAGE: Sindhu flanked by Maharashtra Badminton Association President Arun Lakhani, left, and Gopichand. Photograph: Norma Godinho/Rediff.com
"The last few years, the government has done really well and they should get credit for sending 121 athletes to the Olympics," Gopichand said. "Also the support they have given to elite athletes is unprecedented."
"It was nice to receive the PM's support when we were not getting any medals at Rio. In the middle of the Games, the PM tweeted that we are with you win or lose, and that, kind of, gives a lot of confidence to the athletes," he said.
Talking of the need to have better coaches, Gopi said: "Recognition and awards will bring out the best in coaches. There are thousands of coaches who don't get recognised for their works. We should facilitate methods where coaches can be groomed, identified and nurtured. We can have bad infrastructure, but a great coach can produce results; the best infrastructure and a bad coach will not produce results for us. Both are equally important and we should emphasise on both those aspects. We need to devise a system and not underestimate the power of aspiration and inspiration," Gopichand said.
Acknowledging Gopichand's contribution to her success, Sindhu, clutching the Olympic silver medal in hand, said: "I am thankful to Gopi Sir's sacrifice and hard work. I am also thankful to my parents who, being volleyball players, never questioned my decision to take up badminton -- a game that I took up at the age of eight-and-a-half."
"Many people asked me, why don't you play volleyball because of your height, and I feel because of my parents' support, their motivation I am here today. My mom has taken voluntary retirement for me and even my dad took five months leave before the Olympics. So I am ever thankful to them," the ace said.
Will the Olympic silver medal weigh heavy on her young shoulders?
"The expectations will be high and I will have to work harder to achieve more in the coming years. I feel this is just the starting, only the beginning. I now have to be more focused all the time."